On Thursday, Nov. 9, 2023, in the conference room of Foothill Technology High School (Foothill Tech), the Student Site Council (SSC) met to discuss the formal proposal to adopt the same bell schedule as Buena High School (Buena High) and Ventura High School (Ventura High).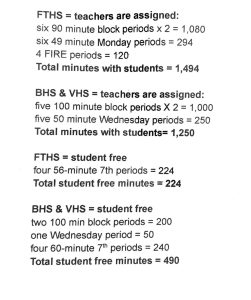 Ventura High and Buena High have both recently adopted a block schedule, similar to Foothill Tech's, but with key differences. Instead of 90 minute periods, theirs span for 100 minutes. They also only have a 30 minute lunch, in comparison to Foothill Tech's hour long lunch, with half of it being set aside for the Foothill Intervention, Reinforcement and Enrichment (FIRE) program dedicated to aiding the freshman class and those in intervention programs.
This extra burden can be difficult on teachers, which Fergus emphasized by saying,"Our teachers are exhausted. They're just overworked and exhausted."
In the meeting, the initiative was spearheaded by Heather Ferris, John Weldele, Dianne Fergus and Steve Boyd, where they highlighted potential benefits. They had reached stage three of Site-Based Decision making, in accordance with the Ventura Unified Educators Alliance (VUEA) and Ventura Unified School District (VUSD)'s agreement. A ⅓ majority vote is required from VUEA members before it can be approved by the SSC, and 30 of 34 possible votes voted for Foothill Tech to match the other high school's bell schedules.
Ultimately, they hope to move Foothill Tech closer to a "Teach 5" model, which is followed by Buena High and Ventura High. Under Article Eight of the VUEA-VUSD agreement, teachers at traditional high schools may not be assigned more than five classes, but Foothill Tech is considered an exception due to its magnet status, and teachers may not be assigned more than six classes.
In a paper passed out, it was highlighted that Foothill Tech teachers spend 224 minutes student-free, while Buena High and Ventura High teachers spend 490 minutes student free. This means they have less time to plan out their classes, and up to 36 more students to attend to. "The potential for what I can do with that [extra time] is mind boggling to me," Ferris said.
"
It just seems like a glaring inequity at this point.
— Heather Ferris
"I've been at this school since the second year it's been open, and I don't see as much fire in the teachers as there was 10, 15 years ago," Weldele shared, "Every educational study suggests that the most important thing for student education is a competent, passionate teacher."
In addition to relief for teachers, it was suggested that having matching schedules would better allow students to take advantage of opportunities at other schools. Foothill Tech doesn't have a music program, and doesn't offer all Career Technical Education (CTE) classes the other high schools do, which dragons may be interested in taking. Fergus explained how this would benefit Foothill Tech students, saying, "There are programs that are super specialized that students from other schools would like to take but they can't because the bell schedules aren't aligned."
Most controversial about the change, however, would be the dissolving of FIRE. SSC member Ariel Montejano '25 pointed out that, "A lot of kids have [other commitments] outside of school, so I think [FIRE] is a good time for them to do their homework. If you cut that back, then you might have lower grades next year."
"
It [the new schedule] could burn out the students … It might affect mental health
— Ariel Montejano '25
With the new schedule, the extra 10 minutes of class would become a substitute for FIRE, focused on helping students with coursework. "Sometimes the students who need remediation the most are the hardest to get into FIRE. This way, you do have a captive audience … you can't not help them because they are mandated to be there," Weldele said.
FIRE leader and SSC member Dane Dodos '26 added to that, saying, "It [FIRE] is a lot of sitting and socializing. You can try to, like, facilitate it as much as you can … but a majority of students are not being benefited academically from it."
Upperclassmen in particular enjoy having an hour-long lunch, as they get to go off campus, which poses an issue with the proposal in terms of popularity. Students likely would not want to give that up, as indicated by Julie Bursek, "If it's perceived as taking something away, it's not going to be liked. You need to focus on the benefits, not on what you would lose … It's a delicate situation."
"
We don't want kids to fall through the cracks.
— Julie Bursek
Fergus noted that technically, students are not supposed to be going off campus during FIRE, "Those are supposed to be instructional minutes, per the state," and Ferris finished by adding, "They're [Foothill Tech] pushing the limit on that."
Overall, the matching bell schedule would cut FIRE, slashing lunch duration in half, and extend class by 10 minutes, while providing more preparation time and relief for teachers. If passed, the new schedule would be implemented during the 2024-2025 academic year, and could be reassessed for the 2025-2026 academic year if it proves to be unpopular. The vote will be held on Thursday, Nov. 16, 2023 at 7:30 a.m. in the conference room.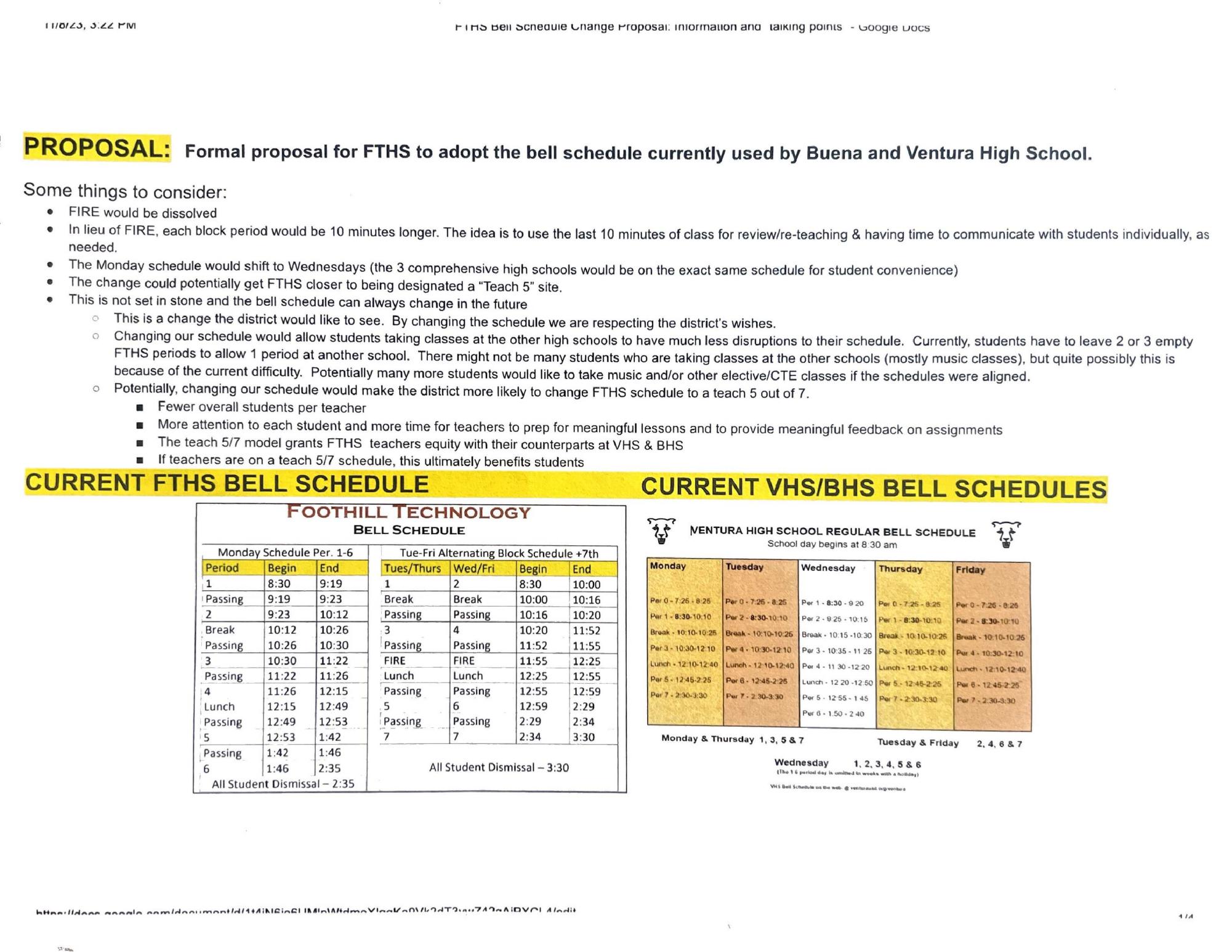 Disclaimer: Student Dane Dodos '26 is a writer for the Foothill Dragon Press, and his quote in this article represents his personal opinion. The Foothill Dragon Press aims to remain unbiased in all news coverage.