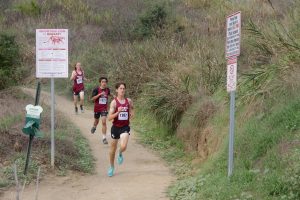 On the overcast afternoon of Sept. 22, 2023, the Foothill Technology High School (Foothill Tech) cross country team raced in their first Tri-County Athletic Association (TCAA) league meet of the season at Arroyo Verde Park against Cate School (Cate), Thacher School (Thacher), Dunn School (Dunn) and La Reina High School (La Reina).
The three-mile course was particularly tough as this was the first time a league meet had been held at Arroyo Verde in ten years, but the Dragons continued to persevere with the boys team placing first and the girls placing third, respectively. 
Despite the top five runners from the boys team and the top four from the girls not competing at this meet, the team as a whole did fantastically, leaving the meet with a victory. 
The boys placed first with a total of 35 points, with Cate finishing close in second place with 36. Barker Carlisle '26 paced the competition, coming in third overall with a time of 17:50, and Viggo Bortolim '27 followed with a time of 17:58. Bortolim reflected on the race stating, "I think most people underestimated this so I didn't get exactly what I wanted but, I feel like I did pretty good."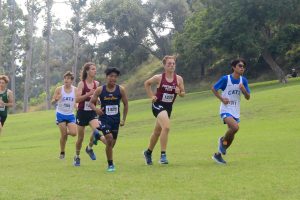 The girls placed third overall with 70 points, following Cate in second and Thacher in first. Bennett Rodman '26 took tenth overall with a time of 23:25.
Arroyo Verde was an especially difficult course considering many runners had not run the course previously. Coach Carol Leandro shared, "it was a challenging course. We know this park, but we've never run this course before, so I think they did a really good job."
This race was relatively small compared to the team's other races. With only five varsity teams  competing and many underclassmen running their first race, the atmosphere felt light and morale was high. "I think that honestly makes it a little easier. There's less pressure and it's more fun," Isabella Efner '25 stated. 
The season looks bright, as demonstrated by the plentiful competitive energy amongst the athletes and the team's overall standings. The Dragons continue to train for their next race on Sept. 30 in Huntington Beach, Calif.