The Foothill Technology High School (Foothill Tech) boys' water polo team dove in head first against Buena High School (Buena) Bulldogs in a tough matchup on Aug. 29. Buena drowned out Foothill Tech, finishing the game with a score of 21-8.
The first quarter kicked off as the Bulldogs gained possession. The Dragons' defense was on point, as goalie Ethan Ortiz '24 covered every corner of the goal and blocked numerous shot attempts made by the Bulldogs. In the words of Ortiz, "In the first quarter we did amazing." Foothill Tech also kept up with their offense, in constant possession, ending the quarter 1-1.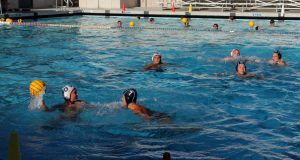 After a tied first quarter, Buena took their chance to pick up the pace. The Bulldogs were shot out of a cannon to start the second quarter and pulled away with three quick goals to widen their lead to 4-1. As the quarter progressed, it was all Buena, which widened their lead to 9-1 by the end of the half quarter. Foothill Tech couldn't seem to find the back of the net.
Out of the gate in the second half, Buena gained possession of the ball and immediately scored. Soon after, the Bulldogs made another goal which extended their already substantial lead. Turner Stehle '25 of Foothill Tech responded with a blazing shot into Buena's goal.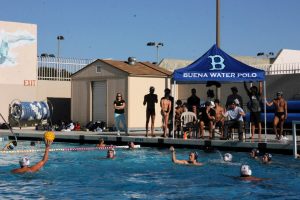 Foothill Tech and Buena engaged in a trade-off, where Buena scored multiple goals as well as four Dragons who were able to connect with the net. Despite Foothill's effort on offense, Buena ended up on top, which expanded their lead and ended the quarter with a score of 17-5.
As the final quarter began Buena started with a large lead over the dragons. Despite being down by 12, Foothill Tech had high hopes in their ability to make a dent in the final score.
Buena acquired first possession of the ball, although this didn't stop Stehle who scored early over Buena's defensive efforts.
Subsequently, after Foothill Tech's goal, Buena responded with three near back-to-back goals, which furthered their colossal lead.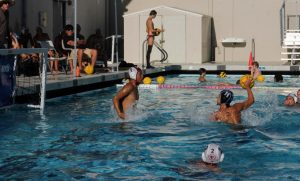 In the final minutes of the game, Stehle and "12" fired off the Dragon's two final shots before Buena scored the last goal which concluded the game with a final score of 21-8. After he reflected on the game, Finn Haines '24 gave his thoughts, "We played great today. Everyone here agrees, we actually did pretty well."
The next game is on Sept. 7 at Rio Mesa High School with the dragons seeking redemption, hoping to end their losing streak.