Senior Recess: A fun-filled event of nostalgia and reminiscence
As the 2022-2023 school year progresses through the final quarter, seniors are taking time to reminisce and have fun. At Foothill Technology High School (Foothill Tech) seniors enjoyed a nostalgic trip down memory lane at Senior Recess on April 27, 2023.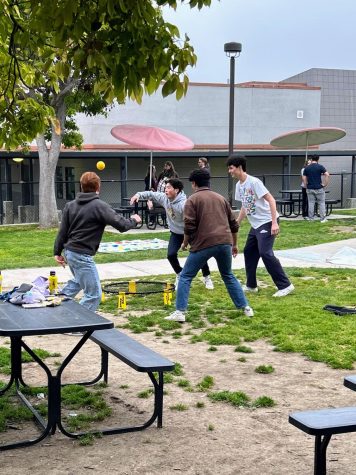 At 6 p.m., the quad was abuzz with the arrival of seniors amidst a backdrop of lively music. The Associated Student Body (ASB) had put together a delightful 'recess' reminiscent of elementary school, featuring games, activities and snacks.
Owen Houston '23 expressed how, "The idea of recess is something from my childhood … but it's definitely fun to relive it a little bit before I go to college."
Seniors were treated to a smorgasbord of nostalgic treats like chocolate milk, Gushers, Goldfish, Uncrustables, fruit snacks and more, all laid out along a table on the stage. As Andrew Ibarra '23 had put it, "There's a lot of stuff I used to eat when I was younger." 
The liveliness of the occasion was further heightened by a variety of entertaining games that filled the quad, from competitive rounds of foursquare, spike ball and twister, to a hopscotch game etched in chalk on the walkway. 
On the other end of the quad, an inflatable obstacle course awaited those who dared to take on the challenge of racing against their peers. Ibarra mentioned his favorite part of the event was "racing through the obstacle course," while explaining how "it's been a lot of fun." 
"
It's nice remembering what it's like to be a kid again.
— Charys Pyle '23
Senior Recess was a joyous evening filled with laughter, as seniors reminisced about their childhood memories and relived the carefree days of their youth. 
The event allowed the oldest students at Foothill Tech to feel young again. As the Class of 2023 stands at the precipice of their future, Senior Recess provided the opportunity to enjoy great memories from their past once again.