Satire: Oh how I miss my flavored bagels
For months, everyday at 10 a.m., I go through my routine of grabbing a morning bagel. For months, I have been disappointed daily when I am greeted with a mountain of plain bagels. 
I have such fond memories of the beginning of the school year; the weather was warm, the workload was light and we were supplied with a variety of flavored bagels. I had just begun to grow fond of the blueberry bagels, while my friends hoped every morning for a wonderful cinnamon raisin bagel. Then one morning, we faced our biggest loss of our senior year — the removal of every flavored bagel, replaced with an abundance of boring plain bagels.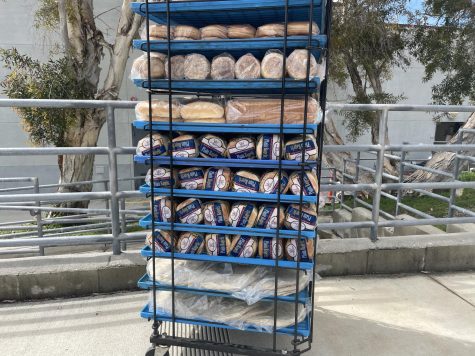 Not to invalidate the fans of the plain bagels, but without so much as everything bagel seasoning, a bagel (a sacred food item) turns into just a regular piece of bread paired with cream cheese. Though I'm sure our students are not opposed to plain bagels, the repetition of this lack of flavor becomes redundant very quickly. 
I long for the days of flavor, before we were plagued with the surplus of plain bagels. This sudden discontinuation might just be the worst part of my senior year. I am not angered by this removal, I do however sympathize with the underclassmen, for they never got to fully experience the plethora of flavor. 
Hunting for reasoning behind this removal, Vice Principal Katie Tedford was able to guide me to Foothill Technology High School's (Foothill Tech) Cafeteria Manager, Lori Walker. Walker provided insight that this issue was not within the control of anyone within our local area as the removal stemmed from updates in the National School Lunch Program. 
Due to a new requirement of grains within school provided meals, the only genre of bagels that are acceptable to serve are plain. The legislation states that items served by schools are to be "at least 50 percent whole grains," while the rest of the grains are to be enriched or whole. 
Understanding that the motive was purely with students' best interest at heart, an act so simple as removing variety within nutrition oppresses a student's sense of independence. Within the assembly line that is the cafeteria, the least I could ask for is individuality when choosing the flavor of a bagel.