"Natu Natu" from RRR is the first Indian film piece to win an Oscar at the AMPAS Awards Ceremony
On March 12, 2023, the song "Natu Natu" won an Oscar for Best Original Song at the 95th annual Academy of Motion Pictures Arts and Sciences Awards Ceremony (AMPAS). This Telugu composition is the first Indian song to win an Oscar.
"Natu Natu" comes from the original South Indian film "RRR" produced by D. V. V. Danayya in November 2018 mainly in Hyderabad and across India, however, some scenes were filmed in Ukraine and Bulgaria. Regardless of the rumors, "RRR" is not a Bollywood film, but a Tollywood (Telugu plus Hollywood) film.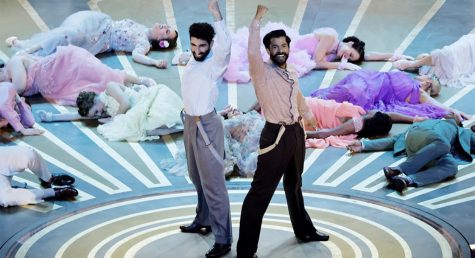 The historical fiction film focuses on two revolutionaries fighting against British colonists during the 1920s. In the dancing scene, the roles of the two main characters feature two real life Telugu revolutionaries, Alluri Sitarma Raju (Ram Charan) and Komaram Bheem (Rama Rao).
Input from teacher Claire Adams, explaining her experience with watching RRR, "I absolutely loved it and would recommend anyone to watch it. Although it's three hours long, don't be put off by that fact as it is non stop action and excitement, and it keeps you glued the whole way through."
During the AMPAS, Indian musical composer M. M. Keeravani and musical writer Chandrabose received the Oscar for "Best Original Song" for "Natu Natu." Chandrabose claims that he wrote "Natu Natu" based on his childhood memories. It took him about two years to write. "Natu Natu" was also shot for two weeks before finally completed. 
Next, Bollywood star Deepika Padukone introduced a live performance of "Natu Natu," danced by the two main dancers, Billy Mustapha and Jason Glover.
The performance, led by two American dancers, was a controversial let down, seeing that the top two spots were not taken by two South Indian dancers. No dancers were of Indian descent. Nevertheless, the performance was produced to be similar to "Natu Natu's" dance in the original "RRR" film.
As the dance ended, a roaring round of applause sounded from the crowd, and the dancers walked off stage. "Natu Natu" from "RRR" was the first Indian song to win an Oscar in all 95 years of the AMPAS.