Boys' baseball lays a St. Patrick's Day smackdown on Cate School
On the afternoon of March 17, 2023, the Foothill Technology High School (Foothill Tech) boys' baseball team headed to their home field at De Anza Middle School to tee off against Cate School. Throughout the outing, Foothill Tech shined offensively and on the pitching side, as they came away with a dominating 12-0 win.
This win came at a perfect time for Foothill Tech, as Adam Aarth '24 explained that the team was, "in a bad streak … for the past seven games."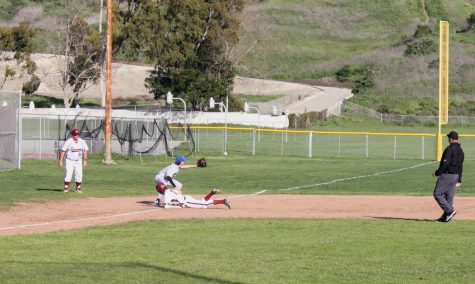 Boden Carr '23 was one Dragon who showed out, as to start the game he dealt three shutout innings after striking out the side in the first. 
The offense began firing not too long after, as Aarth scored off of a single by Carr. A throwing error would later allow Carr to score from first to make the score 2-0 early. 
In the next time through the Foothill Tech order, Bronson Taylor '24 singled to drive in Aidan Gomez '25 after a double. Taylor scored off of a sac fly before the inning ended with a score of 4-0. 
After the game, Taylor reflected on the team's offense saying, "We put the bat on the ball … and runs came around." 
Scott Murray '23 would later replace Carr as pitcher, delivering two shutout innings of his own. 
Murray followed up his first inning with a leadoff single, which began an onslaught of scoring. After a wild pitch, the team struck three consecutive doubles, and topped off the streak with Aarth's second triple and third extra-base hit of the game. Aarth later scored on a groundout to close the inning 12-0, a lead that would remain until the game's conclusion. 
The game was ended early after five innings as opposed to the standard seven. 
After the win, Aarth felt as though the team still had room for improvement, as he noted, "we came out flat" and that the "team needs more energy." Still, he felt that, "a lot of people got involved [and] jumped on [Cate School's] pitching."
The Dragons will look to continue their winning ways when they face off against Thacher School on March 23, 2023.