Sophomore Spotlight: The HOBY Award
The Hugh O'Brian Youth (HOBY) Leadership conference is an annual event that attracts high school students all across the country. This year, it is being held at California Lutheran University (Cal Lu), and aims to give students valuable experience in leadership so they may apply their experiences within their communities. At Foothill Technology High School (Foothill Tech), two sophomores were nominated to attend this year's seminar: Rihanna Samples and Aditi Shanbhag. 
The HOBY was originally started by the actor Hugh O'Brian, most notable for his movies such as "Come Fly with Me" (1963) and "The Shootist" (1976). After his rise to fame, he was challenged by Nobel Prize winner Dr. Albert Schweitzer to do something positive with his influence. Two weeks later, he had drafted up the plan for The Hugh O'Brian Youth Leadership award to motivate and recognize young students who show promise in leadership. Today, more than 7,200 students each year are represented at the HOBY Seminar.
Rihanna Samples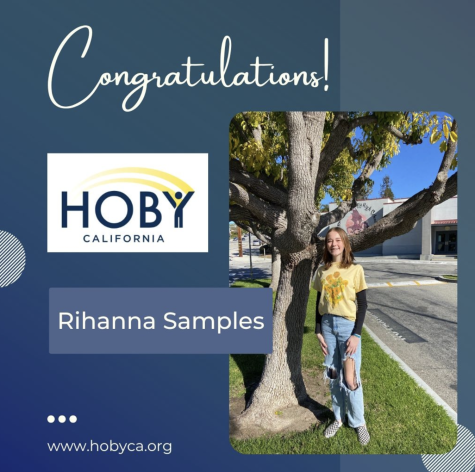 Rihanna Samples '25 is a sophomore at Foothill Tech and was nominated for the HOBY award. Samples is a part of the National Charity League (NCL), a volunteer-based organization focused on mothers and daughters, where she "[gets] to do a lot of community service and charity work for the community." Each year, NCL members have different jobs; Samples currently acts as Historian, where she documents class activities and keeps track of all the organization's events. In addition, next year she will "also get to help choose a philanthropy organization for my class to partner with next year." 
When Samples was first nominated, she admits she was "kind of confused" as she wasn't quite sure what the HOBY was, but she also felt extremely "honored" for the nomination. Later, she began researching HOBY and watching informational videos, and afterwards became "super excited." While she's not entirely sure if she's looking forward to one particular thing, Samples is excited for the "chance to meet new people and connect with some of my other friends who are going." She is also particularly glad that this year's HOBY conference is being held at Cal Lu because it is "one of the colleges that [she] would want to go to."
At the conference, Samples wants to learn how to "use my voice to further make a difference." She thinks that it could be helpful to learn how to "include more people's voices" because she wants to "learn how to connect with them and help their voices be heard." She is hoping to "take all of the leadership knowledge" that she gains at the HOBY "and bring it back to Foothill's campus to hopefully make the campus a better place." She concludes that "the little bits of leadership skills can be used to form connections on campus and help make people feel more included." 
Aditi Shanbhag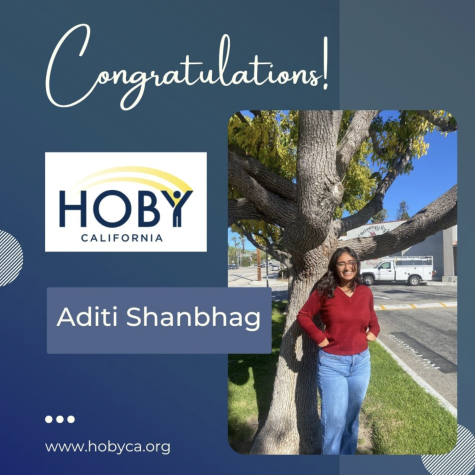 Aditi Shanbhag '25 is sophomore at Foothill Tech and was nominated for the HOBY award. Shanbhag is a part of the Bioscience pathway, whose advisor and founder is Mika Anderson, and their leadership program, Health Occupations Students of America (HOSA). She is the sophomore class representative of HOSA Service, "a committee in which we organize fundraisers and events that extend outside of our Foothill community." As an organization, HOSA's goal is to "produce a strong community of healthcare students who actively work to the benefit of our society." 
Initially, Shanbhag was surprised to hear that she was nominated for this award and graciously thought that there were "numerous other students who [were] equally as deserving of such a nomination." She felt "honored" to be thought of: "Nonetheless, I am grateful for the opportunity and am excited to bring the experience back to Foothill." While she doesn't fully know what to expect at the conference, she "knows it will be a fulfilling experience" and is "excited to meet all the other students around California" as well as "participate in activities." 
Shanbhag hopes to learn "how to be a more active member of [her] community" while at the HOBY conference as well as broaden and develop her leadership skills. She says that she "can thrive in an organized leadership fashion," but that leadership is also about focusing on the little things. "Leadership isn't solely about titles and big positions, but also about having courteousness and agency in your everyday interactions," she explained. 
Shanbhag wants to "help make our Foothill community more safe and comfortable for our students" after her experience at the conference, as well as "bring more importance to voluntary community service." However, she feels that "most importantly, all the skills that I will learn at the conference are equally as important to teach my fellow peers," and hopes to "bring this experience to them as well."