Skrillex: "A Quest for Fire"
Nine years since his debut album "Recess" and eight years since his collaboration with Diplo, Skrillex erupts from his silence with "Quest for Fire," reawakening his audience and reviving the heat to the world of electronic dance music (EDM). Although stepping away from his iconic style of dubstep, Skrillex, whose real name is Sonny Moore, continues to imprint his own sound in whatever genre he dabbles in. Known to work in the studio with several artists, "Quest for Fire" is by far his most collaborative work, as the album features both artists from the big leagues and those more underground. The vision of Skrillex is obviously reflected in "Quest for Fire," undoubtedly making up for the still years.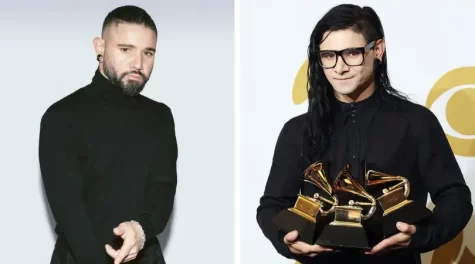 The 15-track LP plunges listeners into an immediate punchy beat that extends and retracts like a rubber band. Its opening track "Leave Me Like This" sets a theme of returning victory, showcasing just a sliver of Skrillex's ability to blend samples seamlessly. A highly creative demonstration of this ability is the album's fourth track "Rumble," which features Flowdan's rich voice and lyrics while thematically matching a jungle-like beat to the song. "Rumble" has a hardcore, choppy bass that spins into a heightened drop and utilizes the "rubberband" or "domino" effect to return the action to the ears of listeners. This sound of course represents the "rumble of a predator," which even prompts Skrillex to add in a well-placed lion roar.  
Just a couple of the album's stronger, fast-paced beats occur in the second track "RATATA" and the eighth track "XENA." The second track features iconic rapper Missy Elliot and fellow electronic musician and French filmmaker Mr. Oizo. Missy Elliot's lyrics and catchy saying of "ra-ta-ta" makes it a very fun song to sing along with. Additionally, the bouncy reggae and whistle blowing in the background pay heritage to the familiar Jack Ü duo-album from eight years ago. Skrillex collaborated with Palestinian singer Nai Barghouti in "XENA," which yet again showcased his ability to blend various samples. Skrillex's rapid snare drums manage to avoid overshadowing Barghouti's beautiful Arabic, which instead empower her voice with a thrilling scream and war cry in between drops. Listeners become entranced when rhythmic clapping and a rising drum center on Barghouti's articulated singing within the last two minutes of the song.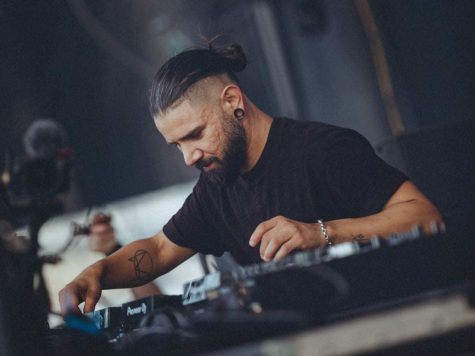 More profound and exclusive to individual listening are "Inhale Exhale," "A Street I Know" and especially the 13th track, "Supersonic (my existence)." "Inhale Exhale" and "A Street I Know" combine to provide an intense wobbly beat with speedy vocal echoes. "Supersonic (my existence)" emanates the feeling that one is in a dark vortex of reflection, which may attune to Skrillex's lyric choice and album theme. Sounding triumphant, a heavy reverb with a warping effect crystallizes the sound, producing a seeming sonic boom. 
Scattered dance-specific songs are "Butterflies," "TOO BIZARRE (juked)" and feel-good "Good Space." The fifth track, "Butterflies," allows one to catch their breath with its pop-like rhythm, starting with a well paced build. Its structure may seem somewhat predictable, as it is similar to various pop-dance songs out there, but it's still a cheerful tune to bop to. "TOO BIZARRE (juked)" is a remix (or juke, as Skrillex wrote) of previously released single "Too Bizarre" from 2021, an alternative pop song featuring Swae Lee and Siiickbrain. This time it's more directed as a club-mix, with sped up vocals and a reverbed chorus. 
"Good Space" drives one to move and feel cheery, as the song masterfully distorts the volume of Starrah's vocals to fit the punchy vocal-chop that is the essence of the song. It seems that the music becomes more personal throughout the rest of the album, beginning with "Good Space." The 11th track is not a song, but instead a snippet of a backstage interview from 2005's Warped Tour that fades into "Good Space." This interview included Pete Wentz from Fallout Boy and Moore. Together they laughed and cheered as that event was the culmination of their beginning careers; which serves as a warming time-capsule to Skrillex's accomplishments. As Moore had emotionally put it, "Yeah…it's…pretty…weird."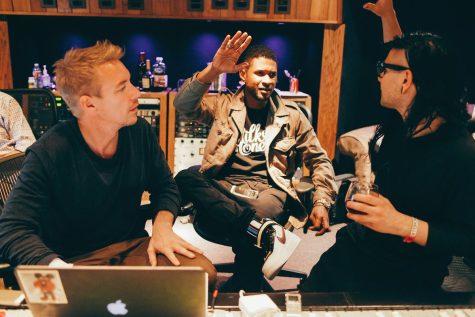 Before he was Skrillex, Moore was the lead vocalist for an emo-rock band called From First to Last. He left the band to pursue a solo career after increased band tensions and a period of complications with his vocal chords. He began to perform under the alias Skrillex in 2008, collaborating with several iconic EDM artists over the years, such as deadmau5, Porter Robinson, Zedd, Knife Party, Boys Noize and of course, Diplo. Changing the field of EDM and mastering dubstep, Skrillex has won eight Grammy Awards; more than any other electronic dance music artist. Reuniting with his former band in 2017 and releasing various collaborative singles since 2014, Skrillex has been building up to something tumultuous. 
Just one day after the release of "Quest for Fire," Skrillex also released a surprise album called Don't Get Too Close. Much more personal and contrasting from the fiery "Quest for Fire," the album is the backbone of what became Quest for Fire. It makes the first album much more special to hear with an inside look into Skrillex's mind, as it continues the calming chime-filled melody into both albums, all while beautifully expressing Skrillex and his future eccentric music. The final track of Quest for Fire, "Still Here (with the ones that I came with)," perfectly ends the album by picking up from its opening track with thankful lyrics. Porter Robinson's uplifting distortions subtly lie within the song until it showers Skrillex's beat in the final track's overturn. Needless to say, no matter one's specific taste, Skrillex will always have something for anyone.