Seniors pledge to 'finish strong' at Hero assembly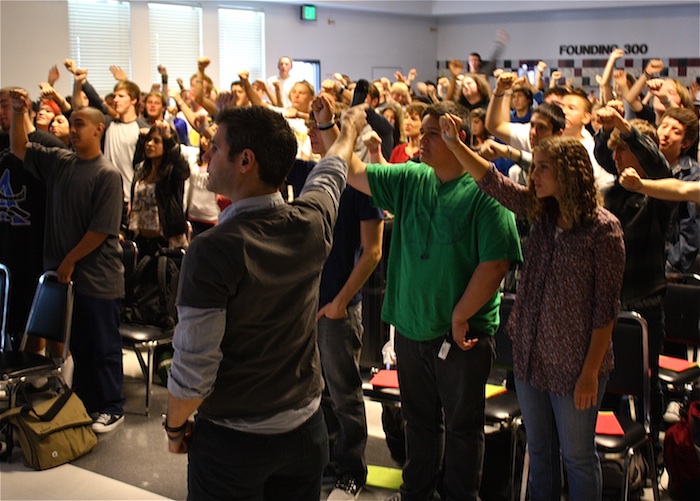 Spandex is what you think of when you think of a hero. Spandex, bright colors, muscle, and an overwhelming passion for justice–not necessarily a bunch of high school seniors.
The senior class gathered in Spirito Hall on Monday to learn about the biggest hurdle remaining in their high school careers: they have to become heroes.
"It seemed daunting at first," said Foothill senior Eric Birdsall. "But it seems like it could be enjoyable."
Now, the seniors won't be running into burning buildings or administering life saving medicine. They will, however, be doing something arguably just as great, helping the community.
"It can be something extraordinary done by someone ordinary," said Foothill teacher Melanie Lindsey.
Foothill seniors will be doing things like assisting the elderly and teaching art at local elementary schools, allowing them to not only learn about themselves but also about their community.
In their various projects, seniors will be expected to get anywhere from 15 to 35 hours of community service. And in order to get an "A," students must complete 35 hours.
"Not all projects work," Lindsey continued.
"Some heroes die," teacher Justin Frazier added.
Why then would we have a such a massive project?
"Foothill is a project based school, and I wanted something that connected to heroism and got seniors to get community service hours," Lindsey said.
That was ten years ago. Lindsey, then the only senior English teacher, single handedly set up the Hero Project mostly from scratch. Some of the paperwork details came from the "Senior Project," a self-improvement project from another school.
Like most heroes, Foothill seniors will not be alone in their journey. Teachers Cherie Eulau, Chris Prewitt, Heather Ferris, and Jason Dinkler will be there, with Lindsey and Frazier helping the seniors every step of the way.
"Now is your chance to do something great," Frazier told the seniors.
After a reciting a "finish strong" pledge and watching an inspiring video, the seniors got up to go, and that same Foothill maxim hung upon the air:
"The choice is yours."