Foothill Tech girls' softball crushes Pacifica in first home game of the season
Competing in their first home game of the season on Feb. 17, the Foothill Technology High School (Foothill Tech) Dragons crushed Pacifica High School (Pacifica) 20-6, easily taking the contest. 

Cole Dinkler

The Dragons are now on a 5-0 winning streak to start their season, including victories against Santa Barbara High School, Pacific High School, Nordhoff High School, Ventura High School and Carpinteria High School. 

Danielle Bishop '23 pitched the whole game, putting on a masterful performance. The full time catcher for the team was Izzy Rodriguez '26. On first base was Bella Rodriguez '24 and second base was shared by Linda Manzo '23 and Tiffany Martinez '24. The position of third base was shared by Martinez and Lauren Fossati '25. Shortstop was played full time by Jasmine Guzman '23, center field full time by Jaelyn Perez '25 and right fielder full time by Kloey Jaurez '26.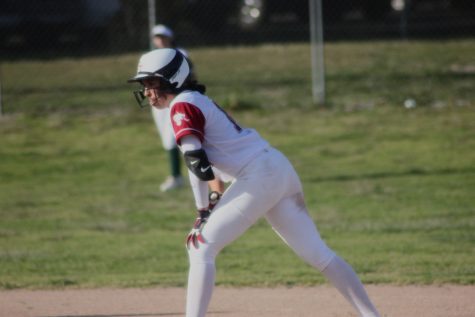 The top hitter was Juarez with four hits. Rodriguez, Bishop and Fossati followed, also going 3-4. 
The top run scorers were a three way tie between Bishop, Guzman, and Juarez. 
Guzman commented on her excitement for this year's team, "I have very high hopes for this team. I think that we are all connected to one another, and want the best for the team and for each other. We all truly love one another, and I am genuinely so excited to see what this season will look like."
For the first time in Dragon softball history, Foothill Tech has started off the season with a 5-0 winning streak. On Feb. 15, the Dragons demolished Santa Barbara High School by a final score of 18-0. Next was the 20-6 Pacifica game. Then came the game on Feb. 18 against Nordhoff High School with a win for the Dragons by a score of 5-2. Then, most recently, the Dragons crushed another game with a final score of 19-0 against Carpinteria High School on Feb. 22.
Also for the first time in Foothill Tech history, the Dragons took down Ventura High School on Feb. 18, with a final score of 8-6.
Guzman expressed her thoughts on beating Ventura High School, "Beating Ventura is definitely going to be the highlight of the season, especially because I grew up with most of those girls on the team. I feel like I can check this off my bucket list."
Fossati understood the team's enthusiasm from a successful start to the season, "Four to nothing makes everyone feel really good. Beating Ventura and Nordhoff made us really excited, and these feelings will definitely carry through with the hype and the energy of the team."
The Dragons will have their next game on March 1, 2023 at Nipomo High School.