Exploring Electives: A guide to Ethnic Studies and Social Justice
As the school year is already halfway over, many students have begun to put thought into next year's class schedules, pondering over which rigorous classes they should enroll in, along with the tough decision about which electives they should take. Electives are classes that students should take to foster their creativity and interests, and ultimately, they are the classes that should provide the least amount of stress for students. Foothill Technology High School (Foothill Tech) offers a wide variety of electives, one of these many engaging and enriching classes being Ethnic Studies and Social Justice (Ethnic Studies).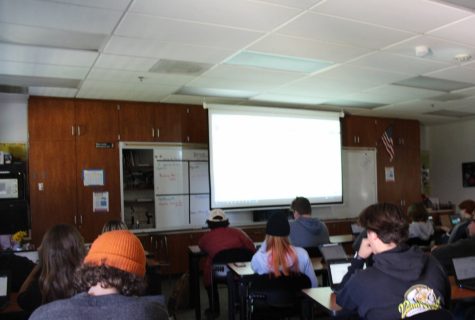 Ethnic Studies will be a required course for all high schools in California by the 2029-2030 school year, but Foothill Tech is already ahead of the game by offering the class to any student who wants to take it. Ethnic Studies is taught by Claire Adams in room I106 during both second and fourth period. It is a class that can be taken entirely on its own, but it also has connections to other classes such as English, History and even Spanish. Ethnic Studies is a perfect option for someone who wants to learn more about how societal constructs such as race, class, gender and sexuality affect the lives of people in the community and around the world.
Based on the Ethnic Studies Model Curriculum adopted by the California State Board of Education, there are six main topics covered throughout the year in this course. These topics include Identity and Narrative, Systems of Power, Hegemony and Counter-hegemony, Humanization and Dehumanization, Casualty and Agency and finally, Transformation and Change. When describing the units covered, Adams stated "the first unit explores … how society sees you and [how] you see your place in society." She continued by explaining how, as the units go on, they look into the effects of societies around the world, and even more locally in the Ventura community. She elaborated more on this topic by describing how as a class, "We look at things like the murals in Ventura … How instead of just running to the streets and yelling, [the artists] bring attention to a certain issue through [their] art." Each unit has a specific focus on humanity and how interactions and expressions through music, poetry and arts can influence the world.
As far as the workload for the class, it is very light and not demanding. The class contains many Socratic seminars addressing the wide range of topics having to do with ethnic studies and social justice. It is a project-based learning class, meaning there is no homework other than the projects at the end of each unit. According to Adams, one of the most challenging projects is the first project of the year, called the Inside Outside Project, because "you talk about how you think the world views you, how you present yourself to the world and then sort of internally, who is the you that we don't know." This project offers students a way to present their true selves to the class and for this reason, it can be difficult. Along with projects and Socratic seminars, members of the community are able to come in and serve as guest speakers, offering students a different perspective on certain topics and issues.
"
I just hope that this class gives people the tools to understand [that] we are all very different, yet we are very alike, but those differences don't separate us. Those differences, if they're understood, can make us closer and have a better understanding of one another.
— Claire Adams
In order to prosper and make the most of their time in the class, students must have an open and accepting mindset when it comes to ethnic studies. The end goal of the class is to give students the ability to foster empathy. The purpose is to understand that everyone walks around with their own experiences and baggage and that oftentimes, to foster empathy and understanding, it is necessary to step into another person's shoes to experience what their life may be like. 
Overall, Ethnic Studies is the perfect elective class that offers the stress-free assurance of no homework, offsetting the oftentimes large amount of work given by more academic classes. It is a class that all students should take to expand their mindsets and gain further understanding of the people and the world surrounding them.
If you have any other questions about the course, you can click here to access the list of frequently asked questions about Ventura Unified School District's Ethnic Studies and Social Justice curriculum.