Boys' basketball wins second league game against Grace Brethren
In the second league game of the season on Jan. 19, the Foothill Technology High School (Foothill Tech) boys' basketball team had a smooth warmup, anticipating a win against the Grace Brethren High School Lancers (Grace Brethren). Avenging a devastating loss against Laguna Blanca School (Laguna Blanca) in their first league game, the Dragons rebounded to beat the Lancers by a final score of 57-45. 

Gavin Graves '23 stated, "It's our second league game, and we couldn't come out in our first league game against Laguna Blanca, so we wanted to come out strong, run them across the court, and try to secure the win."

Cole Dinkler

Grace Brethren secured the tipoff, but were unable to convert on their first possession. The starters for Foothill Tech — Sam Noah '23, Nick Drucker '26, Graves, Ashton Brown '26, and Phillip Blessum '25 — worked smoothly in order to get the first shot of the game into Graves' hands, allowing him to drain a three-pointer. 

Grace Brethren's offensive woes continued with shot clock and ten second violations in quick succession. These were accompanied by two more buckets for Graves off of assists from Noah, leading to a 7-2 lead for the Dragons. 

Coach Jamaal Brown shouted out Graves postgame, "He had 18 points tonight, I know that's his career high and that's a game he'll remember for a long time."

The quarter continued with the two teams trading baskets, and makes by Noah, Drucker and Blessum gave the Dragons a 16-10 lead to finish the opening quarter.

The second quarter started with Graves making the first shot yet again. Soon after, Noah blocked a shot and advanced the ball down the court to Brown, who made a transition three-pointer. 

Graves blocked a three on defense, allowing Drucker to make a three on the ensuing offensive possession. Graves continued his dominance when he stole the ball and opened the opportunity for a fast break layup. The half ended with another smooth three pointer dished in by Drucker to make the score 33-20, Dragons.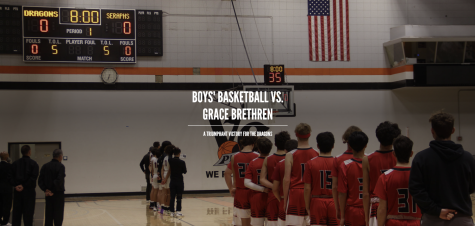 To begin the second half, Drucker made another three-pointer, and Graves continued to pour in shots around the basket and from behind the arc. The quarter ended in a 46-36 score, with Foothill Tech still in the lead
Drucker commented on the performance of the team, "We needed to be better at rebounding. As a team, we need to work on being more aggressive on the glass."
The fourth quarter started out dry, with Noah making a fast break layup before a timeout by Grace Brethren.
As the fourth came to a close, Jacob Lombardo '23 iced the game with a fast break layup and a pass to Seamus Murphy '23 for two free throws concluded the game 57-45, Dragons. 
Coach Brown offered a final comment, "We're in the throes of league play right now, so every game is super important. I was very pleased with the boys' effort and the energy that came out tonight. They took it to Grace on their home floor and earned the victory."
Foothill Tech's next league games were a victory against Villanova Preparatory School and a loss to Dunn School (Dunn). They will rematch Dunn on Friday, Jan. 27.