Girls' soccer battles hard in 0-0 tie against Santa Clara
On Jan. 6, 2023, the Foothill Technology High School (Foothill Tech) Dragons hosted Santa Clara High School (Santa Clara) for an intense girls' soccer match on a frigid night. After a tense game including an overtime period, the score remained knotted at 0-0 to the final whistle. 

Jenna Ostrom

Coming immediately off of winter break, the Dragons were faced with the challenging task of shaking off the rust against an undefeated opponent. A rainy week complicated things further, as Avery Denger '23 explained, "practice this week was a little rough because we only had the field for one day." Still, the Dragons came to play and proved to be fierce competitors.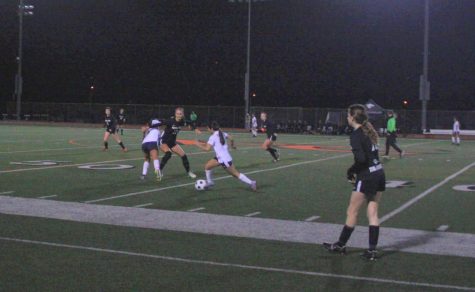 Early in the game, Foothill Tech's defense made terrific play after terrific play, beginning with two steals by Malia Sanchez '23 as well as a phenomenal save by goalkeeper Addi Fallon '25. 
Defense proved to be a strength for both teams however, as Santa Clara prevented a would-be goal from Denger and a pair from Claire Meehan '23.
Speaking about such missed opportunities offensively, Meehan reflected that the team, "definitely should have scored."
Specifically, Coach Patty Gomez thought that offensively, "making runs off of each other would definitely have changed the game a lot."
Nonetheless, both sides persevered. With 11:30 left in regulation, Fallon saved another attempted Santa Clara goal, and soon both sides entered overtime with no score. 
"
They worked really hard, they were physical, and they played to the whistle.
— Coach Patty Gomez
In overtime, both teams had attempts at the goal, but defense continued to reign supreme to keep the game scoreless. 
Coach Gomez explained that the Dragons defense was so successful because, "[Santa Clara] pressure cover balance was exactly how we wanted them to play." 
Denger added that "everyone was dropping back and covering," revealing the teamwork that allowed for such a performance. 
The Dragons will look to build on this encouraging performance when squaring off against St. Bonaventure High School at Ventura College on Jan. 12.