Foothill Tech's Drama Club embraces outcasts with original play "The Guide To Becoming A Theatre Kid"
The room darkens, a hush falls over the awaiting crowd and a warm spotlight illuminates the curtain-drawn stage. Two hands emerge, snapping on beat with the famous "Addams Family Theme" song playing from speakers before the show begins. 
At 6:30 p.m. on Dec. 14, 2022, the Foothill Technology High School (Foothill Tech)'s Drama Club held a closing night for their original play, "The Guide To Becoming A Theatre Kid" in Spirito Hall.                                 
Written by Jessie Yalinkatian '23 and Hadyn Hughes '23, the play follows teenager Parker, played by Avery "Bee" Buehner '26, as she struggles to navigate school, relationships and life following her parents' divorce.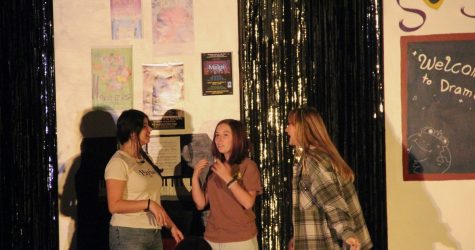 Yalinkatian and Hughes wrote the play because they wanted the club to perform a musical, but also had to stay on budget.

"Seeing it come together was really rewarding," Yalinkatian shared, and Hughes continued that, "We're really grateful that we are able to see our story come to life."

The show begins with Parker in English class, writing in her diary and narrating her thoughts, as she does throughout the production. Clad in pajama pants, hoodie and beanie, she rants about her disdain for her classes and school life.

Concerned English and Drama teacher Mrs. Stratton, played by Clarisse Cortez '23, encourages her to join a club and to try something out of her comfort zone.

Parker visits her school's Club Rush, and many advertise themselves to her, leaving her bored and wanting to leave. Eventually, her sister Daisy, played by Fiona Aulenta '26, is introduced. Approaching her, she brags about the amount of people who are interested in Drama Club. Parker ribs her about Drama and jokes about how lame it is, before the scene ends. 

Jenna Ostrom

Musical theater-obsessed Daisy is loud and energetic, contrasting with Parker's mellow and apathetic demeanor. They have a typical sister dynamic, with constant teasing and bickering, but full of love. 

"We're already best friends, so we could improvise a lot of our scenes together," Aulenta said about getting into character for their sibling relationship.

Following an argument with Daisy after her loud music interrupts Parker's brainstorming, Parker finally decides to go out of her comfort zone and go to Drama.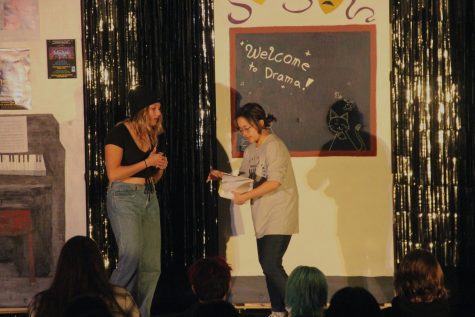 Stratton is confused about Parker's hatred of drama, but before the conversation continues, the room transforms as people appear and break into a musical dance number. Parker panics, trying to keep up with the dancers and eventually bursts into song.
Later, Daisy sings "Hamilton" to a panicking Parker. Giving in, Parker decides to join Drama. 
Nervously walking into the room, Parker meets the characters in Drama Club: Rowan, Luna, Bennett, Willow, Ava, Kenzie, Finn and Harley. While they're all vastly different, they are a tight-knit group, and welcome Parker with open arms.
Stratton then introduces the musical for the year: "Beauty and the Beast." All club members must perform a song and dance to audition. As the group chatters and banters about which roles they'd fit, Parker begins to worry.
During her audition, however, she stuns Stratton with her vocals, which lands her a lead role as the Beast. 
While preparing for the role, Parker becomes closer with the club, as well as with her sister. She begins to find belonging, which makes her fearful and overwhelmed. 
She asks Stratton if she could take a break from Drama, opening up about her fear of abandonment. Parker goes on about how she feels that she has to leave her new friends before they can leave her. 
Daisy finds the diary Parker dropped and decides to read it. She finds out about Parker's thoughts, and becomes angry about her decision to leave Drama.
In the climax of the play, the sisters face off in an emotional argument. Parker spouts hurtful words about not needing anyone, which ends the argument as Daisy storms off. 
The Drama Club is concerned when Daisy shows up to the meeting alone. When Parker shows up to explain her reasoning and fears, they assure her that they won't leave her. They tell her that they're all outcasts, and she does belong. 
"
There are a lot of places on this campus where people belong. Drama is one of them. Everybody needs to feel like they belong.
— Jennifer Kindred
Parker apologizes to Daisy by singing "The Secret of Happiness," which becomes a duet, and they hug each other in a heartwarming moment.
Aulenta shared her desire for the audience's takeaway, "I hope that people see that positivity wins."
The play ends with Parker preparing for her Beast role, monologuing about her newfound love for Drama and theater. It ends with a song and dance performance of "You Will Be Found" by the entire cast.
"Even if you feel like an outcast, there are people who will support you, even if you have to dive out of your comfort zone to find them," Yalinkatian explained about the central meaning of the play. 
The cast, crew and Drama teacher Jennifer Kindred stepped out for their bows and applause, thanking each other and the crowd for their support of "The Guide To Becoming A Theatre Kid."