Girls' soccer suffers hard-fought loss against Channel Islands High School
On the cold and rainy night of Dec. 2, the Channel Islands High School (Channel Islands) girls' soccer team headed to Ventura College to face off against the Foothill Technology High School (Foothill Tech) Dragons.
After a dominant 8-0 win vs Nordhoff High School earlier in the week, the Dragons looked to continue their winning ways, but unfortunately fell short with a 3-2 loss in this match.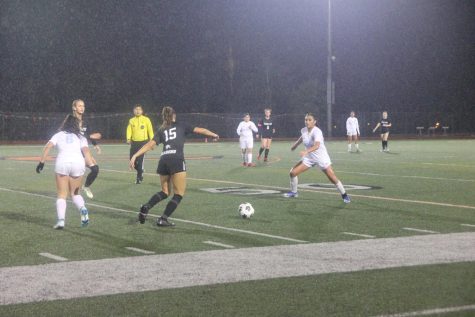 Heading into the game, Sierra Soriano '23 felt that the team was, "a little nervous but overall hyped."
In a wildly exciting beginning to the action, just a minute into the game, Lily Shadden 23' scored the first goal to give Foothill Tech a 1-0 lead. 
Shadden commented on what led up to the goal, stating "we did really well connecting our passes."
From there, Foothill Tech held possession in Channel Islands territory for a significant stretch, with several attempts at a goal being stopped by the goalkeeper. 
After the game, Shadden touched on moments like this, reflecting that, "we need to learn to finish our opportunities … and execute."
Channel Islands eventually went back on the attack for the first time since early in the game, and were able to tie the game 1-1 in the 30th minute of the first half. 
The Channel Islands onslaught continued, as a few minutes later they extended their lead 2-1 going into halftime. 
To begin the second half, within the first minute once again, the Dragons quickly struck back as Shadden scored her second goal of the day, this one from long distance. 
After a few minutes with no attack from either team, Channel Islands attempted to retake the lead, but a nice save from Lupita Gonzalez '24 gave possession back to the Dragons. With this momentum, Shadden went for the hat trick to take the lead, but was slightly off the mark and the game remained tied. 
Eventually, Channel Islands was able to drive the ball into Dragon territory again, and took the lead 3-2 with 10 minutes remaining.
In the closing minutes of the game, Foothill Tech had the ball in striking territory and had several looks at the goal, but were unable to score as time expired. 
Going into the rest of the season, Shadden believes that the team needs to, "get more physical and finish our opportunities."
Still, the team's coach Patty Gomez said after the game that she was, "really proud of how the girls adjusted and competed." 
The Dragons will look to return to their winning ways as they will host Grace Brethren High School at Ventura College on Dec. 8.