"Wednesday": A twisted spin on the classic tale
Netflix's latest show "Wednesday" is the newest addition to Tim Burton's extensive artistic portfolio. As it follows Wednesday Addams (Jenna Ortega) in her attempts to master her newest psychic abilities, she becomes entangled in the secrets and issues buried in the town of Jericho. After its debut on Nov. 23, 2022, "Wednesday" has already proven itself to be an excellent watch for any Addams Family fan.
As the newest addition to the Addams Family collection, "Wednesday" is a perfect way to continue the story with a concentrated interest: the titular role. Jenna Ortega's take on this dead-pan character is one that audiences cannot forget. The most notable trait that Ortega has brought is Wednesday's emotional arc portrayed throughout the show. The cause for this progression is the on-screen romance between Wednesday and Tyler Galpin (Hunter Doohan). This previously brutish character has flourished into a seemingly regular person,  which is odd for the classic Wednesday Addams.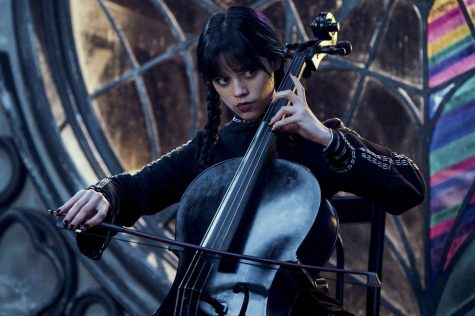 This modern twist on a spooky classic takes place at the Nevermore Academy in the fictional town of Jericho, Vermont. When Wednesday is sent off to this "school for outcasts and monsters" after an incident at her old school involving piranhas and the water polo team, she meets the fan-favorite character, Enid Sinclair (Emma Myers). As Wednesday's polar opposite, Enid is bubbly, colorful and charismatic which proves to be a challenge for Wednesday.
After the town experiences questionable monster attacks, Wednesday finds herself entangled in the mystery. Why is the Sheriff (Jamie McShane) blaming it on the students? Is Principal Weems (Gwendoline Christie) trying to cover up Nevermore's secrets? How does Wednesday even fit into all this? The suspense and intrigue add a new level to the show, causing it to be so popular. 
The cast includes newer actors playing Xavier Thorpe (Percy Hynes White) and Eugene Otinger (Moosa Mostafa), but also includes Wednesday's parents, Morticia and Gomez Addams (Catherine Zeta-Jones and Luis Guzmán). Even Cristina Ricci is back as Mrs. Thornhill. After playing Wednesday back in 1991, Ricci was the cherry on top for this casting. 
"Wednesday" follows many twists and turns with its exciting plot. The cast makes for a perfect group, although some of the acting delivered by the supporting characters fell short, causing it to almost feel like a Disney Channel original movie. Most fans will give it a fairly well-liked review, but our review is a 4.5 out of five. The pacing was enjoyable and the episodes weaved together to make a cohesive series. After breaking Netflix's record for most views in a week, previously held by Stranger Things, fans are wondering what is next for "Wednesday". After the cliffhanger ending and general popularity that the series has produced, fans should rest assured that another season will be happening soon.