A guide to Advanced Placement United States History
If you're planning on taking any Advanced Placement (AP) classes next year at Foothill Technology High School (Foothill Tech) and AP United States History just happens to cross your mind, then here is a quick insight on what you could possibly be in for. 
AP United States History (APUSH) is a college-level course taught in room I108 during periods one, three and five by Dan FitzPatrick (Mr. Fitz), a teacher with a good sense of humor and a passion for history. APUSH at Foothill Tech offers a unique curriculum that is hard to come by, as it is actually paired with AP English Language and Composition (AP Lang), which is taught separately by teachers Richard Geib and Jennifer Kindred during periods two, four and six.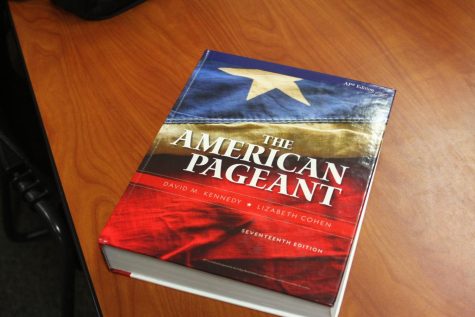 Students taking APUSH also take AP Lang, since the assignments and topics taught in each class are carefully curated by the three teachers to go hand in hand with each other to create a collective curriculum which they call "The American Experience." In earlier years at Foothill Tech it was a requirement for students to take both together, but now there is an option to only take one or the other. 
"The three of us work very closely together in creating [an] academic and rigorous curriculum, where students are definitely stretched but also are able to rise to those really high expectations of [a] college-level curriculum" Mr. Fitz explained. 
While the class involves a ton of lectures, reading and studying, there are also a lot of bigger assignments to look forward to that take place throughout the school year. Mr. Fitz shared some of these, stating, "we do a Constitutional Convention, we'll do a Reconstruction project [and] we'll share […] a muckraking project about during the Progressive Era." Then, at the end of the school year to wrap it all up, students even do a speech on the American Experience as a whole and where they see themselves progressing in it. 
When asked about his experience in APUSH, Eli White '23 shared, "APUSH is a really fun class. Fitz makes the class fun whether it be with stories of Greece or just banter between him and the students." Being able to hit the grind in class all while having some fun along the way can sometimes be hard to come by, but has obviously found its place in Mr. Fitz's classroom.
"
Realize that it is not a competition between students, but a development of your skills and understanding of history.
— Eli White '23
While the class can be fun, that doesn't take away from the fact that at times it can be pretty stressful. When asked what tips he would give to students planning on enrolling in APUSH, White stated, "Don't stress so much. It's okay to slow down and take a deep breath, remember that everyone one who took that class struggled."
If it comes to the point where a student does feel like they're struggling or need help in the class, they have the option of going in to the classroom during F.I.R.E. and lunch, where Mr. Fitz is available to provide help. 
Overall, this class is the perfect fit for driven students who can persevere through a difficult workload. The class is filled to the brim with information to be absorbed and only has a short amount of time of about a semester and a half to get through it all, meaning that it is very fast-paced. While the class does require a lot of focus and motivation, it can also be fun and rewarding as students learn new skills.
Therefore, APUSH is a great class to enroll in, as each assignment is geared towards broadening the students' comprehension levels of history, enhancing their analysis skills of facts and ultimately seeing them become their best academic selves, all while having a little bit of fun along the way.