Recap: Boys' water polo suffers a narrow 12-10 loss to Malibu
The Foothill Technology High School (Foothill Tech) boys' water polo team faced off against Malibu High School (Malibu) on Thursday, Sept. 22, at the Ventura Aquatic Center in a league matchup. The game ended with Malibu taking the win 12-10. 
The contest was close from the beginning with the score going back and forth throughout. Neither team could gain momentum, but Malibu pulled out the victory.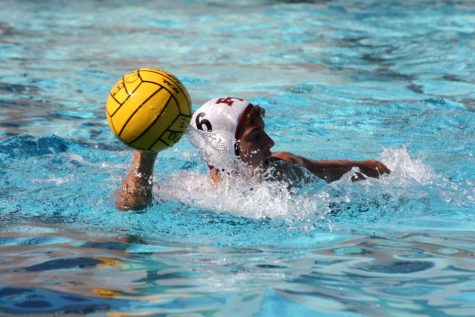 Ryder Hart '23 was a bright spot for the Dragons, scoring five goals and helping keep his team in the game. Lucca Postma '25 and Turner Stehle '25 also scored two goals apiece.
Stehle commented on the game, stating, "I think it went better than most of our other games. We only lost by two, which is pretty decent for what our team has been like over the year."
Ethan Ortiz '24 also played well in goal, making many great saves and keeping Malibu within reach, but it was not enough in the end. 
As the Dragons move forward in league play, Stehle also added "I think we still need to work on team chemistry." 
The Dragons' next challenge will be against Villanova Preparatory School on Thursday, Sept. 19.
Editor's note: The photos used above were taken at a different match than the one referenced in this article.