Torrential monsoon rains leave Pakistan suffering from devastating floods
Beginning in June 2022, Pakistan has dealt with devastating floods caused by monsoon rains. Around 33 million people have been displaced from their homes and over 1,500 people have been killed. Pakistani officials say that these are the worst floods to have hit the country in recent history.
Hundreds of thousands of homes have been destroyed, along with infrastructure such as roads, hospitals, schools and more. In addition to this, 40,000 square miles of land across Sindh Province are covered in water. This has taken an extreme toll on agriculture, a crucial component of the country's economy. Areas that were once abundant with cotton and wheat, staple crops in Pakistan, are now submerged under the floodwaters. 
At the same time, waterborne diseases are spreading like wildfire. According to UN News, aid agencies have warned of an uptick in waterborne diseases such as diarrhea, cholera, dengue and malaria. Many of the villages that have experienced the repercussions of the floods already deal with high rates of malnutrition and little access to clean water or sanitation. The rampant illnesses spreading in the festering water are making matters much worse.
"
As rains continue and flooding likely worsens over the coming days, there is an urgent need to scale up disease surveillance, restore damaged health facilities and ensure sufficient medicines and health supplies to affected communities."
— UN News
Officials say that it could take three to six months for the waters to recede. For the time being, people are finding shelter in public buildings such as schools and alongside roads. Those whose houses were not destroyed chose to stay in their homes, protecting valuables such as livestock. 
There is minimal representation of this catastrophe in the American media. After speaking to multiple students at Foothill Technology High School (Foothill Tech), it became clear that not many students are aware of this. Mikaela Clabaugh '25 stated, "I did not know anything about the floods before this interview. I think the news coverage is dismal at best, because there is so little of it." News coverage and education about disasters in other nations is important because it allows students to widen their scope to view the perspectives of third world countries and contribute however they are able.
The role of climate change
South Asia is a climate crisis hotspot that has dealt with extreme weather conditions throughout the past year, such as intense heat waves and the current flooding. This catastrophe is a byproduct of climate change. Greenhouse gas emissions increase the likelihood of extreme rains in South Asia, leading to dams overflowing and rivers breaching their banks. 
Pakistan, a country that already endures political and economic turmoil, is subject to some of the worst effects of the human climate crisis. Extreme weather events have affected the country countless times. From the 2022 heatwave that left India and Pakistan with the highest temperatures since 1901, to the on and off floods since the '90s, many environmental factors have left the country in a dangerous state.
The road to salvation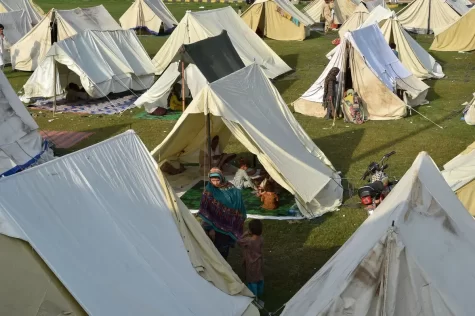 Pakistanis have expressed feeling neglected by the government. Power has been shut off in many areas as a safety measure—however, most villages have not received direct aid. After previous floods in 2010, citizens were given cash to rebuild their homes. Leila, a mother of three, said, "without money, we can't rebuild. We aren't people with means." Hopeful mothers are waiting to be supported by their government and international relief organizations, but so far, their wishes have not been fulfilled. 
Fortunately, humanitarian aid organizations such as UNICEF are working to provide assistance to Pakistani children and families during a time of necessity by providing medical and emergency supplies. They are also giving lifesaving help to displaced people through mobile health clinics. To help UNICEF provide help for those affected by the floods, donations can be made at unicef.org.