Class of '23 enjoys a relaxing day in the sun during annual senior picnic
As the seniors of Foothill Technology High School (Foothill Tech) left their classes on Sept. 14, 2022, they were welcomed to the quad with the annual senior picnic. 
The senior picnic, only open to class of 2023, was a bonding experience for fellow seniors. Through sandwiches, chips and drinks from Urbane Cafe, the seniors enjoyed a care free lunch, coordinated by the Associated Student Body (ASB).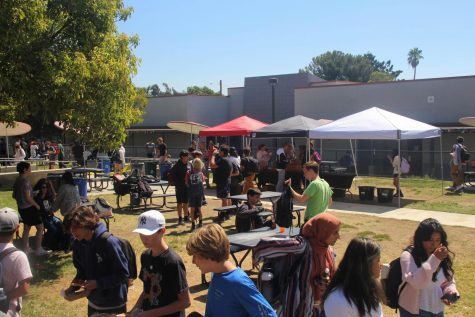 The picnic was kicked off with a class group picture, the students filling the stage and steps, crowding around one another. Capturing one of the last photos of the senior class all together was an emotional moment, signifying their last year at Foothill Tech. Liliana Lay '23 commented, "The picture was a real unifying moment for seniors." 
After the photo, the students were directed to a line, eager to get their lunch. They were served sandwiches, drinks and chips by ASB students, after showing their student ID. There were a variety of types of sandwiches which opened options for students with different tastes and dietary preferences. 
Lay '23 showed her appreciation towards the different choices, explaining, "It's cool that they had a vegetarian option, I'm a vegan but I can just take out the cheese." There was a sandwich available for everyone that wanted one, there even being leftovers for the hungry students to go back for seconds. The seniors' only complaint was the line as Alyssa Cagle '23 explained, "If they could work on the line system, I think it would be so much better."
"
I want to become a little more social this year and I want to make sure to take advantage of the time that I have now, especially in events like these.
— Evelyn Tinajero '23
After the crowded line calmed down, the seniors spread out across the upper half of the quad, blocked off and reserved just for them. Music played as the students settled down with their food, and friend groups took advantage of the room in the quad and spread across tables and blankets. 
The space made it easier for the seniors to reach out to one another and talk over delicious food. Cagle '23 cherished the experience, saying, "It's a good start to the year, it was a way to meet all the other seniors out there because it's hard adjusting from COVID times." 
The afternoon was filled with socializing, eating and relaxing as the students enjoyed their free lunch. After the bell rang and the school day continued, the seniors were able to look back on the picnic as an exciting jumpstart to the upcoming school year.