Taylor Swift: A Timeline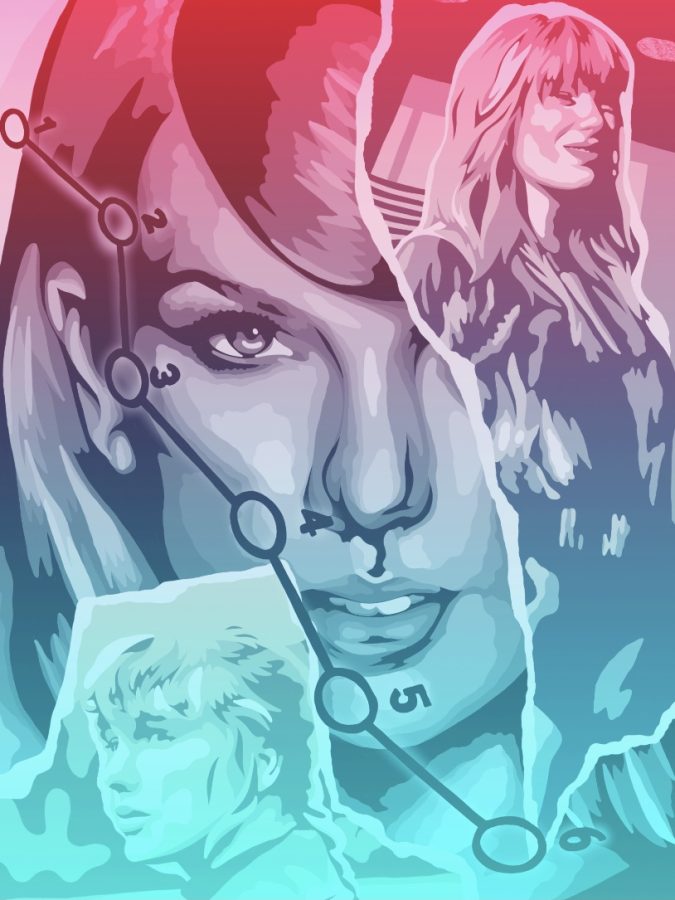 Taylor Allison Swift, known to the world as a pop/country star, has known her destiny since childhood. As many dream of breaking award winning records, Swift was able to make this dream her reality as she has become the most awarded artist at the American Music Awards and the youngest artist to win Album of the Year, as well as Entertainer of the Year from the Country Music Association Awards. Swift had humble beginnings, which she has shared in her songs such as, "The Best Day" and "I Bet You Think About Me (Taylor's Version)." However, as soon as her career began, Swift left her country roots to become an A-list Hollywood celebrity. 
Debut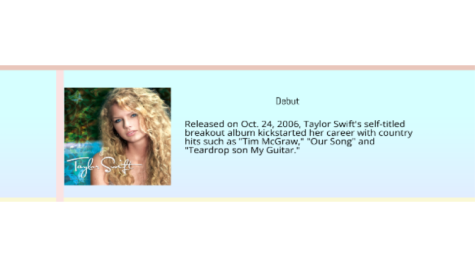 Since her childhood, Taylor Swift has been labeled as a singer. After watching Disney movies in theaters, she would recite the songs she had just heard as her family drove home, and she began writing original songs at the age of 12. As she sat in freshman math, Swift jump- started her musical career by writing the hit single that climbed to the Billboard Hot 100, peaking at #40, "Tim Mcgraw." With the release of her first album, "Taylor Swift," she dominated the country's top charts such as Hot Country Songs and Billboard, all before the age of 16. Following the success of her self-titled debut, Swift was nominated for her first Grammy for Best New Artist at the 50th Grammy Awards. 
Fearless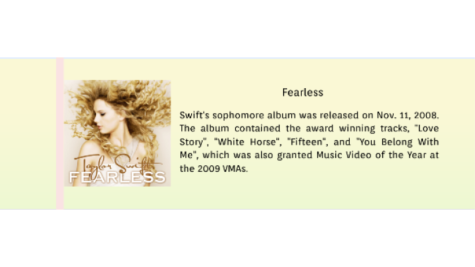 Swift's sophomore album, "Fearless," was released shortly after her first Grammy nomination in November of 2008. The hits "Fifteen," "Love Story" and "You Belong With Me" reached the hearts of teenagers worldwide, as Swift captured the trials and triumphs of teenage romance within her lyrics. Adolescents were not the only ones impressed with Swift's work: the album went on to garner eight Grammy nominations and brought home four, including Album of the Year, Best Country Song and Best Country Album. The hints of pop influence within her country-rooted music sparked a cultural shift within the country genre altogether, as country music has featured pop elements since Swift's rise to fame. 
Speak Now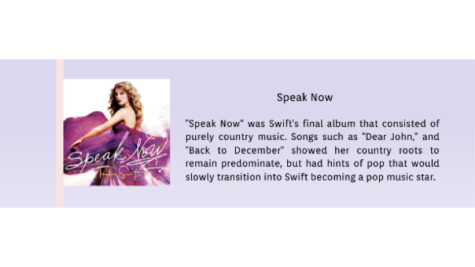 Swift's reputation of being a non-stop writing machine planted its roots in her childhood, but was proven to the world with the quick production of her emotional rollercoaster album, "Speak Now." Swift shared her encounters with fellow celebrities as she adjusted to the life of fame, in which she recuperated from her first interaction with Kanye West and shared insight into her breakups with stars such as Joe Jonas and John Mayer. Hits such as "Mine" and "Enchanted" were brought about, as well as the lengthy yet iconic breakup melodies of "Last Kiss" and "Dear John." Throughout the duration of the Speak Now Tour, Swift drew a purple number 13 on her right hand, as well as placed "Easter Eggs" for her fans to decode as hints to upcoming releases and events. 
Red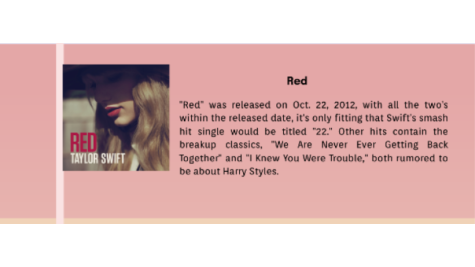 Swift's final remains of country elements within her work were produced with the album "Red." The pop hits titled "We Are Never Getting Back Together," "22" and "I Knew You Were Trouble" contrasted the country hits "Everything Has Changed," "All Too Well" and "Begin Again." As Swift embarked on a journey through the genres, her success was never doubted. The album made its debut in 2012 and was granted four Grammy nominations at the 56th Annual Grammy Awards, paired with an emotional performance of the lengthy "All Too Well." Swift's romantic encounters remained the main topic of her songs, as some were speculated to be about her past relationships with stars such as Harry Styles and Jake Gyllenhaal. 
1989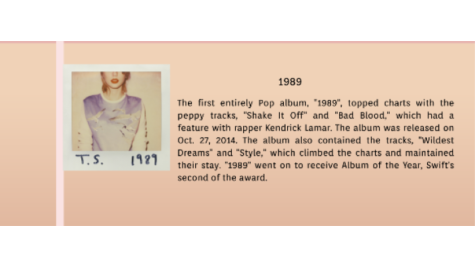 "1989," named after the year that Swift was born, was released in 2014 and is her first official "pop" album, with an '80s-inspired undertone. The theme of songs about past lovers continued as Swift released "Style" and "Out of the Woods," both rumored to be about One Direction's Harry Styles. The eruption of the "1989 Era" was ignited with the release of the hit single "Shake It Off." As she deflected the media's speculation and tabloid's gossip, Swift rang in three Grammy nominations for the song, including Record and Song of the Year. Continuing to address her music to the media, Swift cleverly portrayed the image that she is commonly stereotyped as in the three-time Grammy nominated hit, "Blank Space." "1989" earned Swift three Grammy awards, including Album of the Year and Best Pop Vocal Album. 
Reputation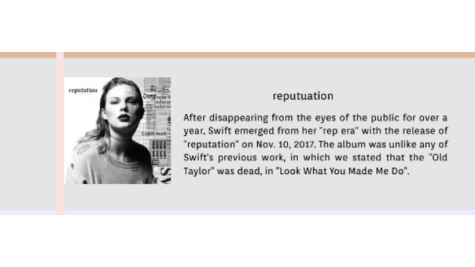 After a year of being completely withdrawn from the public eye, Swift returned with the release of the single "Look What You Made Me Do." Her comeback album "reputation" stemmed from the messy encounter with rapper-entrepreneur Kanye West and his release of the song "Famous." The connection between Swift and Country was completely severed–"reputation" was Swift's most edgy era, introducing rap influences with features from Future, and deep bass elements as heard in the introduction of the song "I Did Something Bad." Her most recent tour was the Reputation Tour, which became a Netflix film, rightfully titled "Taylor Swift Reputation Tour." It had special appearances from artists such as Tim McGraw and Swift's best friend, Selena Gomez. 
Lover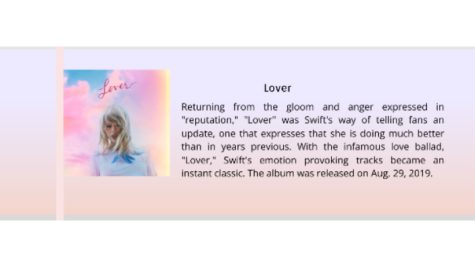 Showcasing the pure happiness derived from the newfound bliss within herself and her relationships, "Lover" was Swift's seventh and most bubbly album. The album granted Swift two Grammy wins for Song of the Year and Best Pop Vocal Album. It continued to bring insight into Swift's personal life, as she opened up about her mother Andrea Swift's continuous battle with cancer ("Soon You'll Get Better"), and the progression of her long-term relationship with British actor Joe Alwyn ("Paper Rings"). Swift also showed support to the LGBTQ+ community in the song and music video for "You Need to Calm Down." Swift's unapologetic behavior and lyrics prove herself to be just that: unapologetic and truly herself. 
Long Pond Sessions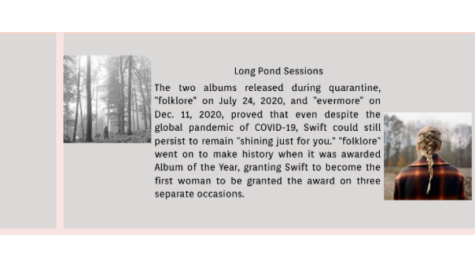 Often paired together since they were both surprise albums released during the COVID-19 pandemic, "folklore" and "evermore" proved Swift's talent and success to be indestructible. Despite featuring another genre shift and being produced rapidly and without her fanbase's knowledge, these albums were record breaking. With the Grammy win of Album of the Year for "Folklore," Swift became the first woman to be granted the award on three separate occasions, in three separate decades. The two albums gained a sum of seven Grammy nominations, as well as a stunning mash-up performance, containing the lead song "Cardigan" at the 63rd Annual Grammy Awards. The documentary "Folklore: The Long Pond Studio Sessions", revealed that–as fans had suspected–Alwyn had assisted Swift in the lyrics that tell the story of fictional lovers within the "folklore love triangle." 
Rerecordings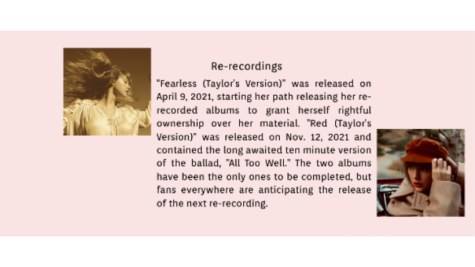 After her music was famously entrapped in the ownership of her previous manager Scooter Braun, the resilient Swift was able to find a way to reclaim what is hers through re-recording the albums produced under Big Machine Records. The first of the highly anticipated series, "Fearless (Taylor's Version)," was released in March 2021, paired with the release of "Red (Taylor's Version)" in November 2021. "Wildest Dreams (Taylor's Version)" and "This Love (Taylor's Version)" from the upcoming "1989 (Taylor's Version)" have been released since the previous announcement of a complete album, adding to fan's anticipation of the next release. 
Though her next release will not be a rerecording as speculated, Swift has announced that she will be generating a new album with thirteen tracks: "Midnights". This announcement was a shock to all during her 2022 VMA's award acceptance speech, where she proclaimed that the upcoming album will be available to fans on Oct. 21, 2022. Though Swift has maintained a highly successful career for sixteen years, she proves herself to be resilient time and time again, her music a treasure to be shared for decades to come.