Swap Meet Justice: Affordable and accessible help for immigrants
Every last Sunday of the month, rain or shine, a wide variety of volunteers join forces at the Oxnard College Swap Meet Social Justice Fair—commonly known as Swap Meet Justice—to assist immigrants with U.S. Citizenship and Immigration Services (USCIS) paperwork from 9 a.m. to 3 p.m. These volunteers range from high schoolers to attorneys who work together to provide accessibility, trust and assistance to those seeking it.
While goods such as food, clothes and more are sold, the social justice fair can be found further into the event, where co-coordinators Vanessa Frank and Adriene Coulter—along with many volunteers and other attorneys—provide free legal services to immigrants. These services include assistance with filling out paperwork for citizenship, as well as DACA and green card renewals. People from the community can also register to vote and apply for Selective Service.
What makes this event so unique? 
Swap Meet Justice is special because of the convenience of the event and the trust that is shared between its volunteers and attendees. 
Onyx Starrett, an immigration specialist at the Ventura County Public Defender's Office, explained the difficulties that come along with applying for citizenship. "It's hard to know who to trust, and also, it can be very expensive to apply for a citizenship," Starrett said. 
Many immigrants who are searching for assistance with USCIS forms may easily find themselves paying unreasonable fees for the same services that can be found at Swap Meet Justice free of charge. Additionally, many people do not have time during the week to complete paperwork due to other responsibilities, so it is beneficial for them to have free assistance on a weekend for what can be a long and complicated process.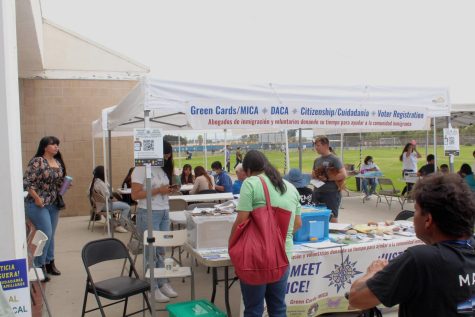 The pathway to becoming a U.S. citizen may seem like a simple process, similar to getting a driver's license. However, it is actually quite complicated. Due to constantly changing immigration laws, the possibility for the spread of misinformation is fairly high.
Frank, an immigration attorney and co-ordinator of the event, explained that many immigrants do not qualify for citizenship due to them not being aware of certain laws, which can lead to issues with filling out the forms. Swap Meet Justice offers help in such cases from reliable workers who are up to date with the law.
"It's not just a question of filling out the form, it's having people who are tracking the law and training and keeping up with things," Frank explained. It is qualities like these from Swap Meet Justice that can reassure attendees that they are coming to the right place for assistance and are safe from unnecessary fees and misinformation. 
Ventura County is home to around 60,000 undocumented immigrants, and with a lack of resources, it can be very daunting for them to begin the process of completing their USCIS forms. The law can be unforgiving at times, and that is why the workers at Swap Meet Justice do their best to be sympathetic and understanding towards those who come in need of help. 
How you can help? 
Swap Meet Justice accepts the help of high school volunteers who are willing to contribute their time. Karina Cortes '25, a student at Oxnard Middle College High School (OMCHS), is the onsite coordinator at Swap Meet Justice. She explained that she became involved with the event because "It seemed very interesting," adding that, "I could use my skill of knowing two languages, and […] I could know more about the legal field," Cortes said.
Swap Meet Justice offers accessible volunteer opportunities for those who are multilingual or want to practice their Spanish. It also gives people a chance to learn more about immigration law directly through attorneys and by experience, all while earning up to 7 hours of community service per day.
While Swap Meet Justice welcomes high school volunteers, interested students must be serious and professional. They will be handling personal information and filling out legal documents that get sent to the government. The USCIS documents can also take hours to complete and they require patience and sympathy. The attendees of this event have often had difficult journeys with gaining citizenship, and volunteers must be understanding and responsible.
Students at Foothill Technology High School (Foothill Tech) looking for community service opportunities can volunteer at Swap Meet Justice in order to make an impact in their community, practice multilingual skills, get student volunteer hours and learn more about immigration law. For more information, visit https://swapmeetjustice.org/.