Words of wisdom: the annual Senior Dragon Talks impress all
As the humid air swept through the hallways of Foothill Technology High School (Foothill Tech) on June 6, 2022, the Class of '22 prepared to give their Dragon Talks, a speech done at the end of year by each senior student similar to Technology, Entertainment, Design (TED) talks. 
Each class had a number of seniors ranging from seven to ten per classroom. The classrooms were filled with underclassmen as they camped out the day in their third period class to listen to these talks. With topics ranging from the injustices of marijuana to financial abstraction, students were sure to learn something new in these presentations.
Carmen Quinn '22 presented on transgender representation and how it has evolved in today's culture, including in the media. This presentation ended with a clip from the show Pose, giving the ending of the speech a nice element of closure and emphasized Quinn's point. 
John Scherrei '22 explained topics relating to finance and money investment, detailing the credit card purchases phenomenon and studies like the monopoly strategy. 
Riley Schneider '22 elaborated on mental health in college athletics, touching on pressures athletes feel and the negative outcomes that comes with it.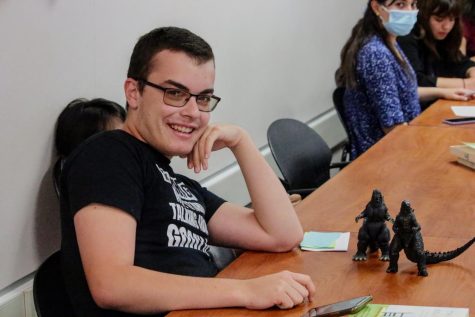 Miles Moilanen '22 took a comedic turn on suburbia, making the class laugh as they learned about the massive parking lots and rows of houses in the United States and the issues with stroads, a street and road shared together. 
Brooke Pyle '23 commented on Moilanen's talk, mentioning that they ¨liked Miles' talk about suburbia because it was hilarious and he was addressing a real problem with humor.¨
Deja Jackson '22 gave an insight on how students with anger management issues feel and further explained for those who experience anger management how to handle it in a proper way. In their presentation, they explained how they battled their anger and were able to have full control. With this Dragon Talk, they wanted to be able to help others who are in their shoes.
Jackson went into further detail, elaborating, "I was able to achieve teaching other students who don't understand how anger issues work and be able to open their eyes. What gave me my idea for my Dragon Talk was how I was misunderstood through my anger issues, which classified me as irrational, a baby, the fact that I can finally prove a point and help educate others to understand."  
Ryan Ando '22 discussed brand marketing, warning that things you may see being marketed in your daily life aren't always how they look on the surface. They wanted to prove through this Dragon Talk that there is so much more that goes into marketing through different brands that many are unaware of.
Ando mentions, "In the end of the year I was dreading Dragon Talks, I believe once you accomplish it, it's a great learning experience. For example, I hate public speaking and just being able to do a talk this long allowed me to feel far less scared of public speaking. It helped me realize public speaking isn't as bad." 
Jacob Guthrie '22 described how their passion for photography was able to help their mental health by allowing them to express themselves and also how their passion for photography opened a door full of many opportunities. They explained in further detail how photography allowed them to start their very own business as well as meet many people and travel.
Guthrie explained that, "My definition and meaning of art is whatever you would like it be, it is very unique as to whoever is taking the picture, there is not one definition or way to do photography and that's the incredible part about it." 
Aimee Kidwell '22 gave a passionate representation on Taylor Swift and other women and how they have to work harder than a man no matter what, even if they are famous and wealthy. They go into further detail through Taylor Swift's lyrics and breaks them down piece by piece of what Swift is trying to convey. They were able to tie in these lyrics to the issues that women face throughout the entirety of their life and experience time and time again.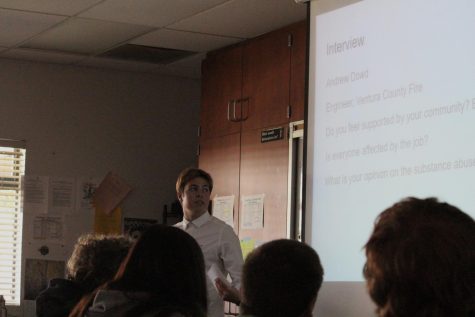 Kidwell explains in deeper detail that "Women always prove themselves physically, wearing crazy extravagant things such as meat dresses, chandeliers to the Met Gala, where as men can show up to events like this in a black tux and are automatically deemed best dressed. This physical double standard is not limited to just celebrities, it's a big issue in the political world, women are picked apart for what color they are wearing, lip shade, anything that the media can latch onto about their physical appearance in order to draw attention away from their talents or message." 
Max Vogel '22 spoke of a struggle many students can relate to: procrastination. They offered advice on how to avoid procrastinating and explained the root of procrastination using the Self Worth Theory. Vogel defined procrastination as a self-protection strategy. "High-schoolers do all of these things to protect their competence and their ability," they emphasized, and gave their solution. "People need to find a balance between their avoidance of failure and their approach to success."
Sophia Lawson '22 tackled the controversial topic of transgender women competing in women's sports. They expanded on their wariness of transgender women competing with biological women because of anatomy and hormones, as well as the requirements for transgender women to compete with other women. "A lot of people just don't know that it is an issue," Lawson added.
After all seniors had finished presenting, audience members then gave feedback on the presentations. Some classes took surveys while others voted in class regarding which presentations would become finalists and move on to presenting in other classes.
Evangeline Cobos '24 discussed that, "I was able to learn small facts in everyday life such as the presentation regarding marketing such as re-branding, and also how to manage my anger, how to start a business even. These projects were all so unique, I believe what made them so unique was how no other schools really has a project like this and the fact the seniors have the opportunity to talk about something they are passionate about is all incredible." 
Moia Kingsley '24 describes the importance of Dragon Talks and the impact they have on the community at Foothill Tech by mentioning, "Carlos specifically gave an incredible presentation regarding poverty, and the different types of poverty, it's a subject that I don't personally think about and it was interesting to be able to learn about the different situations regarding poverty and how we can contribute." 
As the day creeped towards time for the final presentations, which would decide the winners, seniors rushed over to the classroom window and crowded around the papers to see which of their names were on the finalist page. A few sighs of relief were heard along with a few disappointed groans while cheering came from the crowd behind them. 
The selected seniors went on to present in different classes after lunch with two presenters per class. From there, a decision would be made to choose the winning students, which would be announced in the quad.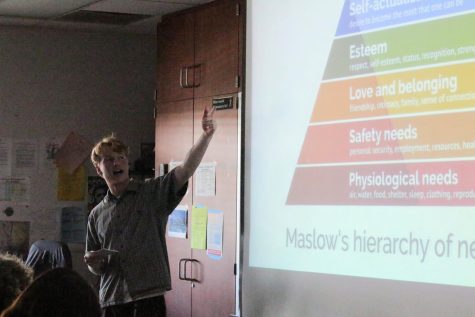 In the quad, the Class of '22 gathered, excitedly awaiting the results of the competition. Winners of the Dragon Talks could choose from different prizes, including water bottles. 
Emma Bartlett '22 won for her presentation on the "Power or Art" while Ruby O'Connor '22 won with "Learning, Understanding and Appreciating Feminism".
Athina Ananias '22 "The Misinterpretations of MicroAggressions" gave her a win, as did Kyle Masmela '22's presentation on "Why You Should Learn How To Cook". 
Filipo Scaglia '22 secured a winning spot with "My Immigration Experience". "The Importance of Putting Your Kids in Sports" gave Rome Falcocchia '22 a victory.
Max Murphy '22 won with "The Importance and Impact of Fictional Characters", and Autumn Munday-Brown '22 won for "Changes in English".
Max Collins '22 did a Dragon Talk on "The Effects of Language Loss on Cultural Identity" giving them a win. Ando won for their presentation on "Marketing". 
Kidwell triumphed with "Taylor Swift: The Man". Carsten Nagel '22 won with "Dungeons and Dragons and Mental Health". 
Grace Weldele '22 was victorious with "Gender Discrimination in Music". Celia Porrazzo '22's "How to Naturally Manage Your Brain Chemicals" was also a success, landing them to a win.
Andrew Newman '22's "Car Culture" won over audiences and won them the prize. Brayden Jones '22 won with "The Importance of Learning a Musical Instrument". 
Finally, Brandon Rogers '22 won with "The Duality of Nature". 
Reflecting on the Dragon Talks and looking forward to the future, Camille Bisgard '23 mentioned, "It's very inspiring to see so many great [Dragon Talks]. It really makes you think, 'what's important to me, and what would I do with this opportunity?'"