Day to night: Immigrant Son Caffé
Immigrant Son, a popular café in downtown Ventura known for its photogenic latte art and delicious Italian-inspired breakfast, opened its doors for evening dining Thursdays through Saturdays on April 28, 2022. Originally opening in Jan. 2020, the restaurant only briefly began as a late-morning breakfast destination before the devastating first wave of the COVID-19 pandemic hit the United States. 
Restaurant owner Alessandro Tromba talked about his family in Italy, who tried to warn him of the incoming disease that had already riddled their country. "I'm like, yeah right. That would never happen. Boy, it's exactly what happened … I never would have ever imagined," Tromba elaborated.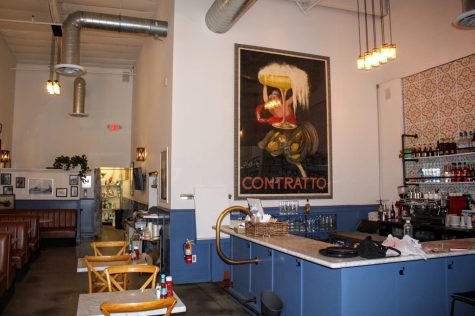 After the hardship that the pandemic plagued over the small business, Immigrant Son Caffé emerged triumphant and busy as ever in its re-opening months. Tromba explained that, while the business was good, the game plan was always to open the restaurant doors at a later time, exposing its customer demographic to a broader menu of Italian cuisine. Tromba said, "Our big push right now is to not lose any energy during the day and build in our dinner business."
Since the planning of the eatery, it was Tromba's intention to bring a small slice of his Italian roots to Ventura. He described his life in Napoli, where he would return to the same café twice-daily, before and after his daily activities of studying and attending culinary school. "I always thought that was so cool, a place that you can get breakfast in the morning, everybody knows you, then you come back at night," Tromba said. 
This format is what Immigrant Son meant to mimic: a more familial, community-centered restaurant that brings pieces of Tromba's background into a dining setting. "I had a peculiar childhood because my dad's from Italy. And he's not just from Italy, that's who he is, he embraces it," Tromba remarked.
To explain the story behind the café's name, Tromba detailed his childhood experiences as an Italian in the United States. "Basically, all my peers were wearing vans and had long hair and were skateboarding everywhere. And then there was me, who was the son of this, like, super dapper restaurateur. And my dad, I don't know what he was thinking. He, like, really wanted us to be these, like, super well-dressed Italian boys," he quipped.
Tromba laughed through his anecdotes of his father, but still further discussed the struggles of his childhood. He mentioned "a day that I overheard somebody saying, 'you know, don't talk to that guy, that's that immigrant's son.' And I was like, what is he talking about?" 
Despite such troubles, Tromba remained optimistic. "It really shaped me because I realized then and there that I was different…so when I opened this restaurant, instead of naming it Alessandro's or something like that, I named it after this nickname. Because it started off as kind of a mean name, and then it became like a term of endearment," Tromba explained.
Since the restaurant is an homage to his family, it made sense to Tromba for many of the dishes to be inspired by his family, with some of his chef's recommendations mixed throughout. "Some recipes–like our pomodoro sauce or marinara sauce–those are family recipes that we've had for years and years and years. And then there's things like the polenta, which is inspired by my grandmother," he noted.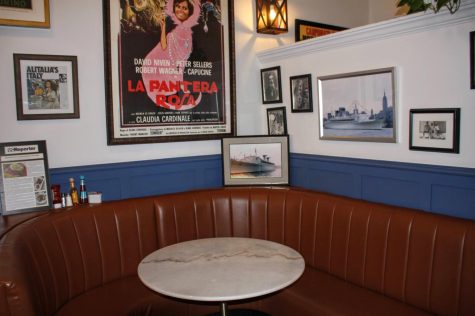 Because different family members, like his grandmother and father, had different tastes in the preparation of their food, Tromba combined the aspects of his family's dishes for the Immigrant Son menu.  "We get the inspiration of the osso buco from my dad [and put it] over the polenta that's inspired from my grandma, and I would say finished by our chef with his touch on it. And I think it's beautiful," Tromba said.
A very unique aspect of the dining experience is Immigrant Son's pizza bowls, and Tromba recalled the epiphany of this idea during a pizza-making course he took. "One little idea can change your business," Tromba remarked about the discovery, which combined his love for pasta with the Italian classic, pizza, to make a single dish. "They showed me this pizza dough bread bowl that you can put pasta in, and I was just blown away. I was, like, flabbergasted," Tromba enthused.
Bread bowls aren't the only unique aspect of the restaurant for Tromba. A veteran of the restaurant business–owning establishments like Table 13 and El Rey–Tromba attributed the atmosphere of Immigrant Son to be something new to downtown Ventura, saying, "at the end of the day, going out to dinner is really just going out for fun, and nine times out of 10 I'll go to a restaurant where I know people over going to a place that just has great food." 
He expanded on the familial aspect of the cafe: "We want to have that kind of neighborhood feel where everybody knows your name, and then, we need to have the best food and the best drinks … take great care of people, and then back it up with amazing food and amazing service," Tromba concluded.
Immigrant Son Caffé will be open from 9 a.m. to 9 p.m., Thursdays through Saturdays, to debut its evening dining and test the waters of success. The noteworthy eatery is located at 543 E Main St, Ventura, CA 93001.