Pinterest styles that you can easily recreate to spice up your outfits
Imagine this: it is only a few hours before your plans to hang out with your friends and you need to find a "perfect" outfit for the occasion. You're frantically looking through your messy closet, and although you spend a long time digging through piles of clothes, you are stumped and think, "I don't have anything to wear!" So, why is this a problem when you have a closet full of clothes that have the potential to turn into stylish outfits?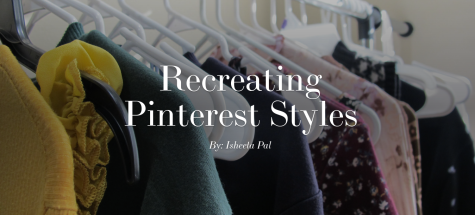 The answer to this question is most likely that you're too uninspired to think up a stylish outfit in the moment. Social media has set a benchmark for "fashionable" versus "out of style" outfits, and because of it, many people (including you) are faced with an outfit dilemma almost every time you open your closet. However, you won't have to face the quandary for long, thanks to Pinterest. 
Pinterest is a social media app that allows users to share and "pin" ideas on separate idea boards, and it has become the go-to app for "aesthetic" fashion ideas — especially for Generation Z — since there are a plethora of fashion styles that prevail within the app. Out of the many aesthetics, here are four "Pinterest" fashion styles that you can easily recreate.
Preppy Girl
The preppy style first came into the spotlight during the 1940s. This style was known as the "Ivy Style" at the time because J. Press and Brooks Brothers — the first two brands to market this style of clothing — sold their clothes exclusively to students who attended Harvard, Princeton, and Yale. However, this style became more popular after a journalist from Life magazine went to Vassar College "to observe student life at the wealthiest of the Seven Sisters." In the article, the journalist reported that female college students wore tweed skirts, Brooks Brothers sweaters, polo coats, saddle shoes and jeans. Although the preppy style is not as formal now, Pinterest has put an interesting twist on it. Lately, users on the app have determined a typical "preppy girl" outfit to consist of a tennis skirt, a crewneck and a collared shirt underneath the crewneck. 
Light Academia  
The light academia style recently came into the spotlight because of Pinterest and TikTok. This style was inspired by 1700s and 1800s European classic literature and history. In contrast to the other academia styles (e.g. dark academia, romantic academia, etc.), light academia focuses on more positive and lighter colors like beige and cream. Moreover, the light academia style radiates positive energy and gives off  "spring morning picnics, with home-made pastries, and dancing in white flowy cotton vibes." In 2022, Pinterest has portrayed the light academia aesthetic through outfits that typically include (but are not limited to) a tennis skirt, sweater vest and a collared shirt underneath the crewneck. 
Monochrome
Contrary to popular belief, the monochrome style encompasses one-color outfits that are not limited to all black, all white or all gray. When wearing this style, one chooses articles of clothing that are in different shades of a specific color (e.g. wearing pastel, bright, and dark pink pieces of clothing in one outfit). The monochrome fashion style first returned to the runways in 2016 through brands like Gucci and Loewe, but it still remains an important style for the following brands in spring 2022: Max Mara, Courrèges, Versace, Blumarine, Chloé and MGSM. While designer brands have put a formal spin on the monochrome style, Pinterest has leaned more towards the casual side. Essentially, the Pinterest monochrome outfit often includes loose pants (e.g. sweatpants and cargo pants) and a crop top that matches the pants. 
After reading this article, which style do you want to recreate?
Sorry, there was an error loading this poll.
Vintage 
The vintage style originated from World War I, when there was a "textile shortage" and people would often reuse their old clothes. After the war, the European economy depended on marketing more "updated" trends rather than the more "old-fashioned" ones. However, in the 1960s, people broke this norm. For example, Jimi Hendrix exposed his younger audience to "headbands, cloaks, frock coats, kaftans, corduroy pants and cowboy boots." Additionally, during the mid-1980s, Nirvana's music rose to popularity and brought back the styles that were once popular. As time went on, people made sure to restore styles from different decades. An example of this could be seen on Pinterest today. There is usually a variety of vintage outfits on the app, but a variation that is typically associated with the style includes wearing a collared shirt underneath a plaid dress. 
Overall, Pinterest has allowed people — especially Gen Z —  to both discover different fashion styles and aesthetics, in addition to resolving the issue of what to wear every time one opens their closet.