CIF certified and school record-breaking league finals for track and field
The culmination of a season of blood, sweat and tears came to a head on the Ventura College football field on April 29, 2022. Foothill Technology High School's (Foothill Tech) track and field team competed in their league finals on their home turf, hosting a myriad of local teams including Cate School (Cate), St. Bonaventure High School (St. Bonnie), Thacher School (Thacher) and La Reina High School (La Reina). The meet crowned individual league varsity and junior varsity champions in each event, as well as decided which participants from each school will go on to compete in the California Interscholastic Federation (CIF) preliminaries.
Girls' Events
The distance running events were overall fruitful for the Foothill Tech girls team. Rebecca Walker '24 and Sofie Prieto '22 led the 1600 meter varsity event in first (5:36.68) and second (5:42.51), respectively. The other participants of the 1600 were Kiersten Falat '23 in fifth place (5:57.36), Caitlyn O'Neil '23 in eighth (6:09.43), Acacia Crouch '22 in ninth (6:09.71) and Carina Ziesk '23 placing 10th (6:26.08). Prieto also came in third for the 3200 meter run with a time of 12:51.38 seconds. Both of these performances qualify her for CIF preliminaries, with Walker qualifying in the 1600 meter.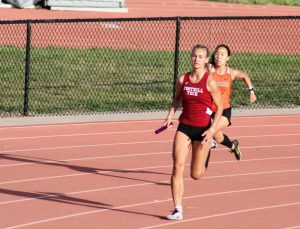 The 800 meter run was more difficult for the Dragons to get ahead on. O'Neil led her teammates in fourth with a time of 2:41.42 seconds, followed by Falat in seventh (2:43.89), Walker in ninth (2:52.06), Crouch in 10th and Ziesk placing 11th (2:59.97).
Junior Charys Pyle gave a CIF qualifying performance for her 300 meter hurdles with a first place time of 51.89 seconds. AJ Romero '22 emerged in fifth at 58.30 seconds. Romero had already placed third in the 100 meter hurdles earlier in the meet, with Pyle following with sixth in that event.
The girls' relays were anything but disappointing for the Dragons. Ashley Crist '23, Adrianna Paul '23, Lauren Kaller '25 and Brooke Pyle '23 set a Foothill Tech school record for their 4×100 time: 51.92 seconds. Coming in second place for this event, the four girls will be representing the Dragons in CIF for the 4×100. 
The record-breakers described their process of getting their nerves out before a race as a small huddle before they run and Crist said, "but I think also the nerves help us run faster."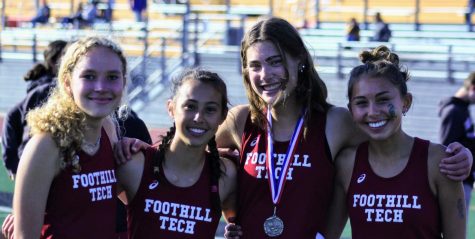 There were two Foothill Tech relay teams that competed for the 4×400 title, one of which consisted of the Pyle sisters Charys and Brooke, Lily Shadden '23, and Kaller, who came in first (4:22.17). The other, consisting of Falat, Crouch, Ziesk and O'Neil, finished seventh (4:58.99).
Sprints were a breeze, with both the 100 and 200 meter dash crowning runners to represent their school in CIF. Brooke takes credit for the 100 meter, where she placed second at a time of 13.36 seconds, and Kaller was once again right in the game in third at 13.54 seconds. Kaller led the Dragons for the 200 meter in second (27.97), followed by Crist placing fifth (29.13) and Nisha Reddy '24 in eighth (30.17).
Of course, it wouldn't be a Dragon track and field meet without excellent performances in jumps and throws. Brooke once again landed herself some stardom with a second place, school record-breaking long jump distance of 16'2.5", along with excellent jumps from Crist in fourth (15') and Paul in sixth (13'5"). Crist also landed a remarkable first place (31'3.25") triple jump, qualifying for CIF in yet another event. Jolie Steur '22 landed her triple jump in second place (26'2").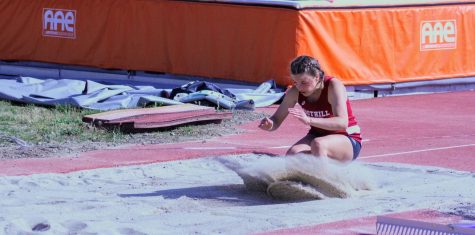 Shadden showed up and showed out for high jump, using her impressive vertical to take first place (4'8") in the event, which she will be competing in during CIF. Charys also participated in high jump, placing third (4'4").
Both Steur and Reddy will be in CIF for pole vault, taking first (8') and second place (7') in the event.
To round out the girls' results, the throwing events allowed for a dazzling moment for CIF qualifier Maycie Duston '23 who took first in shot-put and discus, with her shot-put measuring out to 29'6" and her discus throw at a whopping 84'10". Stephanie Botello '24 came in third for shot-put (23'8"), but will be in CIF for discus alongside Duston, since her second place throw came out to 76'.
Boys' Events
Keeping in par with the girls' distance success, Kai Bensen '23 dominated the 1600 meter varsity race followed by Jacob Walker '22 in third at 4:40.46 seconds and 4:45.84 seconds, respectively. Both runners qualify for the CIF preliminaries. The trend of long distance accomplishment was continued by CIF qualifier Jonah Billings '23 who came first (9:59.64) in the 3200 meter run, over 20 seconds ahead of second place. Billings was followed by Chance Leandro '25 in fourth place with a time of 10:30.43 seconds.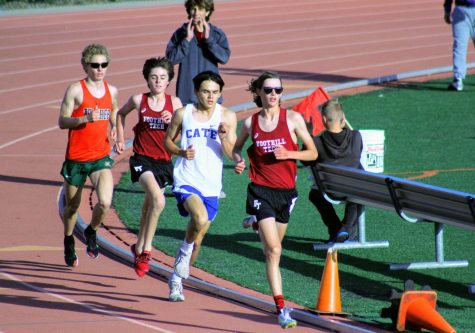 The 800 meter run was also a CIF success story for the Dragons. Qualifier Braedon Elliot '24 came in second (2:04.84) and qualifier Cody Bondy '24 took third place (2:10.44) to lead their team in the varsity heat. Walker gained sixth (2:16.58) followed by Daniel Kovalski '23 in seventh (2:16.58), Erik De La Trinidad '23 in ninth (2:18.09) and Dustin Ruano took 11th (2:37.13).
Cadden Wu '22 competed in both boys' hurdles events, taking third (21.06) in the 110 meter and taking fifth (51.08) in the 300 meter. Kris Gill '22 also competed in the 300 meter hurdle, and placed sixth at 52.56 seconds.
Sprints were a more difficult endeavor for the Dragons to tackle. The 100 meter dash runners were led by Owen Evans '24 in fourth (11.64), Jacob Lombardo '23 in seventh (11.93), Shawn Gerk '23 in 10th (12.14) and Aidan Connelly '23 in 13th (12.24). Much was the same for the 200 meter dash, with Dragon runners being led by Lombardo in eighth (24.88), Evans in 13th (25.48), Gerk in 15th (25.95) and Max Ricasta '23 in 22nd place (27.18). A shining success through the sprint events was Merric Bayless '24 snagging second place in the 400 meter dash with a time of 57.07 seconds. None of these events will be represented by Foothill Tech in the CIF preliminaries.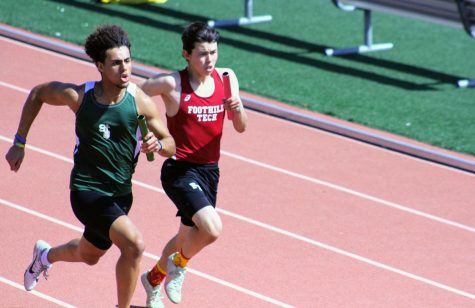 Relays were successful in the boys' events, with the Dragons taking second in the 4×100 thanks to Gerk, Lombardo, Evans and Bayless. For the 4×400, Foothill Tech also placed second among the other schools, which was run by Elliot, Bondy, Bensen and once again, Bayless. Both teams will advance to CIF preliminaries.
Jumps and throws brought more accolades to the team than the running portion of the meet. Gerk started the Dragons off strong by setting a junior school record for triple jump, at a distance of 41'4", which also placed him second place in the event and qualified him for the CIF preliminaries. 
When asked about how it feels to have made Dragon history, Gerk said "Well it feels really good but I'm still down because I wanted that victory, but I didn't get it, but that's okay because I'm still going to CIF."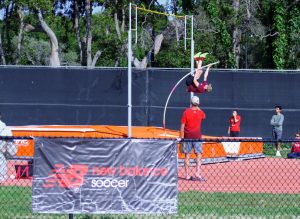 As the only competitors, Dragon pole vaulters swept the event with Aidan Hagerty '22 leading in first (14'), Cole Dinkler '23 taking second (12'6") and Wu in third place (9'6"). All three athletes will be representing for pole vault in CIF. Bayless achieved third place (18'9.5") for long jump, followed by Evans in fifth (17'9.5") and Connelly in sixth (15'3.75").
Discus throw produced a second place (103'10") CIF qualification from Hagerty, that was followed by efforts from Andrew Ibarra '23 who placed sixth with a distance of 76'.
When discussing training for the upcoming meet, Head Coach Jason Dinkler seemed focused. "We will, we won't necessarily taper, we'll just sort of sharpen the skills and right now it's about mental," said Dinkler, "there's an opportunity for us to be mentally sharper."
The Dragons will be preparing for the CIF preliminaries on Saturday, May 7, which will be taking place at Carpinteria High School. Those who move on from preliminaries will move on to the finals, which will be scheduled for May 14 at Moorpark High School.
A previous version of this article misreported the finishing times of certain relay teams. It has been corrected.