Track and Field shows out at Trevor Habberstad Invitational and dominates Rincon Races & Field Meet
The track and field season for Foothill Technology High School (Foothill Tech) Dragons started slow, with just a select few distance runners given the opportunity to race at the Westlake Distance Carnival on Feb. 19, 2022. 
The rest of the team would get their opportunity soon enough, with runners of all distances, jumpers and throwers alike competing on a two-day stretch on Friday, Feb. 25, and Saturday, Feb. 26. 
The runners of distances 800, 16000 and 3200 meters competed on Feb. 25 at the Trevor Habberstad Invitational and Distance Carnival at Canyon High School. With just six total varsity athletes at the meet, the Dragons were surrounded by a sea of competing schools both on the track and in the rankings. 
Despite their scarcity, Foothill Tech's runners made their mark, with top performer Jonah Billings '23 notching a third-place finish out of 10 competitors in the 3200. His personal record (PR) of 9:52.61 gave him the best placement on the night for the Dragons, but 1600 runners Jacob Walker '22 and Kai Bensen '23 finished neck and neck in 13th and 14th place, with times of 4:58.00 and 4:58.75 respectively. In the 800 meters, Frank Stilwel '22 came in eighth place with a PR of 2:08.82.
On the girls' side, Rebecca Walker '24 finished sixth out of 31 runners in the 1600, with a time of 5:44.70. Sofie Prieto '22 was not far behind in 12th place at 6:06.90.
A quick turnaround for Foothill Tech saw their shorter distance runners and field athletes piling into buses and up the coast to Carpinteria High School early the next morning for the Feb. 26 Rincon Races & Field Meet.
This time with plenty of participants, Foothill Tech annihilated their competitors in the five-team meet. The boys' varsity team scored a total of 122 team points, nearly 50 points ahead of the second place team Orcutt Academy High School (Orcutt Academy); the girls' varsity also finished first and outdid their male teammates with an astonishing margin of 65 more than second place, again Orcutt Academy. 
According to Coach Jason Dinkler, "today was really successful, it was about learning routines of the meet, learning what it's like to compete, learning from mistakes."
The Dragons started the meet off in exciting fashion with the 400×100 relay. The girls team of Ashley Crist '23, Adrianna Paul '23, Lauren Kaller '25 and Brooke Pyle '23 took home first place, but the boys team faced a more disappointing development when a failed baton exchange between Owen Evans '24 and Shawn Gerk '23 led to their disqualification. 
The next event, the 1200 meter, was one of the more successful for Foothill Tech as they took first place in both the boys and girls races, with Theo Kayser '23 and Caitlyn O'Neil '23 finishing in 3:41.95 and 4:22.63, both PRs. 
Kayser was satisfied with his teams performance to start out the season, saying, "it was the first meet for a lot of people, and then even the distance people who raced last week, we got a lot of individual wins, so it was overall very successful."
Next for Foothill Tech came the shortest sprints of the meet in the boys 110 meter hurdles in which Cadden Wu '22 came just 00.03 seconds shy of a first place in the 110 hurdles, the girls 100 meter hurdles for the girls where Charys Pyle '23 won with a PR of 19.16 and the 100 meters; where Evans and Merric Bayless '24 took first and second for the boys and Kaller and Brooke Pyle took first and third for the girls. 
Again and again, the Dragons came out victorious as the 600 meters saw Foothill Tech take 1-2 in both the girls and boys. Listed in order, Nathan Leedy '23 and Erik De La Trinidad '23 both PR'd, as did O'Neil and Kiersten Falat '23 to secure the top two spots for both races.
Despite her success on the day, O'Neil maintained a constructive mindset, remarking, "personally, for me, I think I'm notorious for going out a little too hard, but I think as a team we did really well." 
The exact same placements occurred directly after in the 300 meter hurdles, with Aidan Hagerty '22 and Cole Dinkler '23 placing first and second for the boys and Charys Pyle and AJ Romero '23 doing the same.
In the 200 meters, the girls continued the trend with Kaller and Crist running PRs for first and second, while Evans and Gerk did the same for second and fourth. 
The Dragons saw similar results in the field, with notable placements including first and second in men's long jump by Bayless and Gerk with jumps of 18' 8.5 and 18' 0.5. The dynamic duo of Hagerty and Dinkler placed first and third in high jump, and first and second in pole vault. To round out the boys in the field, Andrew Ibarra '23 placed top five in both throwing events, coming in fourth in shotput and fifth in discus.
For the girls, Maycie Duston '23 took first place in discus and second place in shot put, while Charys Pyle and Jolie Steur '22 won high jump and triple jump, respectively.
After over four hours of fierce competition, the meet came to a close the same way it started. The 4×400 relay saw the boys team of Bayless, Dinkler, Hagerty and Stilwel take second behind Orcutt Academy, while the girls team of O'Neil, Kaller, Falat and Brooke Pyle stretched out a nearly 30 second lead over Orcutt Academy. Pyle brought an extremely successful meet to a close as the entire team cheered her down the straightaway.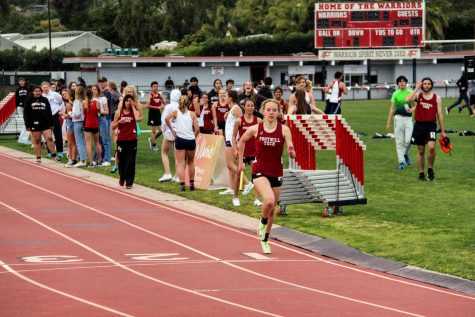 O'Neil was especially happy with her teammates in the final race of the day, saying, "in the 4×400, I think that my three teammates and I were really good about staying consistent and working hard for each other." 
After such a resounding opening competition, the Dragons fly into this season with wings spread and high expectations. Coach Dinkler described his team's goals, stating, "we're going to have some really successful athletes for sure… I think there's a lot of potential for us this season."
Foothill Tech's next competition will be the Don Greene Distance Carnival and Invitational on Friday, March 4 and Saturday, March 5 at Moorpark High School.