Boys' soccer begins season with a bang
The wind whipped the hair of the Foothill Technology (Foothill Tech) boys' soccer team as their cleats dug into the turf at Ventura College stadium. The team played against Dunn High School on Jan. 13 and prepared for a win.
Kimberly Fickerson
The whistle blew and the game began with Dunn kicking off. Dunn was already able to advance past the Dragons and took a shot and missed in the first 20 seconds of the game. The Foothill Tech Dragons did not let this discourage them, and continued strongly. 
During the first half, both teams continued to take shots, but ultimately Foothill Tech was able to play on Dunn's side of the field. Alex Loza '22 took a shot and made it in the goal, the crowd cheering. The Dragons, feeling good about the game, continued to play strongly and prevent Dunn from getting the ball towards their goal. 
The first half continued, and the Dragons got two more goals by Michael Hernandez '22 and Aaron Smith '22. The whistle blew for half time, the score benefiting the Dragons greatly by 3-0. 
The second half began, Mazen Alwarhani '23 making the fourth goal. Dunn was able to get their first goal, but this did not discourage the Dragons as they were three points ahead.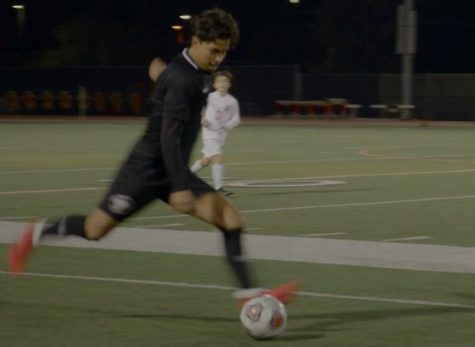 The game continued, and in the final four minutes of the game, Smith made the fifth goal, the win looking not far away for the team. The whistle blew at the end of the game, the Dragons being victorious 5-1. 
Alwarhani stated, "it's not just about my effort but the whole team's effort and that's why we got the win today."
Mattheus Gamble '24 reflected on the game saying "I had some pretty good shots," and mentioned that, "I think our communication needs to improve and moving the ball faster."
Even though the boys received the win, the players still look for improvement. Loza also mentioned he thinks the team, "can communicate a lot more," and also said, "that's little things we can fix at practice."
Foothill Tech's boys' soccer team destroyed the competition and is ready for their next league game against Cate School on Jan. 20.