BioScience students get a special visit from the Ventura County Fire Department
The crisp coastal breeze ruffled the scrubs of the BioScience Academy students at Foothill Technology High School (Foothill Tech), as they sat and listened to a demonstration done by the Ventura County Fire department (VCFD). 
The presentation was given by Captain Matthew Falat, Chris Mercer and Chase Morgan. They gave a broad presentation on equipment and other Emergency Medical Services (EMS) procedures. Students were shown the materials and tools the firefighters use and were informed of how much medical related calls firefighters get versus fires.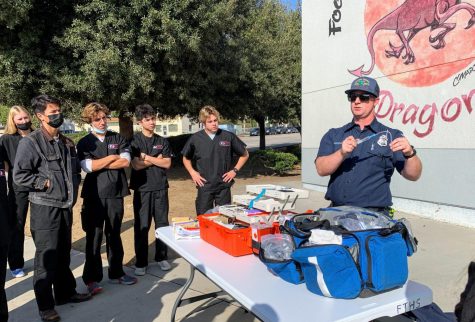 The students then split up into three groups where they would rotate to three stations. One station showed the medicines and intravenous (IVs) devices that the paramedic on the fire engine would need and use for specific accidents and issues. Students also got the opportunity to open medicine bottles and practice as real medical assistants. 
Keirsten Falat 23' said that she, "really liked the para-medicine because it was interesting to see all of the different things and how he [the paramedic] has to memorize all of it."
Captain Falat explained the importance of these skills, "at any given time throughout the day in their own life these students can find themselves in a position to help other students in an emergency situation."
Another station was able to inspect the fire truck itself and look at the various tools they needed. Students were informed of the hose sizes and benefits, the weight of the firefighter coats and other important aspects firefighters need to know. 
Captain Falat described how being a firefighter is, "by far one of the most rewarding careers that I could imagine. 
"To me there's no greater thing in life than helping your fellow man and woman," he continued.
The last station consisted of a demonstration of the workings of heart monitors. This allowed students to look at what heart beats were able to be resuscitated and when to know to do CPR. Students also got to test out the machine and see their own heart beat and flow.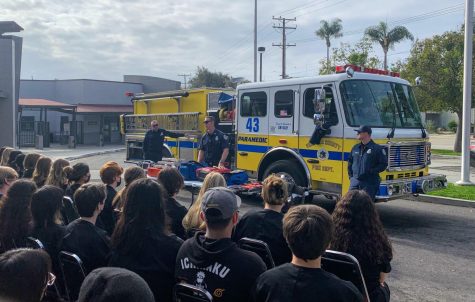 Keirsten also mentioned that, "it was really eye-opening to see all of the different types of EMS careers that we can potentially go into." 
Overall, the BioScience students were in for a real treat from a visit with these heroes and are now even more informed of what to do in an emergency. Thank you to all the emergency responders!