Varsity boys' water polo team dominates Cate 19-4
In the afternoon of Oct. 5, the sun beat down on the Foothill Tech boys' water polo team while they prepared for their game against the Cate School Rams at the Ventura Aquatic Center. It was unknown how the game would turn out but the crowd was energetic and chatted amongst themselves with excitement. 

Thomas Chadbourne '23 kicked off their first goal. The Dragons continued strong and scored seven more goals by the end of the first quarter, the Rams still with a score of zero. William Barnum '23 stated, "I think we did a really good job at getting open and being ready for anything to happen."

Kimberly Fickerson

By the second quarter, the Dragons still continued fiercely and were still ten points ahead by half-time, the score 12-2. The Rams had only two points, and Foothill Tech was determined to keep the lead. The team was energetic during half-time, deciding what strategy to use to continue with their overall head start.

The team continued to have great passes and blocks by goalkeeper Ben Zeko '22. Brennan Font '23 mentioned, "I thought we were passing around pretty well." Font also stated that they were successful at, "just working together."

Third quarter began and Dragons continued dominating Cate by several points. Cate called a few timeouts to talk about the possible strategy to win against the on fire Dragons, but still could not dominate. Foothill Tech got a few fouls but continued to make goals.

The team didn't lose stamina and towards the end of fourth quarter, there was no doubt Foothill Tech was going to win with the score being 18-4, dominating over Cate.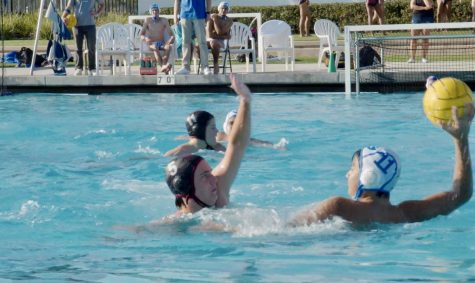 The last score was made by Levi Davis '22, giving the dragons 19 points. As the last few seconds dwindled, Zeko took a shot at the goal from the goal post, but it was blocked by the Cate keeper. The audience cheered and the dragons got out of the pool with a smile, knowing they destroyed the competition.
The team celebrated with a sweeping win against the Cate Rams, ahead of Cate by 15 points. Thomas Blanchette '23 explained, "I think we did pretty well with running drills consistently," and, "rotating the players was pretty beneficial for us." 
In the end, Dragons can still look for improvement to destroy the next competition. Barnum mentioned that their, "speed was a little slow compared to other people in higher divisions and our division." Font also added that they should, "touch up on communication a little bit."
Coach Mike Hendrickson, said that, "there's a couple of little things we need to work on," but that there were a, "lot of good shots."
Overall it was an overwhelming win and the Foothill Tech varsity boys water polo team is ready to take on upcoming competition in future games.