The magic never ends, Foothill Tech's Start Strong Rally kicks off the year for class of 2025
On Friday Sept. 24 2021, Class of '25 Dragons at Foothill Technology High School (Foothill Tech) eagerly weaved their way through the quad as they searched for the various scavenger hunt items and pictures they needed in order to earn a prize during the annual Start Strong Rally. The rally allowed freshman students to get to know the campus, bond with their Foothill Intervention, Reinforcement and Enrichment (FIRE) groups and earn prizes.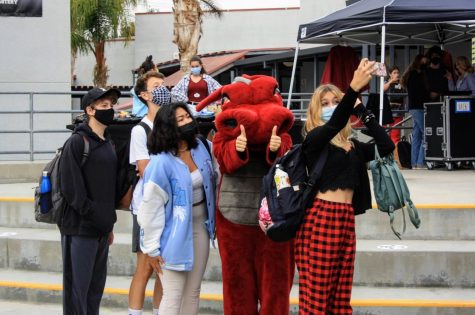 Some of the scavenger hunt activities included taking a selfie with the Foothill Tech mascot, finding Anderson Paak in Spirito hall, taking a picture with a custodian or campus supervisor, finding out how many water fountains there are and lastly signing a graduation gown on the stage. 
The prize for the students after completing the scavenger hunt was to get a bag of candy or cookies. There was also a raffle that included Mickey cups, a stuffed animal dragon, Groot from Guardians of the Galaxy and other goodies. 
After not having a Start Strong Rally last year, Foothill was ready to kick off the Disney magic this year with many fun Disney themed activities. Melanie 'Captain' Lindsey, the Associated Student Body (ASB) adviser stated that they, "came up with some things that would maybe make it a little more exciting for them."
Captain also mentioned that, "part of the process is what people we want them to get comfortable with and what places do we need them to know."
The scavenger hunt allowed for students to hangout with friends and a chance to see the important locations of school. It also allowed for them to get to know some staff such as Ms. Tedford, Mr. Gibbs and Mr. Davis.
"
My favorite part of the rally was running around with friends and having fun finding things around the school.
— Jack Murritt '25