Foothill Tech is back in session for the spring quarter of the 2020-2021 school year
As numbers of COVID-19 infection rates in Ventura County steadily decrease, students enrolled in the Ventura Unified School District (Ventura Unified) secondary schools have begun their transition into returning to school campuses full time. At Foothill Technology High School (Foothill Tech), the A hybrid group made its first appearance on April 12 and the B hybrid group followed suit when they returned on April 14, 2021. 
On April 12 and 13, the students in the A hybrid group were welcomed onto campus and  eager to say goodbye to their classes on Zoom and to meet in-person with their teachers and peers. Students patiently waited at the front gates to get their temperature taken and to pass the necessary health screening required to enter campus.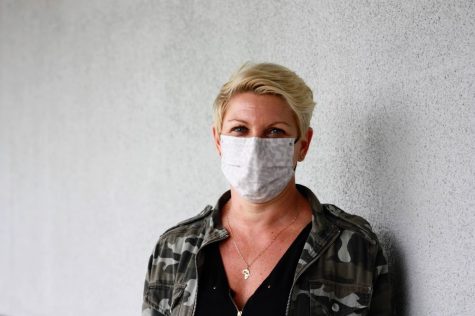 The Associated Student Body (ASB) decorated the campus to make students feel the most welcome in a new environment, as well as facilitating new student tours to make new students feel welcome at Foothill Tech. 
According to Activities Director Melanie Lindsey, ASB students met students at the gate in small groups and took the new students on a campus tour to help them figure out their classes/schedules. There were also some activities for the freshman including a gown signing, a dragon duck game and goodie bags at counselor tables to help the new students meet their counselors.
Lindsey's goal for the new student tours and activities was to, "make sure that we let our freshman feel as comfortable as possible," and "to serve [her] kids and make sure they are getting the best possible experience." 
Lily Toreja '24 has had a positive experience as a new student thus far. "I've met a lot of new people and everyone seems so friendly and approachable so it's really good for me because I don't want to be on my own here," she explained. She also included that she, "took a walk with Ms. Pelfrey and our C-3 Course and it was nice because we got to see the campus in its entirety."
Many students felt unsure about what their in-person classes would look like and it appeared some teachers were also struggling with handling the people on Zoom and students in the classroom. Audrey Vrablik '21 shared that it was hard for her to hear the students on Zoom when they had a question in some of her teachers' classrooms. 
Vrablik, "really did not want to go back to school in-person, because it's only a month and [she is] a senior," and she did not really see why she should go back. However, Vrablik decided to return to in-person instruction because she, "wanted to see people and have a more normal school year." Vrablik was very pleased with the way Foothill Tech handled the situation and especially how simple it was to get health screened at the front entrance.
During the breaks in between classes students were found having fun and catching up with friends they have not seen in over a year. Foothill Tech teachers and administrators were also talking to students about their day while making sure everyone had their masks on, there were only four people per table and that safety protocols were being followed. 
Principal of Foothill Tech, Russel Gibbs explained that the biggest obstacle of getting students back on campus was, "the communication down to the state down to the county down to us, took a little time," to get, "clear information." Gibbs says it, "feels really really good to have students back on campus."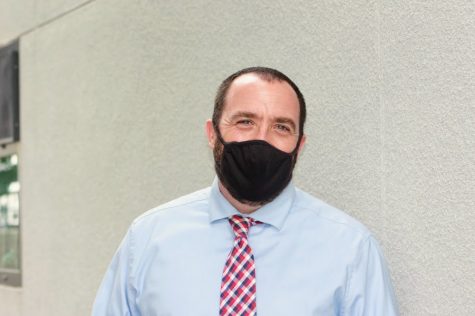 Vice Principal Katie Tedford explained that the planning process of getting students back on campus consisted mainly of, "separating students into groups A and group B, welcome activities for students who had never stepped foot on our campus, increased staffing supervision needs and communication that went out to families and students." She continued that the main obstacle has been, "the space required by public health." 
To provide the most coverage for the delayed back-to-school season, the Foothill Dragon Press has divided information by hybrid group. This portion will focus on the B hybrid group during the tail end of the week of April 12. 
Students in the B hybrid group attended Zoom classes on April 12 and 13, so they were able to observe how in-person school would operate before actually returning. When the COVID-19 pandemic shut down all VUSD schools 13 months ago, class schedules changed frequently, so the presence of a transition period eased the concerns of many students who worried about not being able to adjust to the new environment. 
Teachers also seemed to be more comfortable managing Zoom and in-person teaching after practicing with the A group. A common classroom setup that most teachers were using was to have a distanced seating chart for the in-person students and have the zoom camera pointed either towards the student desks or the whiteboard. This way the online students would be able to see and maybe even participate in the classroom activities. 
The most common negative claim made by online students was that the teachers would often forget about the Zoom meeting, so the chat and waiting room could be left unchecked for long periods of time. Some teachers have also decided to provide the online students with independent work while they focus on the in-person students and vice versa, so they don't have to constantly repeat themselves live and over Zoom. 
That said, the overall enthusiasm expressed by students upon returning to campus was mostly positive. Shawn Gerk '23 stated, "right now [the school environment] feels kinda mellow, and I feel like a bonding thing would be too forced, so I'm glad the groups are split to make the transition easier." Gerk was referring to the fact that teachers and administrators have been very supportive to the students who have struggled with the transition but have also allowed the others to independently operate without the usual awkwardness of the back-to-school season. 
As lively as the classrooms were, the quad was an entirely different level of excitement. Although tables were limited to four people, friend groups at Foothill Tech still managed to find a way to all eat and chat with each other during nutrition and lunch break. Laughter could be heard from all areas of the campus, and lots of students could be seen making rounds around the quad to see their peers for the first time in over a year. Staff such as teachers, administrators and counselors were also present in the quad making small talk with students and providing support to freshman/other new students. 
Another positive aspect of new district funding provided by the state is that all students can receive free breakfast, lunch and snacks. To prevent congestion at Spirito Hall (the usual meal distribution location), stations have been set up at Spirito Hall, the stage, and the black box for meal distribution. The only complaint was that the carts only served one item and had no vegetarian options for those who might need it. Claire Meehan '23 commented, "it sucks that they don't have something for everyone to eat at all stations."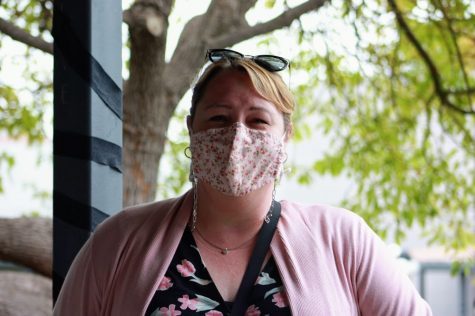 The sense of normalcy that Foothill Tech campus culture is finally starting to return after 13 months of being fully virtual, and the enthusiasm doesn't seem like it will wear off anytime soon. More information about the quarter four schedule and return procedures can be found here or on the district website. 
With the number of COVID-19 cases lowering, a number of students still decided to stay online for the rest of the school year, this is the C group. The C group will be doing school through Zoom everyday, for hybrid classes and everyday in-person school. Giabella Thompson '23 stated she was staying in group C because, "I didn't want to potentially get the high-risk people in my family sick, and that honestly, I wasn't ready for in-person schooling, especially after a year of online."
A new student at Foothill Tech, Imashi Degambada '23 stated, "at first when considering going back to school was that I really wanted to go." However, she further explained that being a new student to Foothill Tech and after talking with her parents, she decided it was best to stay online since she didn't know many people and it was better for her mental health. 
Although C groups will be staying online, they still get to be included in the class. "I think the teachers have been doing great during our transition from distance to hybrid," Degambada explained. She also said how she liked how the teachers are more excited for the class because they actually get to see their students. Degmabada also expressed that she is ,"happy for the groups A and B to finally go back to campus and see their friends again."
Having full online classes can possibly be draining for group C students however, "the school hours from being fully online can be draining, but in certain classes, it's actually pretty fun," Thomson explained. She later mentioned that, "My experience this far into distanced learning has been decent."