What we wore during a pandemic: Fashion recap '20
The fashion trends of 2020 have seen a plethora of styles, inspired by the decades before. Fashion was a positive aspect of last year, due to the influx of free time and the rise of Tiktok's short videos and Pinterest's mood boards. With an emphasis on comfortable and sustainable fashion, these styles made 2020 memorable, even when we were dressed up with nowhere to go.
To sustainably achieve any of these looks, check out your local thrift store, or Depop from the safety of your own home. With such a diverse range of styles, one can only hope the rest of 2021 fashion will measure up as we continue the year with a fresh wardrobe.
Y2K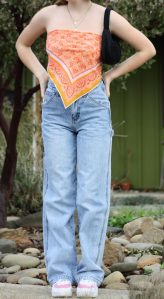 The Y2K trend, standing for "year 2000" was introduced in the 1990's and has circled back around just like many other trends. Early 2000's movies such as Mean Girls and Legally Blonde are breeding grounds for the Y2K trend, with characters sporting monochromatic pink outfits, low rise mini skirts and small saddle bags.
A modern Y2K look could include a baby tee, corset or lacy tank, paired with low rise jeans. But don't forget the accessories—a chunky gold or silver chain could be just what you need to complete your throwback outfit.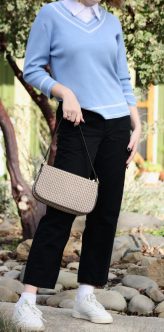 Preppy
Think of a school uniform. If you went to a private school, you know exactly what I'm talking about. Plaid skirts, collared shirts and Mary Jane shoes. Preppy outfits proved to be extremely popular in 2020 which featured pleated tennis skirts, sweater vests, pearl necklaces and bold statement headbands. Wearing a collared shirt under a crewneck is a simple way to achieve the preppy look. It takes all the timeless pieces from decades before, and gives them a 2020 spin. If you need some inspiration, just take a look at Blair Waldorf and the rest of the cast from Gossip Girl.
Cottagecore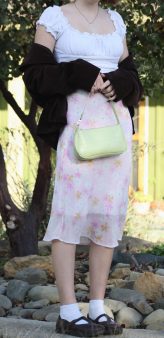 Cottagecore is more of an idealistic dream life than a fashion trend. Think of a quaint pale green little cottage by a brook and a clearing of thick trees. The smell of fresh baked sourdough bread wafts from your kitchen as you drink herbal tea with your copy of Little Women and your 15 cats napping all around the house. New York Times describes this mindset as "an attempt to assuage burnout with a languid enjoyment of life's mundane tasks." More simply put, stress and sadness is not all there is to life, and sometimes the remedy is envisioning a world where you can escape from your everyday priorities (something I think we all could've benefited from during the pandemic). The fashion directly correlates to the mindset of simplicity and tranquility. Long, floral dresses, straw hats and vintage looks that are both simple and environmentally friendly.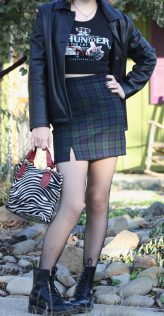 Grunge
Chunky silver rings, platform boots and black leather jackets. This punk image brings your rebellious side to life, juxtaposing the soft and girly aesthetics above. Ranging from loose, baggy clothing to snug fishnet tights, your desired fit can be accommodated through ragged vintage band tees, cargo pants, ripped jeans and oversized flannels. Leather is a staple item; the thickness of the material mimics the thickness of the skin as you can rock leather-on-leather or leather-on-denim. The color black and other dark muted colors are inherently evident throughout this style, and the similarity of these tones are what creates the overall look to be cohesive and complimentary. Accessorizing can accentuate details that can elevate the look; this can be exemplified through thick jewelry, like stacked rings and layered silver chains. To top it all off, you can even smudge some black eyeliner on and chip your painted black nails as icing on the cake.
Hippie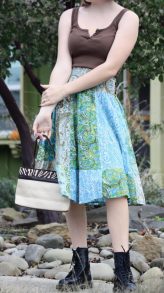 Ever recall the stereotype of those psychedelic "hippies" with long hair, wispy beards and circular sunglasses rambling about being one with the earth? Our new decade jogs this memory by gentrifying this image into a more modern style with items like flowy maxi-skirts, peasant blouses, halter tops and bootcut jeans. The popularization of earthy tones, more specifically the infatuation with the color brown and sage green, has been surfacing to mimic that nature-loving atmosphere. Layers of handmade jewelry that include beads, crystals and astrological themes can be found proudly displayed from earrings to rings to necklaces, keeping their accessory game strong. Music festivals like the Coachella Valley Music and Arts Festival, also keep this hippie spirit alive with the attendance of large-scale, young influencers that show off variations of this culture under the scorching Southern California sun.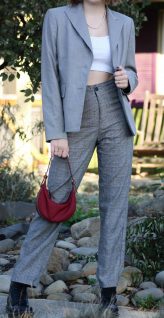 Bold 
Showcasing a unique image has lately been pined after, which prompts people to invest in the wide variety of bright and poppy colors and styles that reminisce the nostalgic 70s ambience. Experimental color combinations can be mixed and matched, and not everything necessarily follows the rules of the color wheel. Loud patterns like zebra print, florals or any patchwork design can make heads turn, elevating any outfit into a statement piece. Additionally, fashion isn't only limited to please the eye; attention to texture can also impress the sense of touch as a mixture of fabrics: velvet, corduroy and satin can be toyed around with. Merely looking the part is only half of making an eccentric image; feeling comfortable in your own skin is what completes every look.