Album review: BTS's new album "BE" is like a warm hug during quarantine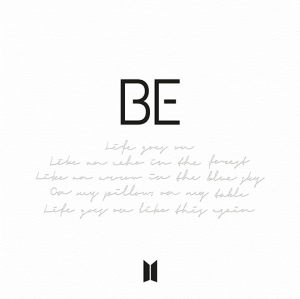 After breaking barriers in the western music industry, and making themselves known as one of the biggest bands in the world, South Korean group BTS has released a new, quarantine-inspired album titled 'BE'. As usual, it does not disappoint. In fact, this album may be one of the band's most artistically well-executed works to date, measuring up to their acclaimed 2014 and 2018 releases 'Dark & Wild' and 'Love Yourself 'Tear''.
Earlier this year, through the recommendation of a friend, I decided to take a listen to BTS's music. Instantly, I was blown away by the group. Each of the seven members (rappers RM, SUGA, j-hope and vocalists Jin, Jimin, V and Jungkook) has a unique voice that stands out on its own, yet also melds beautifully with the others. Their music covers a variety of genres and their lyrics feature incredibly deep, meaningful topics, ranging from the struggles of adolescence to learning how to love oneself. BTS's music became a great comfort to me during this time of being anxious, unsure and tired in quarantine. 
When BTS announced that they would be releasing their new album, 'BE', on Nov. 20, I was immediately excited. Knowing how incredible their previous discography has been, I was sure that this album would introduce a new sound from the band as a result of the global pandemic, which had caused the cancellation of their previously planned world tour and given them an unexpected break to create this new album. I couldn't wait to see what the group had in store.
'BE' features eight tracks, including six new songs, a skit and the group's previously released single Dynamite. The overarching theme of the album is a blend of old-school funk and pop, which take different forms throughout each song. Within the first few days of its release, 'BE' has already seen major success. The music video for the title track, Life Goes On, garnered over 60 million views within the first 24 hours of its release and was performed along with Dynamite by the group at the 2020 AMAs and on Good Morning America.
While each track on BE is great, there were several that really stood out to me. One of these songs is the title track, Life Goes On, which I can best describe as a serene, melodic and beautiful message of hope. With calming synths, amazing vocals and meaningful lyrics, Life Goes On is one of my favorites on 'BE'. The message BTS relays through Life Goes On is desperately needed in today's world. The days seem to drag on, repeating over and over again, and it sometimes feels as if we will be stuck forever. A message of positivity and hope, paired with devastatingly beautiful and soothing melodies, makes Life Goes On a necessity that listeners will want to repeat again and again.
The next track that stood out to me was track two, titled Fly to My Room, which features members SUGA, j-hope, Jimin and V. This song is a slow, fun, jazzy ballad with elements of disco-pop. Contrary to the cheerful tune of the song, Fly to My Room's lyrics are quite melancholy. They describe the feelings of frustration and loss brought upon by the strict lockdown procedures in place due to COVID-19. The message of trying to stay optimistic while being holed up in a bedroom with nothing to do is incredibly relatable, and listeners can take comfort in the fact that what they're experiencing is universal. 
Track five, Telepathy, is my favorite song on the album. The vocals in this song are lively and energetic, matching the background of upbeat retro pop. I especially love Telepathy's lyrics. They describe feeling close to loved ones even over long distances, which is an incredibly relevant topic in today's world, where family and friends are often only reachable through a phone screen. 
The track that stood out the most to me was track six, titled Dis-ease. To put it simply, this song is a masterpiece. It takes a darker tone than the rest of the songs on 'BE', while still being upbeat with its theme of old-school funk. Dis-ease's lyrics describe the feelings of uncertainty that artists have during a time where their professions have been put on hold. Not only does the title reference the sickness of COVID-19 that plagues the world, but it's also a play on words for feeling the opposite of ease, or dis-ease, in everyday life. Everything about this track is spectacular, and it's the one I most recommend listening to.
While BTS have long proven that they are masters of their craft, 'BE' is an album that truly solidifies that sentiment in stone. Each song is varied, catchy and wonderfully executed, and the theme of optimism during an impossibly trying time creates a safe space that many people will be able to take comfort in. It retains the sound and message of the band, while also contrasting their previous work because of the unique situation from which it arose. 'BE' is a once-in-a-lifetime album, and BTS did a fantastic job in taking this opportunity and making the absolute most of it.
I would recommend this album to anyone who is struggling to feel okay in the midst of lockdown. Many people, especially students, are coping with stress from school and the boredom of being stuck at home. These factors take a toll on students' mental health, but 'BE' is like a warm hug; like reassurance that everything will be okay. This album will be able to help reduce the pain of many people, even if only temporarily or minimally. 
BE is available to listen to on Spotify, Apple Music and various other platforms, and the Life Goes On music video is currently streaming on YouTube. I strongly recommend taking a listen, and I hope you enjoy this album as much as I did!