Suppliers of the imagination: Timbre Books
Whether it be a picture book, memoir, short story or a novel, Ventura's newest independent bookstore, Timbre Books, has a home for it. Opening merely three weeks ago, on Oct. 17, this small bookshop that had only been a dream in the past is now a reality and is open to the public.
The wedded duo, Megan and Kyle Murai, made the final decision to open their own bookstore after touring the vacant real estate at 1924 E Main Street back in April 2020. Megan said that opening a bookshop was always a dream of her's but said, "I never really thought it was something attainable I could do." After seeing the space for sale and doing some research on the technical side of launching a business, it seemed her "pipe-dream" could become a reality.
One factor that the Murais had to consider was deciding whether or not an independent bookstore could be substantially successful in the modern world. "Bookstores, in general, are typically thought of as a dying industry right now," says Megan. The couple had to do some research as to whether that was true and whether opening a small business in the middle of a pandemic would be worth it. Ultimately, they found that it wasn't necessarily a lost cause. Megan explains that "there is this upswing of bookstores right now and people are wanting to also shop locally and support small businesses and so we felt there was a lot of potential there."
Growing up in Ventura, Megan Murai was the classic avid reader, saying, "I was reading like all the time." Now, almost one year after completing graduate school at "Seattle Pacific University for a low residency Master's of Fine Arts (MFA) program," she is the proud co-owner of her own bookstore.
The preparation for the opening was done mostly through the couple's own handiwork. "We got the space in July," says Megan explaining that renovations took about two months, "my husband built all the bookshelves, the bar, everything in here."
Now that Timbre, pronounced ˈtambər, is fully open and selling, many authors in the area have contacted the store in order to sell their own works. "It's been cool to see local authors coming out of the woodwork," said Megan. 
Megan also talks about what it's like having larger chain book suppliers in the area, saying, "the book-selling world is cool right now, because people who love books just love books and so we've had employees of Barnes & Nobles come in and be like 'We're so excited you're here!"
The flow of customers is generally mellow, especially during the COVID-19 pandemic, but once it is safe to do so again Megan said, "down the line we would love to have events frequently, catered towards different age groups and different genres and things like that."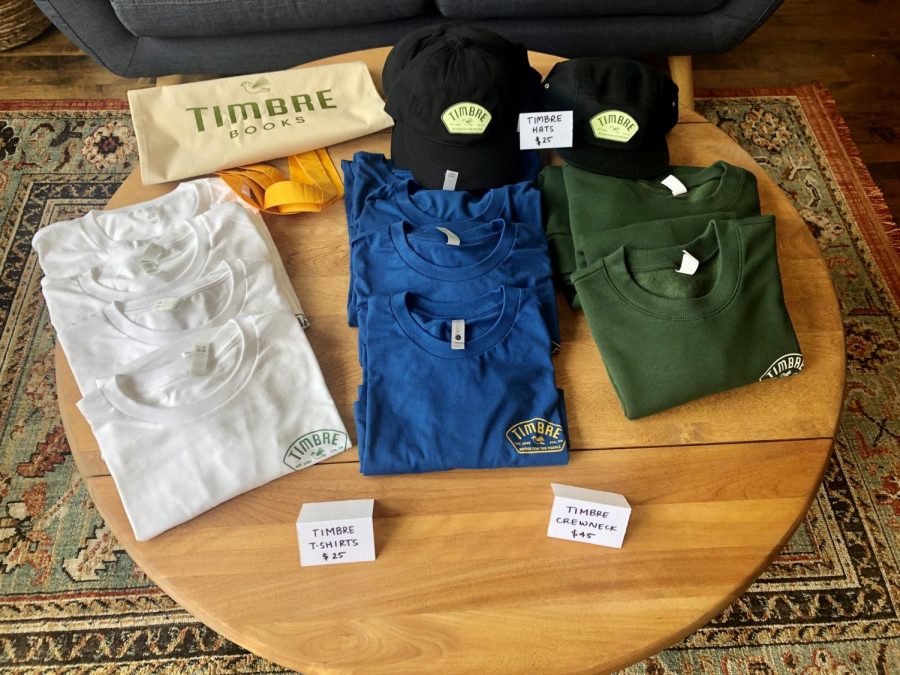 The store itself is a cozy space, its walls lined with tall shelves of books of various genres. Natural light illuminates the store with large windows facing Main Street. There's a small couch for lounging and reading right next to a table that displays the store's very own apparel. Timbre Books sells its own t-shirts, crewnecks, hats and tote bags. Right next door is the popular local coffee shop Singing Sun, so you can have a cappuccino with your latest piece of literature.
As the pandemic lingers and winter approaches, it's the perfect time to curl up with your favorite book. In a time where supporting local businesses is as important as ever, look no further than Timbre Books for all your literature necessities.