Singing Sun Coffee: the brightest coffee shop in town
All photos included in the article were taken on a Canon A-1 film camera
November 16, 2019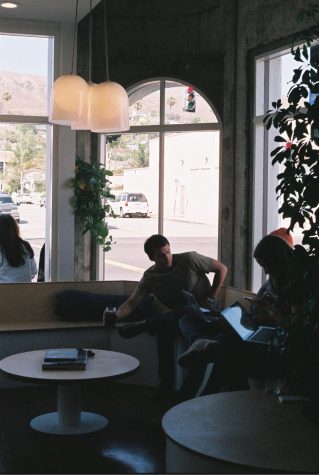 Laughs are shared, relationships are formed and community is found around a cup of coffee. Whether it be the place you go on a first date or where you reunite with a friend you haven't seen in years, coffee shops are the home of many memorable moments. Coffee shops are found around every corner in Southern California, but none compares to Singing Sun Coffee, a fresh face to midtown Ventura.
I walked into Singing Sun, greeted with warm welcomes and big smiles from the baristas. Natural light danced through the room, bouncing off the distressed brick walls and lit up the leaves of the plants. Jack Johnson's guitar picking filled the room and brightened the atmosphere of the shop. Photography books piled on the table in the middle of a large wooden nook. This circular seating area in the window provides a space for strangers to find community amidst unfamiliar faces. The surfer-modern ambiance of Singing Sun is quintessentially Ventura, California. 
Something that stood out to me was their value of locals supporting locals. They offer a wide variety of products created by fellow small businesses in our county, including Revel Kombucha, Pressed Juicery and Channel Islands Juice Company. 
Their menu is short and sweet, serving your favorite coffee beverages or espresso-less delights, like chai or matcha. Singing Sun's coffee presentation was some of the best I've seen yet. On my hot vanilla latte, there was the perfect amount of foam. And the art on top? Near flawless and beautifully intricate. The chai I ordered was very different from any I've had from other coffee shops in town; the flavor was very subtle. I personally like stronger and sweeter coffee, so my next visit I asked for more chai and vanilla added with oat milk as the base to add some texture and sweetness. They did exactly what I wanted and created the drink I was looking for. 
The cost of the food and drinks are a tad pricey, but nothing we aren't used to in comparison to other coffee shops in town. Their prices range from three dollars, which is the price of their tea, to six dollars, which is a glass of kombucha. 
When you enter Singing Sun Coffee, you are not just paying for the drink; you are paying for the experience. Creating a calm yet energizing space, making the best coffee date hotspot, and sparking rich conversations are the things that make Singing Sun stand out from everywhere else. Oh, and the coffee—that's pretty darn good too.