MLB vs. NBA: Different solutions to the same problem
Every aspect of life in America has changed due to the COVID-19 pandemic, and sports are no exception. Major League Baseball (MLB), The National Basketball Association (NBA) and Foothill Technology High School (Foothill Tech) athletics have all made adjustments to their rules and regulations this summer to account for the pandemic sweeping the nation, in an attempt to return the joy of sports back to our hearts. However, each organization has adapted differently, adopting various levels of restrictions. 
NBA
The first of the two major associations to announce their long-awaited return was the NBA. At the initial launch, their return plan was so unheard of that it seemed implausible. The plan is referred to as "the bubble" and required the 22 NBA teams that were still in playoff contention to travel to The Walt Disney World Resort in Orlando, Florida to finish the 2020 NBA season. An idea like this would be impossible to implement at the high school level because "the financial support they have is astronomically different than high school sports" explains Foothill Tech cross country coach Jason Dinkler.
The NBA created isolated premises where only players, staff, media members, COVID-19 testing officials and catering and cleaning staff are permitted to stay. With this protocol, they believed the season could continue without causing an outbreak of COVID-19. 
The association planned to achieve this goal with a set of strict regulations that everyone in the bubble would be required to follow. Upon arrival, which started July 7, all players, staff and media members were required to quarantine for a minimum of 48 hours, until they obtained two negative COVID-19 tests. After this, everyone would continue to be tested daily, while also wearing masks and following social distancing guidelines when possible. 
After more than 40 days since the resumption of the season, zero of the players that have been actively participating in the bubble have tested positive for COVID-19. The bubble is now down to the only four teams still in the playoffs: The Los Angeles Lakers, the Denver Nuggets, the Miami Heat and the Boston Celtics. In fact, safety has become consistent enough that the NBA has decided to allow each player to invite up to four guests.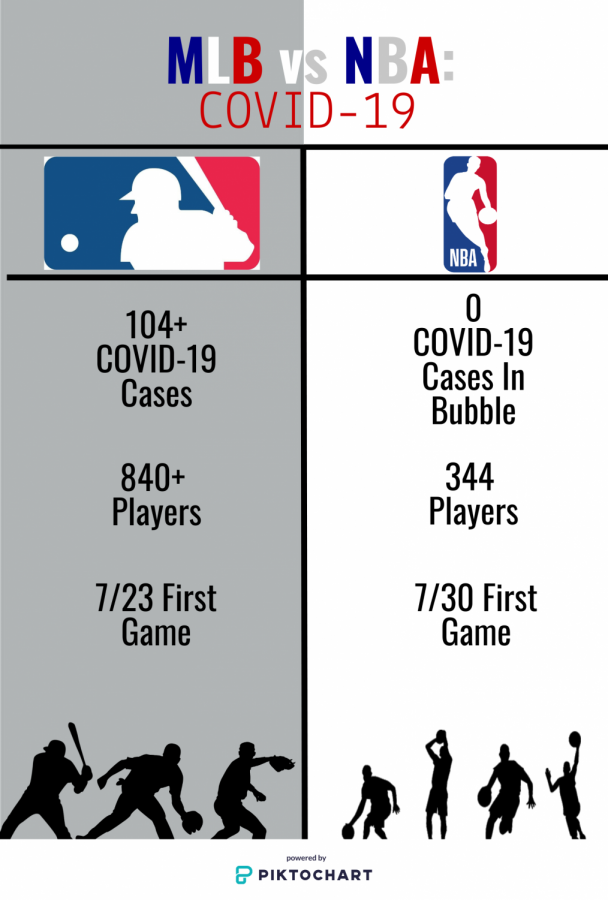 MLB
In contrast to the NBA, MLB has kept many aspects of the game identical to an ordinary season. MLB played their first game on July 23, shortly following the start of the NBA bubble. Teams are still playing at their home stadiums—aside from the Toronto Blue Jays—and are permitted to go home to see their families after every game, but that's not to say there were no precautions taken.  
The most obvious change implemented is the use of cardboard cutouts in place of fans in the seats. As of Sept. 19, no fans have been allowed to enter any stadiums during games. MLB has also set some rules in place for the players on the field. They are encouraged to social distance when possible, are continuing to be encouraged to use masks on and off the field and are not permitted to spit during playtime.
So far, MLB's hands-off approach has not worked quite as well as the NBA bubble in terms of limiting cases. So far, 43 games have been postponed due to COVID-19 cases with MLB teams such as the New York Mets, Miami Marlins, Philadelphia Phillies and St. Louis Cardinals all having several players test positive.
Foothill Tech athletics
Foothill Tech has also introduced its own rules and regulations regarding COVID-19. Much like the two professional leagues previously mentioned, Foothill Tech will be encouraging the use of masks and players must adhere to social distancing guidelines in order to participate. In Phase One, practice will be limited to conditioning and will begin Sept. 22.
The future of sports professionally and at Foothill Tech may be largely unknown, but "we're gonna learn some lessons in terms of logistically planning things differently" says Dinkler.  Hopefully soon, it will be safe for Foothill Tech to take the next step towards competition, just like the NBA and MLB.