Past and present Dragon talent showcased in first ever girls basketball alumni game
Players and supporters past and present joined together on Dec. 21, 2019 at Ventura College to watch the Foothill Girls Basketball team take on alumni and staff members Darcy Duffy and Emily Stevens. The nostalgic night kicked off with head coach Paul Tafoya delivering a brief speech about each of the graduated players, highlighting their statistics and achievements.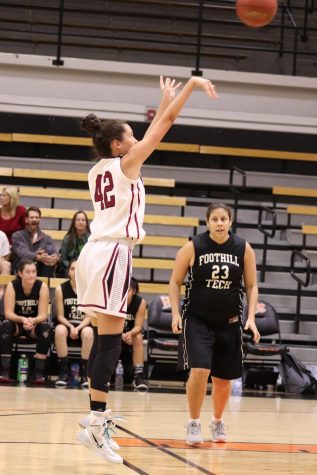 It was indisputable that this was not a typical game, there was a certain buzz of energy on the court, with all the players sharing the anticipation of finally playing basketball together again. With everyone in good spirits, not a play went by without someone cracking a smile. Rome Falcocchia '22 noted that her favorite part was "blocking Mrs. Duffy."
Kicking off the game, Abby Sourwine '19, a previous four-year varsity Dragon, won the tipoff for the alumni team, and the energy continued with a quick basket by Emiline Bova '19. Abby Huynh '21 countered this with a three-pointer for the varsity girls. Cydnie Gutierrez '19 then had two consecutive breakaways, which were both stolen by Ashley Kaller '23. The momentum for the varsity girls continued as Darcy Duffy, a faculty member at FTHS turned the ball over to Olivia Huynh '23, who made the connecting pass to Cierra Marienthal '22 for a layup. Annika Kinnaman '19 ended the quarter with two free throws, tying the score 8-8.
The alumni team, who had great success in their high school careers, were joined by former alumni Becca Negrete '16, who faced her younger sister Cierra Marienthal for the first time on the basketball court.
The alumni exploded into the second quarter, with two breakaways from Emiline Bova and a basket and a rebound for Sourwine. Elizabeth Ferris '21 came back with a jumper from the left corner. Maddie Ozbourn '19 scored twice more and the alumni were up 20-13 at the end of the second quarter. Although the score was competitive, Falcocchia felt like it was "hard to take it seriously, because they're really good, old friends."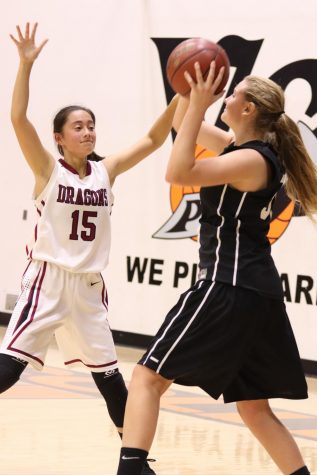 Emiline Bova hit two three-pointers to commence the beginning of the third quarter, followed by a basket by Falcocchia and floater by Cierra Marienthal just before the shot clock. Back to back three-pointers were then made by Gutierez and Olivia Hunyh. Kaller lessened the scoring deficit at the end of the third quarter with a drive to the basket, but the varsity Dragons were still down 25-33. 
The fourth quarter consisted of many exchanged possessions with no scoring. However, Shaun Taylor '22 contributed with a basket, as well as a free throw by Kinnaman. As the time wound down, Falcocchia scored again to make the final score 38-48 in favor of the alumni girls and faculty members. 
With the seven graduating seniors all parting in different ways, the girls appreciated this special opportunity to play as a team again. As Gutierrez put it: "it was the most fun I've had in a long time," a sentiment felt by many others.
Despite the gap of time since they've played, Emiline Bova feels like "they all still clicked." After an incredible high school season, including her total career points totaling to 1,584, she now plays basketball for George Fox University. She enjoyed this game, saying it was "a nice break from college basketball." 
This game was a fundraiser for Foothill Girls basketball to support their program. Tafoya thought that being able to see the alumni players were "so great […] It's like family," he said.
Even though these seven girls only played four years of basketball together, it is evident that all their experiences and memories will last forever.