It's Boba Time brings a popular drink to Ventura County
Zen Li, Writer
January 7, 2020|195 Views
It's a humid 80-degree summer day in Ventura, and you've got one thing on your mind: boba. That milky, refreshing drink with chewy pearls is unlike any other beverage out there. But there's one issue—the nearest boba shop is a few hours away, in the Santa Monica area—a long way to go for a drink.
Just a few years ago, this was a common occurrence for boba lovers across Ventura County, but with the recent opening of It's Boba Time at The Collection, fans and newcomers can enjoy boba without having to make the journey over the grade. But does the shop meet expectations, or is it a far cry from the offerings down south?
Firstly, let's establish what exactly boba is. Also known as bubble tea, boba originated as a sweet tea from Taiwan during the 1980s and evolved to include fruity blended drinks. As time went on, sellers began to add toppings like grass jelly, pudding and most notably, black tapioca balls known as boba. The most common variant of the beverage is milk tea, a mixture of black tea, milk, sugar and condensed milk. Boba has recently grown in popularity in the west, with numerous shops popping up in towns and cities.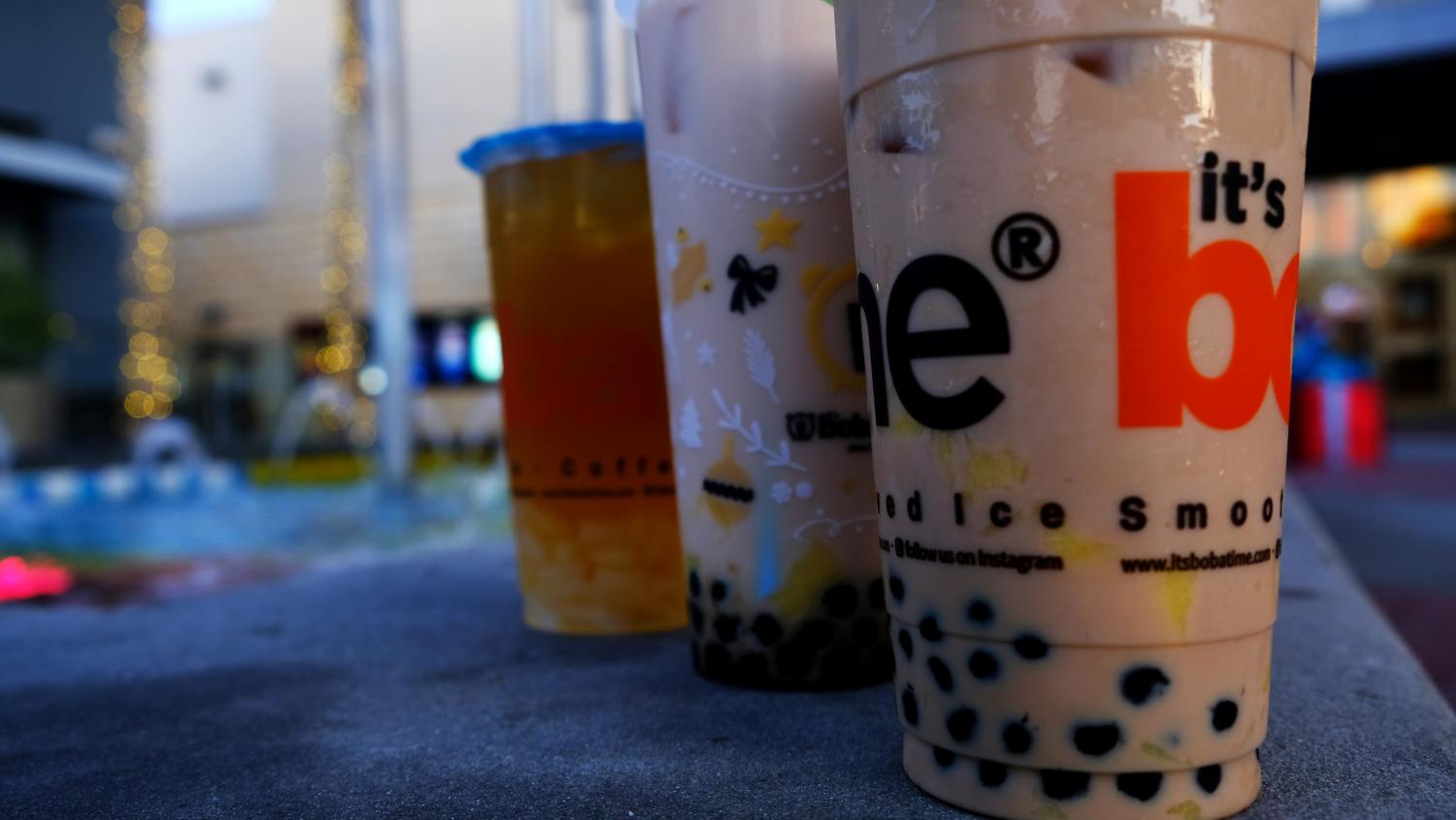 Now, back to Boba Time. The shop certainly delivers in sheer variety. From milk tea to iced tea to smoothies, they've got it all. It's Boba Time also features an impressive assortment of flavors: classics like Thai tea and passion iced tea are all there, while lesser-known beverages like horchata smoothies and oolong tea cheese foam also make an appearance on the menu. All drinks can be purchased in a large-sized cup, while some can be bought in the small size. Prices range from $3.45 to $5.75. In terms of toppings, Boba Time does not disappoint: all types of boba, pudding, and jelly can be added to your order.
During my first visit, I ordered a large milk tea with boba and pudding ($4.75) to get a general idea of what their boba tastes like. Meanwhile, my sister went with a large peach lychee fruit tea with lychee coconut jelly ($4.95). There was no line or orders ahead of ours, so the drinks came out fairly quickly. Overall, the drinks were good—the milk tea was properly milky, and the boba had a nice chew without being a bother to eat. However, I will say that the pudding was served in chunks rather than in one big glob, which made it harder to drink. A disappointment, but not a deal-breaker. The peach lychee fruit tea was described as having a pronounced tea flavor with a good amount of jelly. The flavors of both teas should be described as high-quality. The drinks from Boba Time may not be as sweet as other boba shops, but the tea flavor is much more distinct and genuine.
Although the store doesn't do much to reinvent boba, the accessibility, variety and prominent flavor of It's Boba Time create an above-par boba experience that will satisfy boba customers old and new. As one of the first boba shops in the Ventura area, I'd say that the shop creates a faithful beverage that is comparable to the better-known establishments in the Los Angeles region. Whether you're hanging with friends or have just finished your meal in The Collection, I would highly recommend stopping by It's Boba Time for excellent boba and other refreshing drinks.