Buena Drama Department Sends Audience to the Past in "Our Town"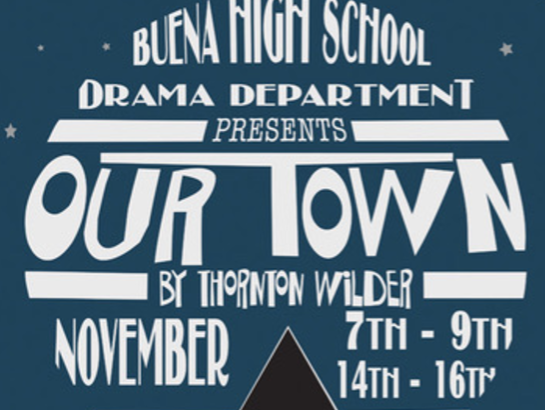 Zen Li, Writer
November 13, 2019
As the sun goes down over Ventura, the sun slowly rises above Grovers Corners, New Hampshire in Buena High School's production of "Our Town", written by Thornton Wilder. 
During the weekends of Nov. 8 and 15, the cast of "Our Town" take on expressive and believable personas that create an emotional story for the audience to enjoy.
Our Town tells an intimate story of a rural town called Grover's Corners, and the day-to-day lives of its inhabitants during the first few years of the 1900s. The first act out of three opens with the Stage Manager, the narrator, played by Elana Storms '21. It paints an evocative image of the town and of the many people that dwell within it, and slowly focuses in on two families, the Webbs and the Gibbs. From there, the plot circles around the relationship between Emily Webb, played by Gwen Armstrong '20, and George Gibbs, played by Dylan McHenry '23. Interestingly, although the plot does tell the story of Emily and George, the entire cast is interwoven into the tale⁠—it feels like there are always at least three actors/actresses on stage at any given moment.
Typically, "Our Town" is performed on a stage without a set. However, Buena's production features a modest yet effective number of props and sound effects. Surprisingly, the lighting plays a key role in setting the stage of any given scene. However, it should be noted that Buena's auditorium takes a toll on the presentation, as it is often hard to completely understand what the actors/actresses are trying to say.
The soul of the play lies in the characters, which are played by a group of talented actors. As stated by Nathaniel Dumas '20, "Everyone did really well, despite there being a few bumps here and there, I think we are still climbing up hills to an amazing performance." From the main roles to the smaller parts, each character was expressive and convincing. 
Some of the stand-out performances include Thomas Crawford '20's paternal role as Mr. Charles Webb, Chloe Johnson '23's energetic portrayal of Howie Newsome, and Emmie Johnston '20's caring depiction of Mrs. Myrtle Webb. The realistic portrayals of these characters is reflected by the actors/actresses who played them. Grayson Button '20 commented that "Half of it was internalizing it and half of it was externalizing it… often times I can be very apathetic, so it was kind of pulling that out for some of my specific scenes."
The thematic elements cannot be forgotten either, as they are the result of each of the aforementioned elements. "Our Town" not only reminds us of our humanity, but it also stresses the importance of appreciating all things great and small, as illustrated in the final act. Director and advisor for the Buena Drama department, Karen Rodrigues encapsulates the moral of our town, "I would like for people to realize that they are living."
On the evening of Friday, Nov. 8, I grabbed my notebook and set out to review Buena's Production of Our Town. But when I sat down to write this article, I had trouble deciding where to begin. There were many things that I wanted to say, but I didn't know how to communicate them. After some thought, I realized that this is because Our Town felt less like a play and more like a period of time that I actually lived through. 
Between Buena's exceptional performance, the metatheatrical elements of the plot and the expressive personalities in the characters, I came back feeling like I'd known the characters and had dwelled in the town. Because of this, I highly recommend seeing Buena Drama Department's production of Our Town and visiting Grover's Corners for yourself.