Rincon Brewery Brews up an Amazing Experience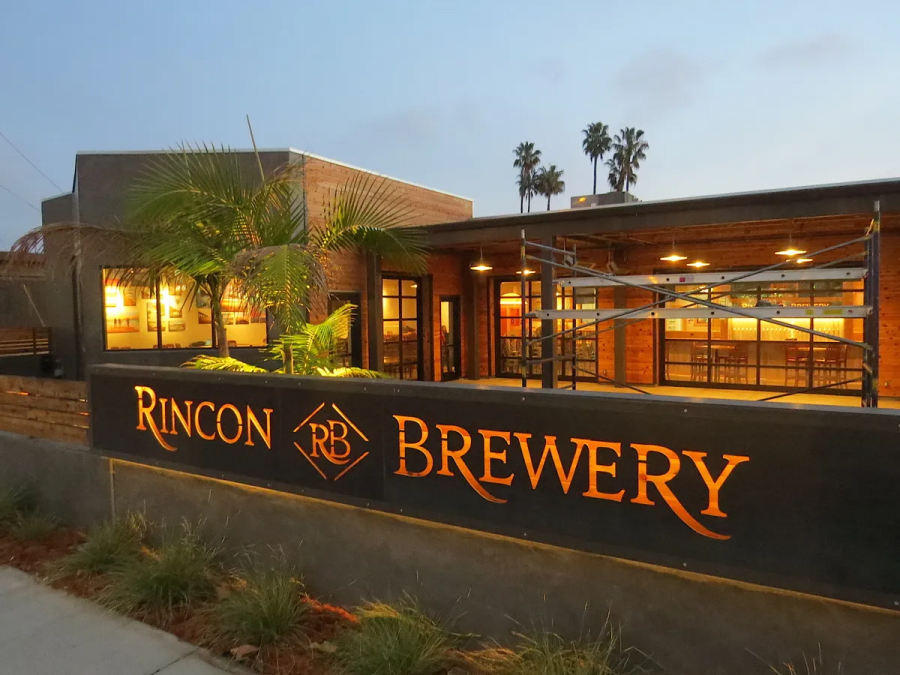 On the corner of Ashwood and Telegraph, Rincon seems to be the talk of the town since the brewery and restaurant opened in December of 2018. It's a place to hang out, play a good game of cornhole and have some delicious food. Since their first restaurant located in Carpinteria was a success, I had high hopes it would be a fabulous new hangout with stellar food and a chill environment for Ventura, and my expectations were not cut short. 
Walking into Rincon Brewery, I quickly noticed how new and modern the restaurant looks from its open design, lots of lighting and fresh paint. We were greeted immediately and pleasantly taken directly to our seats asking if we need anything by an eager to please staff. There was a variety of people sitting in the restaurant including families, friends and couples, adding to the naturally energetic and positive vibes.
The outside has a sandbox for kids and a designated area for cornhole so even adults can enjoy their experience while they are waiting to be seated or receive their food. Large flat-screen TVs are all around the restaurant, some playing movies and others playing sports. The atmosphere all around seemed fun, making it a great place to hang out.
Rincon's menu provides an assortment of American and Mexican food for around $5 to $15 and they also offer a kids menu with prices around $6 dollars. 
We first began with starters. Rincon has nine starters that include onion strings, grilled artichoke or even chips & salsa- but we decided to go for another option, breaded pickles lightly crisped with a side of ranch and sriracha dipping sauce: the dill pickle bites. The dill pickles looked and smelled amazing and at first taste, I knew we would finish the whole plate.
Another starter was the traditional buffalo chicken wings. Rincon gives you the option to choose between boneless wings or traditional and provides a variety of sauces including buffalo, BBQ, Spicy Sriracha and teriyaki seasoning. The wings looked delectable and tasted amazing. Altogether, both starters are a ten out of ten in my book and I would highly recommend them both.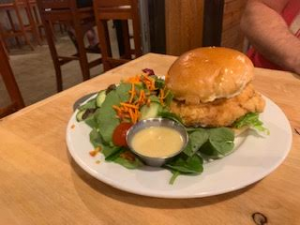 For the main courses, we ordered the Rincon Sliders. This dish included three sliders, a portobello mushroom top, swiss cheese and garlic aioli with a side of homemade chips. The quality of the sliders was amazing and I could taste the freshness of the food. Everything in the sliders blended together amazingly.
My favorite dish we ordered was the sriracha chicken sandwich with bleu cheese aioli, lettuce and tomato all put together in a brioche bun and a side of salad containing champagne vinegar. It was not too spicy by any means but the sriracha definitely kicked it up a notch and made it more delicious after every bite. The meal was very enjoyable and I would definitely order the sandwich again. As for the chips, it is like a drop of heaven fell in them because they are so addicting!
As for dessert, there were four dishes to choose from, but we ordered a small Cookie & Cream, a cookie baked in a pan with McConnell's ice cream on top, a dish our waiter happily recommended for us. Unfortunately, it took around thirty to forty minutes to receive. Despite this setback, the customer service was fantastic. When dealing with the situation, the manager spoke to us and took it off our bill without hesitation. At first bite, I already knew I would definitely order this dessert again. The warmth of the cookie complimented the ice cream so well! The small size is big enough for two to three people and the large could be for four to five. I would definitely recommend the Cookie & Cream dessert, due to its extraordinary flavor.
The experience of Rincon was overall a positive one and I would definitely go again. The helpful and friendly customer service shone through the entire meal and not one worker was negative or in a bad mood. The atmosphere was outstanding with just a great place to have a spectacular time with friends. Playing cornhole while waiting made the experience so much more memorable too!
About the Contributor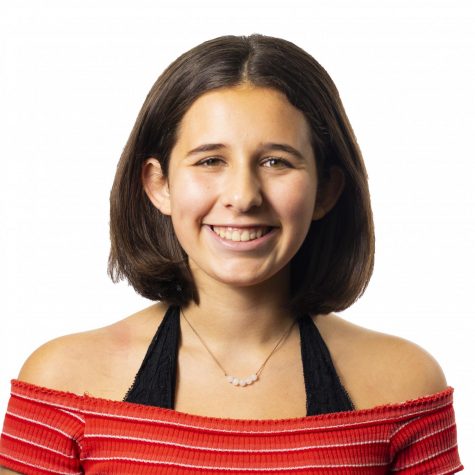 Isabella Fortunati, Writer



Second year writer who enjoys food, reading, and music.