June: History of the marginalized
Hang on for a minute...we're trying to find some more stories you might like.
June 3, 1943: Zoot Suit Riots begin
The Sleepy Lagoon trial concluded in early 1943 and declared twelve young men guilty for the death of José Gallardo Díaz and five young women who declined to testify were sent to the Ventura School for Girls, a reformatory school. The result of the Sleepy Lagoon case clearly depicted the prejudice that Mexican Americans faced. 
Though Mexican Americans were one of the largest minority groups to have fought in World War Two (WWII), Mexican Americans wearing a zoot suit at home were seen as defiant to the U.S. government. Since wool had been rationed to make uniforms for the troops during WWII, a black market of zoot suits emerged. Thereby, the act of wearing zoot suits that were purposefully designed with larger sums of fabric was seen as unpatriotic. 
As the months passed, racial tension continued to grow and the Zoot Suit Riots began on June 3, 1943, and lasted ten days. U.S. military was stationed on the coast and after an alleged incident between sailors and zoot-suiters was enough to make the quarrel between servicemen and Mexican Americans explode. U.S. servicemen took cabs from their stations to Los Angeles in search of zoot-suiters. Fights emerged and the riots continued. Zoot suiters and people of Mexican and African descent were targeted and beaten. Zoot suits were burned and boys as young as twelve were brutally injured.  
Media took part in abetting the negative portrayal of Mexican Americans and showed them as the aggressors, not the victims. And the number of zoot-suiters arrested was evidently disproportionate to the number of sailors that partook in the riots, showing how racial profiling was more useful to them than the occurrences on those nights. On June 8, 1943 Los Angeles became off-limits to military personnel and they were encouraged to stay at their bases. The Los Angeles City Council also passed a resolution banning the wearing of zoot suits. 
After the Zoot Suit Riots ended California Governor Earl Warren order an investigation on the cause of the riots and the conclusion was no surprise, that "racism was the central cause of the riots" and the response to the riots by the police and media had detrimental effects.
June 6, 1956: Lesbian activist June Chan is born
June Chan is a Chinese-American lesbian activist who helped found Asian Lesbians of the East Coast (ALOEC) in 1983, an organization which strived to create a space for queer Asian/Pacific Islanders in the gay liberation movement. As mainstream queer activism at the time was exclusive and focused on white, cisgender men of the LGBTQ+ community, Chan strived to create a bridge between Asian/Pacific Islander issues and LGBTQ+ issues. 
June Chan worked with activist Katherine Hall to make a slideshow of Asian/Pacific Islander lesbians throughout history. ALOEC also published a series of newsletters showcasing the stories of historic Asian/Pacific Islander women. The newsletters and slideshow were used in workshops to educate people on the previously untold histories of queer Asian/Pacific Islanders. Chan's activism and her work with ALOEC helped bridge the intersections between the Asian/Pacific Islander community and the LGBTQ+ community in the United States.
For more information on June Chan, queer Asian/Pacific Islander activism, and lesbian history, check out these resources. 
June 28, 1969: New York City police officers raid Stonewall Inn
Considering the fact that police raidings of gay bars and institutions were common occurrences throughout United States (U.S.) history, the police raiding of Stonewall Inn, a gay bar in Greenwich Village, wasn't surprising. However, it was the riots that followed the Stonewall raid that sparked the beginning of the gay liberation movement in the U.S. 
The Stonewall Riots served as the catalyst for the gay liberation movement, which pushed forward gay rights legislature and evolved into modern-day Pride and LGBTQ+ rights movements. The riots lasted several nights and were a violent reprisal to state-sanctioned brutality against the LGBTQ+ community. Despite the minimal and homophobic news coverage it received, the Stonewall Riots were a turning point for the gay liberation movement.
At the forefront of the riots was Marsha P. Johnson, a black trans woman. She and Sylvia Rivera, a Puerto Rican trans woman, were among the most outspoken and prominent voices of the Stonewall Riots and the gay liberation movement. Johnson and Rivera also founded the Street Transvestite Action Revolutionaries (STAR) organization, which worked to help homeless and incarcerated transgender people. 
It's important to recognize the work and struggle that queer people of color, especially trans women of color, have undergone throughout history. Activists like Marsha P. Johnson and Sylvia Rivera made great contributions for the advancement of LGBTQ+ rights and safety.
Today in the U.S., black trans women are disproportionately targeted for hate crimes and murder compared to other members of the LGBTQ+ community. It's important to remember Stonewall and the gay liberation movement. It's even more important to remember the queer people of color who were at the forefront of it all. 
June 15, 2012: Deferred Action for Childhood Arrivals (DACA) is announced
Under the Obama administration, Deferred Action for Childhood Arrivals (DACA) was issued as an executive order that offered a glimmer of hope, security and relief to thousands of young immigrants.
Eligibility for DACA was determined for undocumented immigrants who had entered the country when they were children, met a list of prerequisites and paid a fee.  
DACA did not offer a direct path to citizenship or permanent residency, rather, it ensured that recipients would be safe from deportation, as long as they renewed their application every two years. DACA recipients, also referred to as "dreamers", were given the opportunity to continue education and obtain jobs legally. So far DACA has protected 800,000 "dreamers" and allowed them to live in the country in which they were raised without fear that it might all disappear in a blink of an eye and they might be forced to go back to a country they do not know.  
In more recent years DACA has been under more scrutiny and has been labeled as "unconstitutional." In 2017 the Trump administration announced their decision to end DACA but "lower courts have prevented the administration from rescinding the program." As of now, the Supreme Court announced that they will review the DACA program during their next term, giving hope to many young immigrants to whom the U.S. has been the place they call home.
About the Contributors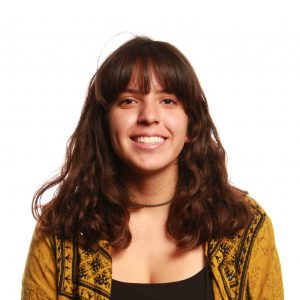 Jimena Perez, Intersections and Latino Culture Editor
A strong believer that, "un taco al día es la llave de la alegría."