Strawberry-themed Renaissance rally leaves campus on a sweet note
Noelle Hayward, Reporter
March 25, 2019
Surrounded with balloons, food, music, games and jolly jumpers embracing the sunny flair of spring's Strawberry Festival, Foothill Renaissance students spent their extended lunch participating in all the diverse activities offered in this year's spring Renaissance Rally. This annual event was chiefly organized by Madison Duston '21 and Maisy White '21, two Associated Student Body (ASB) students and took place on March 22.
With multiple options for food, games and more, students were rewarded for their hard work throughout the year. Donovan Hart '22 commented that "it definitely makes me want to be on honor roll a lot more."
Josiah Guzik, a Spanish teacher, thought that the whole setup was great.
"I think the food is top notch; I don't know that I've seen a better line of food so far, in terms of like the chocolate-covered strawberries, the lemonade, the fries," Guzik explained. "It seems like everyone is really into it."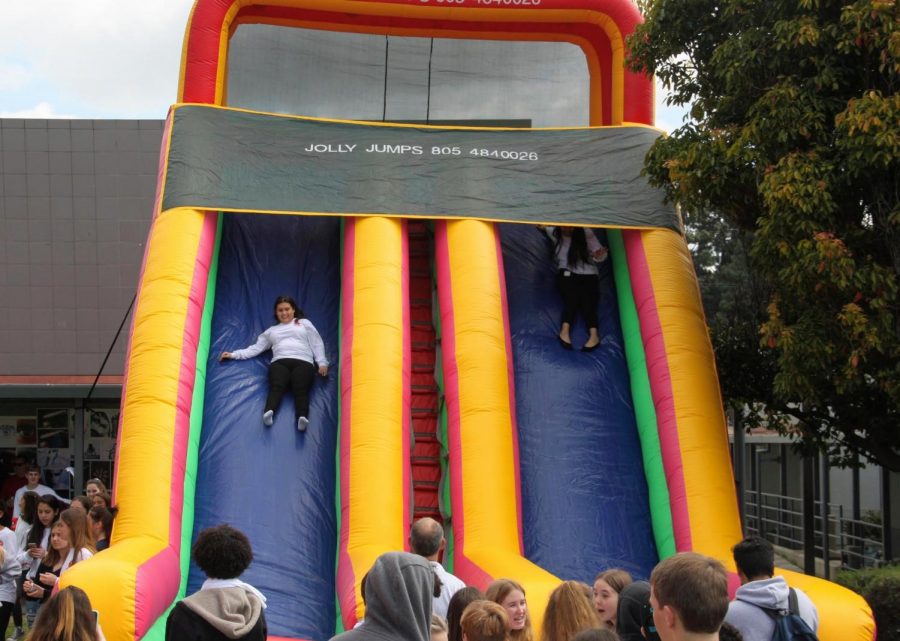 Lucy Growdonstark '22, the ASB Renaissance Rally Director Intern, stated the rally was "going great," and she was happy that "there's so much turn out."
She was excited to see that "everyone [was] wearing their shirts, being part of the jumping houses," and decided that it was "going really well—better than we expected."
According to Growdonstark, the inspiration for the strawberry-themed spring festival stemmed from a past lemon-themed rally that the current "seniors might have been [there] for." She claimed that this specific fruit-themed rally "was our inspiration because that was one of the best turnouts of the entire within the past many years, and so we thought the strawberry because the fruit, we kind of went along with that theme."
Even willing teachers got to participate in the celebratory fun. Guzik stated that he usually likes to participate in the Renaissance rallies, despite the fact that "not all teachers like to come out."
"Sometimes they like to take the long lunch and like go out to lunch somewhere, but it's kind of fun for me to be able to walk around and hang out with the students," Guzik said.
Not only did ASB have multiple booths set up inside the quad, but there was also an In-N-Out truck parked in the front of the school, where students could receive pre-ordered burgers or purchase one in case they didn't order ahead of time. Marina Wolowicz '22 "got in line for [her] In-N-Out burger" and was "excited about that."
Ella Hoyt '22 also commented that it was "definitely" a good reward for the efforts she invested in her academics this quarter. She said that there was "good music and good food," although generally there was "a lot of waiting."
Hart also touched on the larger crowds of students waiting at various stations. He said that if he were to improve anything, it would be "the lines," which were "so long for half of the stuff."
Growdonstark added that even though there was "so much turnout" for the actual event, the smaller spirit week events leading up to the Renaissance rally at the end of the week needed "a little more publicity."
"The publicity of certain events, like before the—like the spirit weeks before. Those were trying to get hype up towards the Ren rally, and I don't think those exactly were perfect."
Overall, Grownstark believed that "it took a lot of work, but it turned out great. So I am really happy about it."