Freshmen participate in new "Ventura Eats" ninth grade project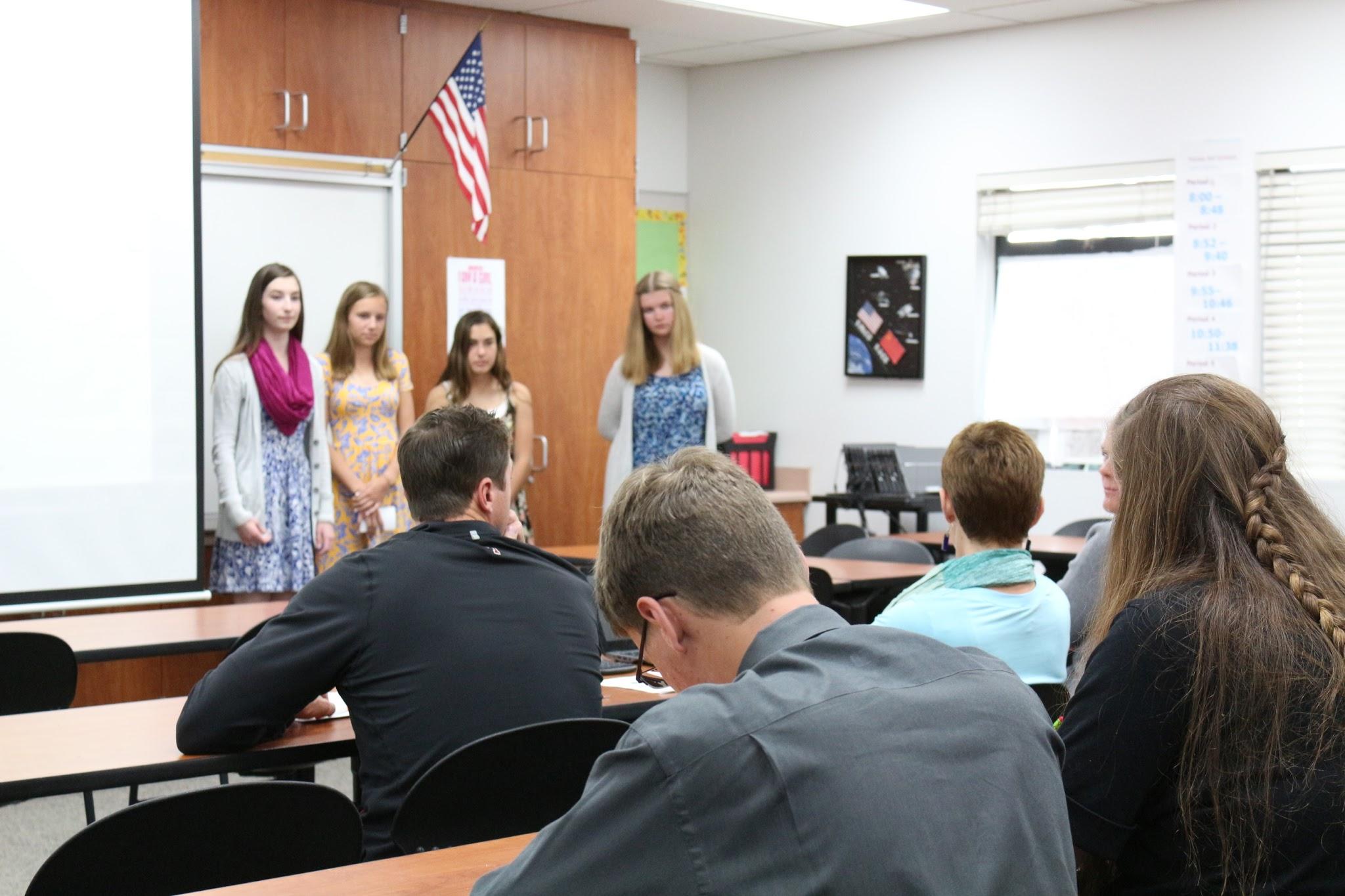 On Monday, freshmen crowded into seventeen different classrooms to present their documentaries for the first ever "Ventura Eats" 9th-grade Project.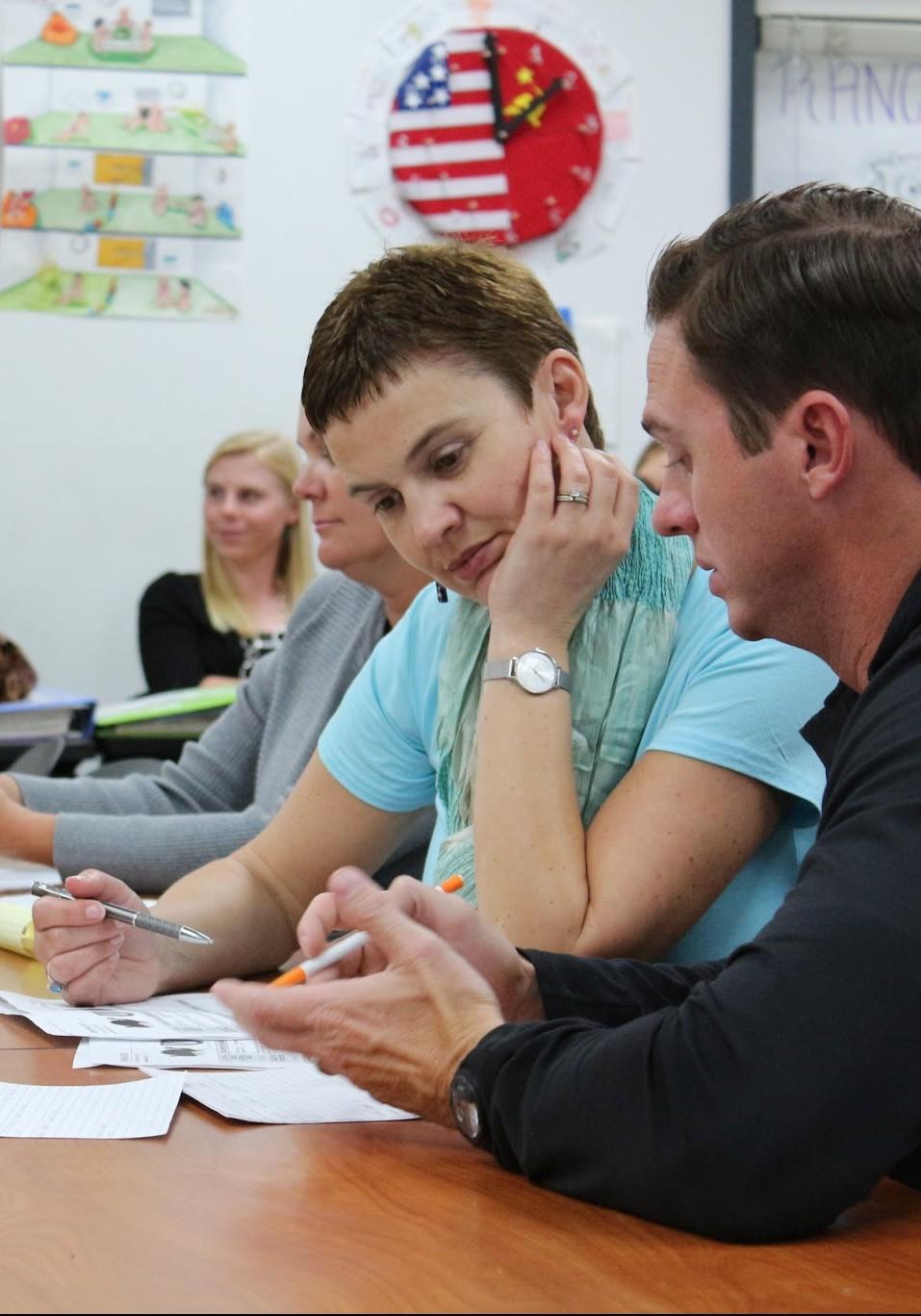 The "Ventura Eats" project is an adaptation of the previous "America Eats" project, a debate-style group assignment focusing on the large-scale impacts the food industry has on the nation.
This year, the project was altered so that students created a documentary focusing on local issues rather than global issues.
Social Studies teacher Claire Adams explained how this year's 9th grade project differed from the previous 9th grade project.
"I liked this one because they did have a guide of some questions that they could investigate, but really it was pretty much open to whatever they wanted to investigate," Adams said. "Whereas last year it was just based around Food Inc."
Each classroom contained four different groups with unique topics and documentaries. The freshmen took notes on all other documentaries and wrote down any questions they had.
After the introductory speech and the presentation of the documentary, each group had to answer questions from the judges and students.
A total of three judges watched the documentaries and voted together on a rubric. The students were judged on the clearness of their thesis, their overall stance, the quality of their production of the video, and the development of their argument and evidence.
The rubrics will be given to the groups later this week, and the best videos from each individual classroom will be posted on the Foothill website for students to watch and vote on.
One documentary shown was by group "Agriculture4Dayz." The video discussed the lack of knowledge about the history of agriculture in Ventura.
"We chose this topic because we thought, not a lot of people actually know the history of it, and we wanted to make people more aware about what kind of food they're eating," freshman and Agriculture4Dayz member Sky Diamond said.
The video examined facts about farms in Ventura, how the drought affects farming in Ventura, whether farming was good or bad for the environment, and a common person's knowledge about farming versus an experienced person's knowledge about farming.
Two interviews with ordinary people were shown, where they answered questions about farming.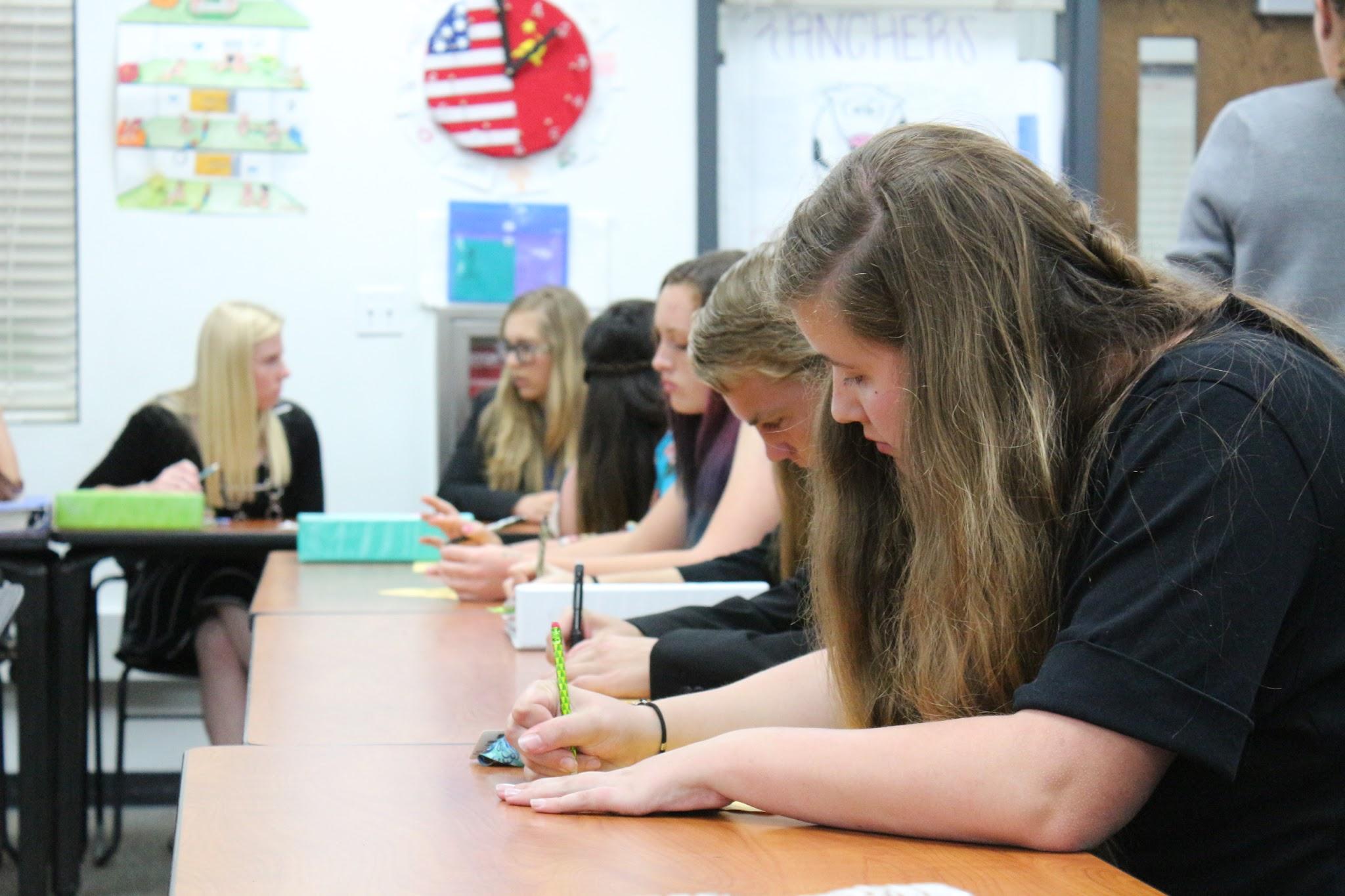 Their knowledge seemed to be limited or based on opinion, but not solid facts, because of a lack of agricultural knowledge. Then, an interview conducted with a woman who had worked in farming, picking fruits since she was 13 years old, was shown.
The farm worker had much more detailed information based on experiences and facts, in comparison to the previous interview.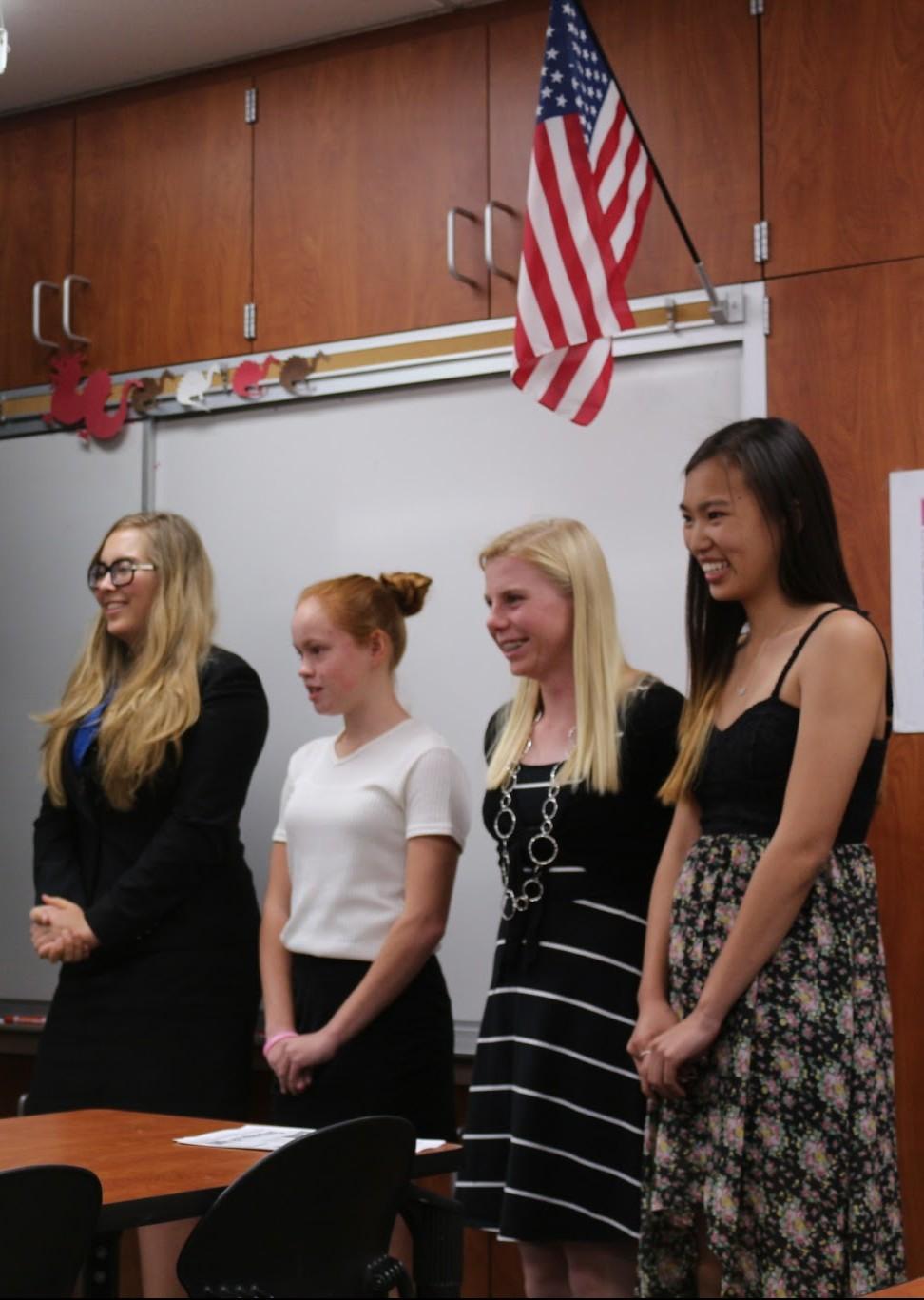 Agriculture4Dayz concluded their documentary by expressing that not many people in Ventura knew about agriculture and its history, and that they need to learn more about it.
Another documentary was by the group "CLEC," and it discussed the pros and cons of organic versus regular farming, and why organic farming was a better alternative for Ventura.
"We chose organic farming because it's really high in demand, and at first I thought to myself 'What's the big deal? Is it all just a label?'" said freshman and CLEC member Lane Domke.
"But after researching it, I found that it was a much healthier option and I used to think that it was just a label. So, [we chose this] to explore more on this new coming topic."
The video expressed that organic farming supported local farms, used no pesticides, and produced healthier products.
After that, footage of organic farms in Camarillo were shown, as well as an interview with Phil McGrath from the certified organic McGrath Family Farm.
McGrath described that his farm used to be non-organic, but that he switched over to organic farming in 1995 after his father passed away from cancer, due to constant exposure to pesticides while farming.
McGrath explained that becoming Certified Organic was a serious process. Farms needed to stop using pesticides for three years and receive state and national approval to become certified.
Farmers who pretended to be Certified Organic could go to jail, McGrath said.
The next documentary shown was by the group "GMOs are Interesting," and depicted the health risks of GMOS and reason why they should not be used.
"I'm in speech and debate, and a couple months ago we did a GMO debate and it just kind of got me aware about the topic and I found it really interesting," freshman and GMOs are Interesting member Eva Shumaker said.
The documentary examined facts the group had found about GMOs and their opinions on it. It stated that GMOs were unsafe for humans, caused environmental harm, carried diseases to animals, and destroyed food chains.
It was also discussed that GMOs endanger honeybees and create superbugs and superweeds. After this, several interviews with organic farmers going into depth about the harms of GMOs were shown.
Another documentary shown was by the group "Treble Clef." They discussed why hydroponics, farming in water instead of soil, was a better alternative to regular farming.
"I chose [this topic] because I saw a T.V. episode of how it's made and it made hydroponic lettuce, and I thought it was really interesting and I wanted to know more about it," freshman and Treble Clef member Bradley Brunsky said.
The video said that hydroponics make farming easier, produce products year round, result in less crop failure, and demand much less space than regular farming.
The video also included interviews with a regular and hydroponics farmer, where each discussed why their technique was beneficial.
Many freshman enjoyed the project and thought it was a positive experience.
"I liked the video editing part and I liked meeting people within Ventura County who were in agriculture, because they are a really big part of our community and I thought it was nice to meet them and see their opinions," Domke said.
Shumaker explained why she enjoyed the project.
"I did enjoy participating in the project because it was really fun to make the documentary," Shumaker said. "When you uploaded it, you could like see other people's and it was just kind of fun watching all of them and seeing your friends making this video."
[soundcloud url="https://api.soundcloud.com/tracks/197401012″ params="color=ff5500&auto_play=false&hide_related=false&show_comments=true&show_user=true&show_reposts=false" width="100%" height="166″ iframe="true" /]
Physical Education teacher Jason Edgmond explained why he enjoyed judging.
"It's my first year doing this and so I wasn't sure what to expect, and I think they were very interesting. I know I learned a whole lot, and it was kind of exciting. I think they did a great job."
Adams described her thoughts on the documentaries.
"I think videos in general are more entertaining to watch than when they're doing public speaking, because it can be a bit nerve wracking and sometimes a bit monotone, so the video production brought a bit of professionalism."
Domke explained why she thought this year's 9th grade project was a better concept than last year's.
"I heard previously that in the years before, that the 9th grade project was done without a group- individually. So, I think I was very lucky to be able to work with a group."
Adams expressed her thoughts on the new 9th grade project.
"I know that obviously all the kids put a lot of effort into this, and Mr. Li and Mr. Unchango and Mr. Miller, who are all new teachers who have only been here a couple of years, did a good job of creating a project that the kids were able to be successful in, and it was most enjoyable."
………………………..