Softball's "mom and dad:" Shelby Esparza and Monica Mendoza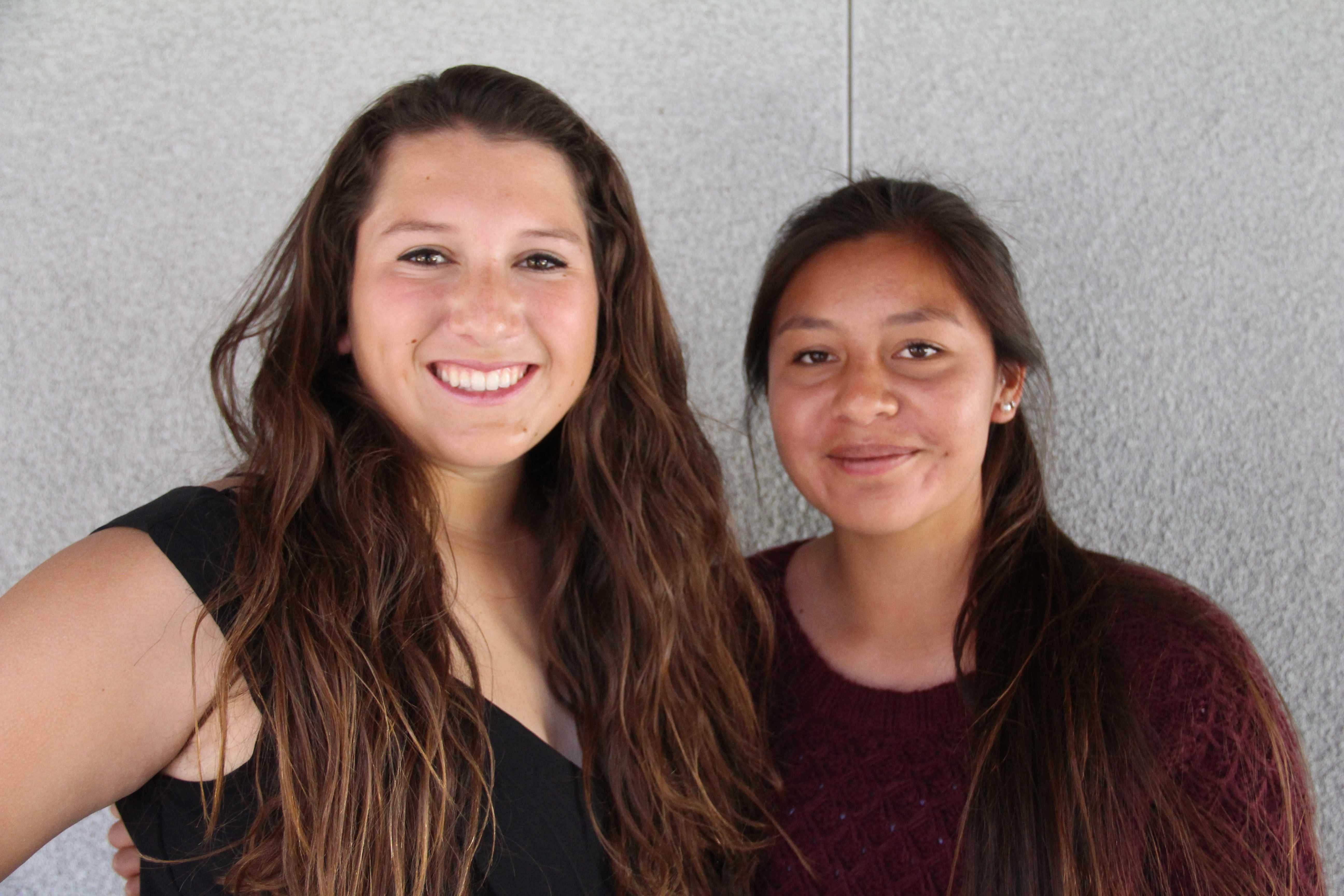 As spring sports begin, the girls' softball team is ready to play, led by their co-captains, seniors Shelby Esparza and Monica Mendoza.
"[Monica and I] both played for Buena and both know what a real team is supposed to look like," Esparza said. "It's our responsibility to organize the girls, set up warm ups, make sure they're on task, because I feel like a lot of them haven't played softball before and don't really know the structures yet. It's our job to kind of like teach them the structures and how to respect coaches, and how this works, how that works."
Esparza has played for two club teams: Tri-Valley and Chaos. She also played for Buena for two years. According to Esparza, playing for Foothill is very different than playing for Buena; every girl that tried out made Foothill's team, while cuts were always made on Buena's team.
Still, Esparza is excited to watch the team continue to improve throughout the season.
"We've already seen a lot of improvement," she said. "There's three girls [who] have played before and they're already getting on base and getting hits and getting plays on the field. So, thanks to the coaching staff, we're seeing a ton of improvement in the girls, and we went from a very unorganized team to a disciplined, organized program."
"We have a good group of girls and I'm really excited for this season and the next seasons that are coming up," she added.
Esparza has been playing softball for 13 years. In that time, she has played for several different teams. She plays softball because she loves the sport and the excitement.
"I love softball," she said. "But people don't really understand it, because when they watch it, they say that it's kind of boring. But if you're actually playing and you're in the game and the ball gets hit to you, it's such an adrenaline rush that everything seems worth it. All the practicing, all the getting yelled at, all the running exercises, everything just totally seems worth it in that moment."
[soundcloud url="https://api.soundcloud.com/tracks/197370565″ params="color=ff5500&auto_play=false&hide_related=false&show_comments=true&show_user=true&show_reposts=false" width="100%" height="166″ iframe="true" /]
Mendoza shares Esparza's love of softball and excitement for the upcoming season.
"Everyone kind of doubted us towards the beginning, so I'm excited about proving everyone wrong," Mendoza said. "I think we have a good chance at CIF, so I think we're ready for that."
"The girls are really hard-working and they take criticism well. They really apply themselves and they're all really good friends. We all get along together, so I think that really helps us," she said.
Esparza and Mendoza have very different personalities, but they work well together as co-captains.
"On the team, I'm kind of like the dad, and Monica's the mom […] But we're a really good team, and that's why we mesh really well," Esparza said. "Sometimes I say things that don't make sense at all and Monica is like, 'Shelby, why did you say that?' So that's why we make such a good team. I'm the voice and she's the brain."
Mendoza echoed the same feelings.
"We're obviously really good friends," she said. "I think we kind of complete each other because she's kind of loud. She'll direct them with her voice, and then I'll lead by example."
The friendship of Esparza and Mendoza stands out to other athletes on the team.
"They're really good, and they're really collaborative, like they don't say one thing without verifying it with the other, so it creates a lot of consistency [and] it's really helpful," said sophomore Talia Temkin.
"I like that Monica, she's like super quiet at times, but she tells you what you need to work on and she's really nice about it. And I like Shelby because she makes it fun, and she entertains us while teaching us the fundamentals of [softball]. But I love them both, I don't know, they're just really nice," sophomore Lindsey Sharp said.
"They work really well together, I mean they call each other like 'babe' all the time, they're always hanging out and stuff," Sharp added.
The athletes also appreciate the bonding that Esparza and Mendoza bring to the softball team.
"They do [help the team bond] a lot. We have team bondings at their houses, and they'll make us food, and they'll buy us stuff, and they're just really nice," Temkin said.
According to Esparza, the team is "[…] like one family. We have team bonding nights at my house, or we'll go to dinner occasionally, and at school we'll all like meet up and be like, 'oh, let's talk about this, let's talk about that.' I'd like to say that we don't really have drama on the team because we're all so close and we all kind of know what [we're] going through."