Playoff Recap: Boys' basketball season ends at hands of No. 2 Providence (84-45)
"It feels like just yesterday [that] I was a freshman showing up at the tryouts," Nate Bova '19 said, "and just like that it's all over."
On Feb. 8, the Foothill's boys' basketball team made the journey to Providence High School in Burbank, California, to face the number two seed in the California Interscholastic Federation (CIF) Division IV playoffs. Foothill, by comparison, was ranked 35th.
Despite their continuous battle, the Dragons were simply outgunned and ended up taking a hard 84-45 loss to finish the 2018-19 season.
"We knew that since it may be our last game, it was best to make the moment last and not give up on one another," Bova said.
Head coach Dean Prophet agreed that the team played with heart until the very end.
"I felt we continued to battle and play hard," he said. "Better second half on both ends of the floor."
At the end of the first half, the Dragons trailed 49-19. The second half score was much closer, at 35-26, but the effort couldn't bring Foothill back into it.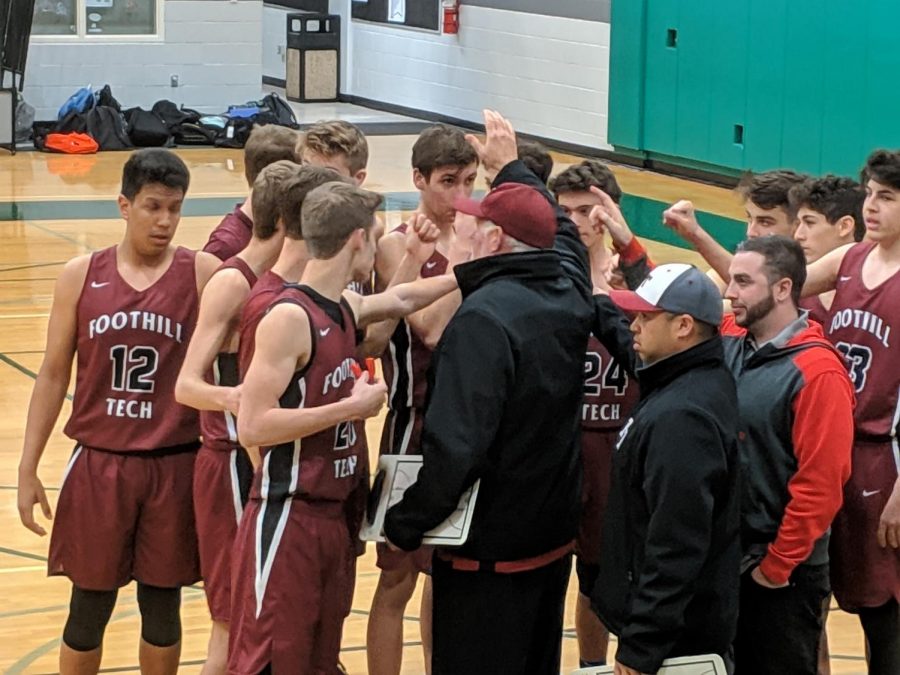 Reflecting on the season, Prophet said: "Our team has endured plenty of adversity this season."
"We were moved up into a much more competitive league and were still able to make the playoffs," Prophet continued. "This team continued to work during the season to improve and play as a team."
Because of this, he feels that it was "overall a good season, getting as much out our players as possible."
Ian Ingram '19 was impressed with the way the team handled that adversity this season.
"In [the] beginning of the year, we were a divided team—unable to communicate. We weren't the family that we are now. With this divide, our record as a team was the lowest. Throughout the year, as our culture got built up, so did our victories," he recalled.
On moving forward, Prophet said "what I always miss most about every team I coach is the loss of seniors. They will no longer be on the court with us—practicing and sharing their unique personalities."
For Bova, the game and his career were capped with a swished three-pointer.
As they move on to next season, Prophet plans to focus on fundamentals and encourage his players to "improve individually as well as a team" in the following year.