Class of 2011 turns the tassels (135 photos, video)
Emma Huebner
June 16, 2011
Hang on for a minute...we're trying to find some more stories you might like.
A sea of black caps and confetti filled the air of the Ventura College gymnasium as Principal Joe Bova announced the graduation of the Class of 2011.
Prior to the ceremony, graduating seniors and Foothill teachers prepared in the small gym.
"I'm excited it's over," Senior Melissa Carroll said of her high school years. "It was fun though while it lasted."
"I feel like I'm finally starting my life," senior Alexandra Zinik said.
"I don't know what to do with myself," Senior Tyler Espinoza said.
Waiting with the anxious students were members of the "League of Inspirational Heroes," mentors that seniors invited to the ceremony.
Valedictorian Sam O'Donnell nominated his eighth-grade Spanish teacher Martha Valentini.
"It was actually the first class that challenged me," he said. "She's a great teacher."
"I am humbled," Valentini said. "I was so excited to hear that Sam had chosen me."
Senior Harmony Richards nominated her middle school English teacher, Debbie Stringer.
"I was so excited that I was able to be honored like this," Stringer said. "I think it's great that the school has a program like this."
Anticipation heightened in the room as seniors began to line up to enter the gym.
"We all look like wizards," Valedictorian Jim Bern said. "I would say a sense of magic is in the air, but really it's just hot and my neck kind of hurts, but I'm really excited."
"You don't realize that you're graduating until this moment," Valedictorian Colin Crilly said. "Before that you just feel ridiculous."
Graduates walked to "Pomp and Circumstance" to take their seats in the gym.
After Senior Gabby Trainor's rendition of the Star-Spangled Banner met thunderous applause, Bova began the commencement ceremony. He acknowledged the 10th anniversary of Foothill and how successful the school's history has been.
96% of the Class of 2011 will attend a university or community college in the fall.
"This is a lazy class," Bova joked.
Thirty-three students graduated magna cum laude, or with a 4.0 GPA and above. Nineteen students graduated summa cum laude, or a 4.4 GPA and above. Bern and O'Donnell are both National Merit Finalists, meaning they were in the top 1.1% of 1.4 million seniors in the U.S. 
Five students are entering the U.S. Military.
Twenty-six graduates are in CSF, 20 are in the National Forensics League, and 20 are members of the National Art Honors Society.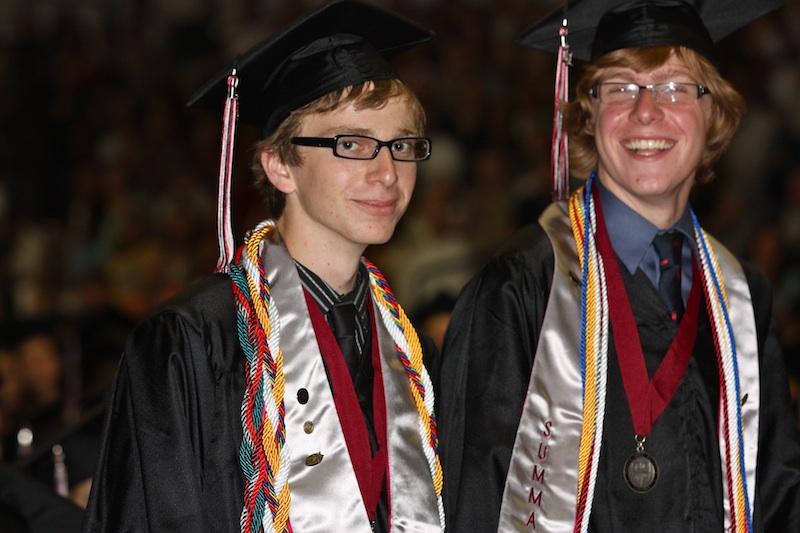 Fifty-nine seniors obtained the multilingual seal, 13 were members of the Foothill Dragon Press, and 19 were AVID students.
Fifty-four students were FIRE crew members, 28 are now in the Dragon Hall of Fame, and 30 were members Cohort Five in the BioScience Academy. All BioScience students are attending a college or university, and 70% are pursuing science or the medical profession.
Nine students met qualifications for the Communications Academy, in either the design or performance strand. Thirteen were ASB officers.
The graduating class completed a cumulative total of 40,000 hours of community service. Many of those hours were served for the Foothill For Africa cause.
"Foothill Technology High School has students with big brains and even bigger hearts," said Senior True Randall.
Senior Alex Phelps was one of the key speakers, and delivered a speech after Bova ran through the statistics.
"We stand at the top of a mountain, take a deep breath, and jump off together, into time," Phelps said.
Class of 2011 valedictorians and salutatorians were recognized after Phelps' speech.
James Bern, Colin Crilly, Jacqueline Kroll, Sam O'Donnell, and Lauren Zimmerman all obtained cumulative GPAs of 4.9. Salutatorians Jongin Baek, Travis Dunlop, Michael Fickenscher, Caroline Frambach, Amanda May Marshall, and Sabrina Partridge all had GPAs of 4.8.
Finally, the graduates were given their diplomas.
The Rhine and Seniors Matthew Woertink and David White performed "What a Wonderful World", the senior song, for their classmates.
Senior Britney Bernardi gave her own speech entitled "A Very Expected Speech" after the song.
"What makes us the Class of 2011 is not that piece of paper," Bernardi said. "What makes us the Class of 2011 us that we are the sweetest…most phenomenal class Foothill has ever known."
Seniors Noelie LeBlanc, Ariana Johnson, and David White also presented the senior gifts.
"Our challenge now is to think beyond ourselves, graduates," LeBlanc said.
The magna and summa cum laude stoles will be preserved for future classes. A plaque with the names of the recipients of the Tanner Aubert award was presented to the school.
The commencement ended with the turning of the tassels. Caps were thrown into the air as graduates celebrated under clouds of confetti.
A few students offered their advice to incoming seniors for the next year.
"Try to do something so you get chords so you don't look like a loser at graduation," said Jessica Lucas.
"Don't stress out about colleges," Carroll said. "Apply to a bunch, even if you don't think you're going to get in." Carroll will be attending NYU, a college she didn't think she could get into, in the fall.
"Don't slack off," said Espinoza. "That's what I did."
The ceremony ran smoothly, largely in part due to the help of the Dragon Honor Court.
Trevor Kirby, Taylor Rios, Riki Schmitt, John Sheehy, Emily Rath, Patrick Bower, Lauren Sahli, Lujain Al-Saleh, Gemma Stoll were the juniors selected to help with all of the graduation activities.
Video Credit: Anaika Miller/The Foothill Dragon Press

Photos by Rachel Crane, Emma Huebner, Anaika Miller & Caitlin Trude/The Foothill Dragon Press