Girls' soccer ousts Grace Brethren on Senior Night
Nick Zoll, Sports Editor
January 29, 2019|215 Views
For four members of the girls' varsity soccer team, the evening of Jan. 28 marked the final regular season home game of their high school career. On Senior Night, the team's four seniors (Angie Albarran '19, Cami Becker '19, Alyssa Elias '19 and Marina Peacock '19) were celebrated in a pre-game ceremony involving teammates, family members and close friends at the Ventura College stadium.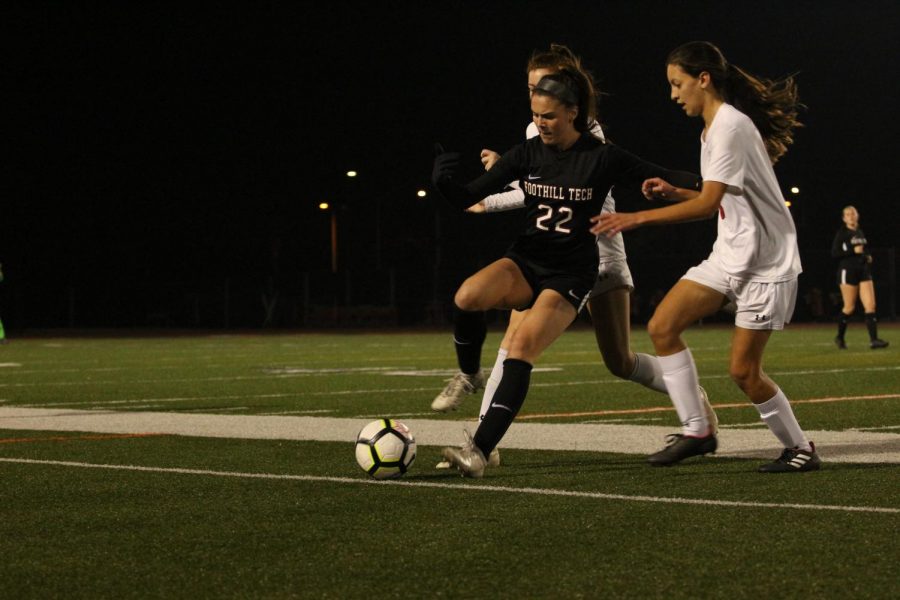 Accompanied by loved ones, each senior walked down an aisle created by teammates to the podium, facing the bleachers. From there, head coach Jack Craig read quotes about each player from a teammate and loved ones, followed by his own praise of each player.
"These girls really love each other. They love the seniors—they're sad to see them go," he explained. "They were all hyped up, ready to go because they wanted their seniors to score [and] they wanted their seniors to have a good night.
With the emotion from Senior Night translating onto the field, Foothill secured a 3-1 league victory against the Grace Brethren High School Lancers.
Girls Soccer: Foothill Tech 3-1 over Grace Brethren. Goals for Foothill. Goals by Alyssa Elias, Grace Combs and Eva Sivoraraj. @vcspreps

— Juan Elias (@Nottheonlyjuan) January 29, 2019
The Dragons rolled out a starting lineup featuring these four seniors. Grace Combs '20, Katie Denger '20, Madeleine Espinoza '20, Keara Fitzgerald '20, Kami Kunes '20, Kiera Rivera '21 and Ava Sivoraraj '20 were the other seven starters.
It wasn't long before one of Foothill's seniors made their mark on Senior Night. Off a pass from Combs in the second minute, Elias scored the first goal of the game, putting the Dragons up 1-0.
Ten minutes later, it was Sivoraraj who found the back of the net and shortly after, Combs added a goal of her own, extending Foothill's lead to three.
75th minute: Grace Brethren nets a goal, trimming Foothill's lead to 3-1 @fths_athletics

— Dragon Press Sports (@FDP_Sports) January 29, 2019
Following a quieter rest of the first half and a lack of scoring opportunities for both sides in the second half, Grace Brethren challenged Fitzgerald, Foothill's goalkeeper. Fitzgerald recorded a save in the 70th minute but the Lancers eventually notched a goal five minutes later. Once the final whistle was blown, the scoreboard read: Dragons 3, Lancers 1.
Following her final regular season home game, Becker noted that the experience on Senior Night was "pretty nostalgic" and "it was sad to know that it was my last" home game.
Craig explained the extent to which the seniors will be missed next season and what they have provided over the last four years.
"One of the things they bring is experience: all of them play club at a high level, that's one thing, but the younger players have looked up to them since they've been here," he said. "We started changing the culture last year and in order for the change of culture[,] the seniors are the ones that helped me start that last year. And with them going, I'm going to be looking for new players to step up, keep what we're [doing] and build on it."
Becker stated that the aspect she will miss most about the team is "definitely my teammates."
"It's been really fun to watch them grow as a team, especially with the new coach, and I'll be sad to leave them," she said.