Poster presenting some students' perception of LGBTQ+, race, women's rights, more displayed on campus
In response to a VUEA poster demonstrating support of the black lives matter movement, women's rights and more, a flyer depicting differing opinions was placed in the B-Building on Monday, Jan. 14
On Monday, Jan. 14, two copies of a flyer detailing some students' opinions towards LGBTQ+ rights, women's rights, racial issues and more were put up on Foothill campus outside of the B-Building. They were first seen during sixth period by a student who then alerted counselors Debbie Freeman and Steve Boyd.
The flyer wrote, "Other students in Ventura Unified Schools believe all lives matter / Laws exist for a purpose / There are only 2 genders / Science is real / Abortion is murder / Women have equal rights / Institutional racism doesn't exist / White privilege is a myth / facts are everything / #freespeech."
The two flyers were taped up next to a separate flyer that was created by the Ventura Unified Education Union (VUEA) and put up around two months ago by Boyd.
The original VUEA flyer wrote, "Ventura Unified Education Association believes Black Lives Matter / No human is illegal / Science is real / Love is love / People deserve second chances / Women's rights are human rights / Kindness is everything."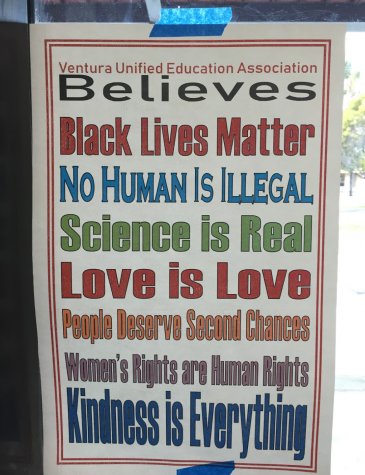 One flyer was taped outside Boyd's office and another outside that of Counselor Juana Vega.
Boyd commented that the flyers weren't there during fifth period. He did not see who put them up since there are usually students walking past his office to go to the restrooms.
When the student brought them to Boyd's attention, he took them down and threw them in the trash can. He did not report this incident to the school administration.
"I didn't give it to them for a reason," Boyd remarked. "What are they going to do?"
However, if something like this flyer shows up again, Boyd commented, "then we'll do something, and I will do my due diligence."
Neither the assistant principals nor principal were available for comment.
Editor's Note: Communications Editor and Science Editor Rachel Chang contributed to the reporting of this article.